Traveling to Meet Baby
How Did Your Relatives Plan to Greet the New Arrival?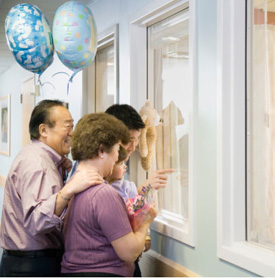 Your bags are packed and you're ready to go, but how soon can you get there? The birth of a first child is a momentous occasion that friends and family are eager to share with a new mom and pop. While some mamas would prefer to limit their hospital well-wishers, others are happy to spend their lil one's first few days surrounded by celebratory visitors. For close relatives that do not live near the mama-to-be, planning to be present for the birth of the baby is much like a game of chess – strategic planning and all.
A friend on the East Coast is trying to figure out just how quickly she can get across the country once her sister-in-law goes into labor. Not knowing exactly when the baby will begin its decent, she is not sure if she should book a trip based on the babe's due date and just hang around waiting for the arrival, or if she should just plan on paying full-fare and purchasing her ticket when the contraction begins. How did your long-distance supporters plan their visits to greet your new arrival?