Trendtotting: Rain Boots to Boot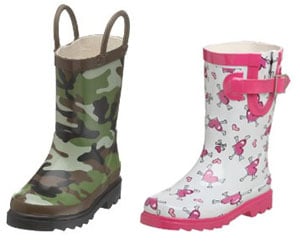 I don't much care for rainy days — the mud, mess, and mire keep me inside listening to the pitter-patter on the windows. Kids, on the other hand, rather enjoy the muck and muss as splashing in puddles brings an inexplicable high. If your wee one fits into that category, it's time to invest in another pair of rubber rain boots.
Let them jump, splash, wade, and plummet in the slush and sludge without ruining those glittery flats or fancy sneakers. Lil dudes can still keep their Western style with the rubber kickers and sweet girls can prance around in Mary Jane or paisley-printed footwear.