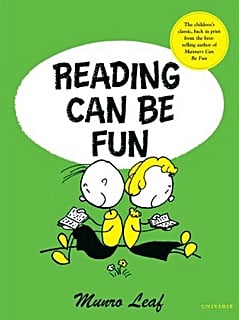 I had the chance to peruse some seriously trendy children's stores and boutiques on Beverly Drive in Los Angeles recently and noticed many of them had the somewhat old school Munro Leaf books,
Manners Can Be Fun
,
Brushing Your Teeth Can Be Fun
,
How to Speak Politely and Why
,
How to Behave and Why
and
Reading Can Be Fun
(all about $15), on display. Leaf is known to most as the author of the controversial children's book
The Story of Ferdinand
, but published about 40 kitschy guide books for children in the '30s and '40s, many of which have been reprinted in the last few years. Aesthetically, the books are beautiful, bright and fun to look at (I couldn't help but think they'd look very matchy matchy with a
Reading Is Cool
poster!), and hidden inside are messages that ring true no matter what the decade. The series features stick-figure illustrations and wholesome, verse-y text aimed at teaching children the rules of thoughtfulness and etiquette. My mommy gift meter says these could help add a serious tone to a goofy present and would be a nice addition to any bedtime story lineup.