After a toddler in Florida slipped and fell into a pool and nearly drowned, his family created a Facebook page that was intended as a way to update everyone on his progress at the hospital but has become a place of incredible love and positive thinking. Thousands of people, most complete strangers to the family, are following Turtle Power for James Edwards [1] and helping the nearly 2-year-old (who adores the Teenage Mutant Ninja Turtles) fight the fight of his life with positivity, prayers, and well wishes. The outpouring of support is quite remarkable, and while they still have a long journey ahead with their adorable little dude, the Edwards family has found out firsthand that the Internet isn't all bad; in fact, it can do a turtle power of good.
Source: Turtle Power for James Edwards [2]
It All Started With a Little Boy's Fight For His Life
James's family was no doubt overwhelmed (they welcomed a new baby into the family the day before James's accident), so they set up the Facebook page as a method for keeping family and friends updated on his recovery process. The page immediately exploded into an outpouring of support and positive thinking from the local community and the world. In fact, in just one week, Turtle Power for James Edwards [3] hit over 20,000 likes and is still growing by the day.
Source: Turtle Power for James Edwards [4]
A Simple Request to Pay It Forward Was Honored (Over and Over)
After the page got rolling, James's aunt made one request: "You will never understand what your love and support has meant to us this week. I feel so inspired. But...I can't help but want more, for all of us. I am asking for your help today. Let's pay it forward for James. Even if it's just paying for coffee for the car behind you! Our Coral Springs community has embraced us, and I know this whole city can be buzzing with people paying it forward around town!!! Do it for James! #turtlepower." Hundreds of pictures immediately went up of followers paying it forward in hope of keeping the positive thinking going.
Source: Turtle Power for James Edwards [5]
Not Only Is the Community Paying It Forward, but It Is Also Rallying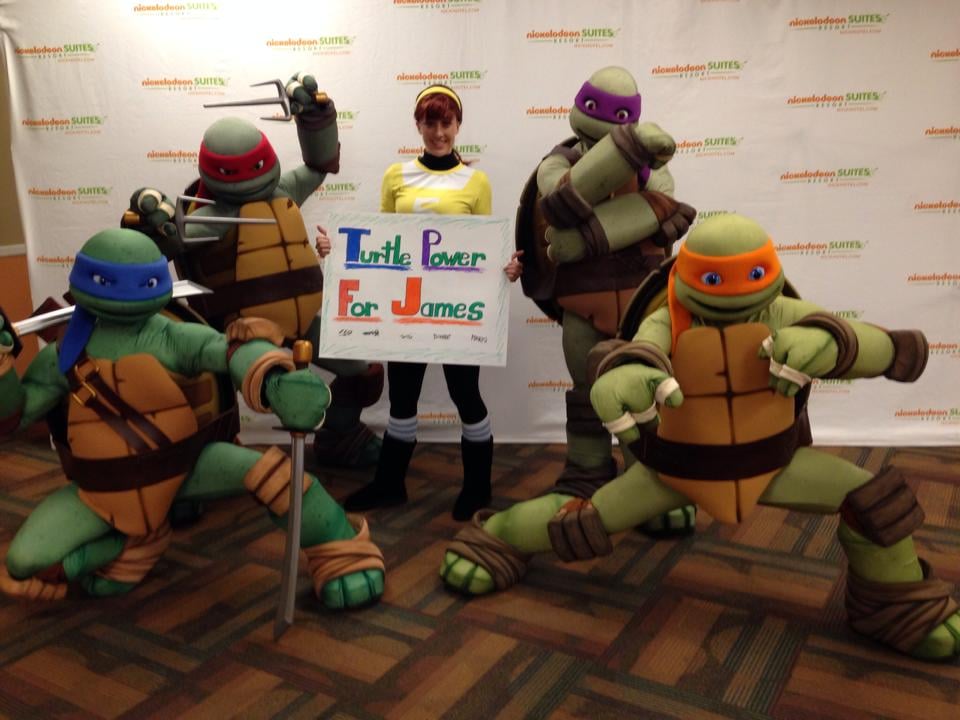 Everyone, and I mean everyone, wants this little ninja dude to recover — and it's absolutely incredible to witness. I can only imagine that the folks over at the TMNT t-shirt factory are wondering why the heck their tees are selling like crazy right now! Skyler, James's father, spoke to Local10 [6] about the cyber-support system: "They'll never know how thankful we are for the support. It makes a huge difference."
Source: Turtle Power for James Edwards [7]
Local Celebrities Are Feeling the Turtle Power
James loves the Miami Dolphins, and a few of the players got wind of his accident and stopped by the hospital. Jenna, James's mother, posted about the event: "Skyler and I went in with them and told James the 'football dolphins' were here. 3 minutes into the visit, James fully opened his eyes! Although he has opened them on and off before, they have never been this wide. He followed his daddy for a few seconds. They called the doctor in and everyone was impressed."
Source: Turtle Power for James Edwards [8]
A Fund Has Been Set Up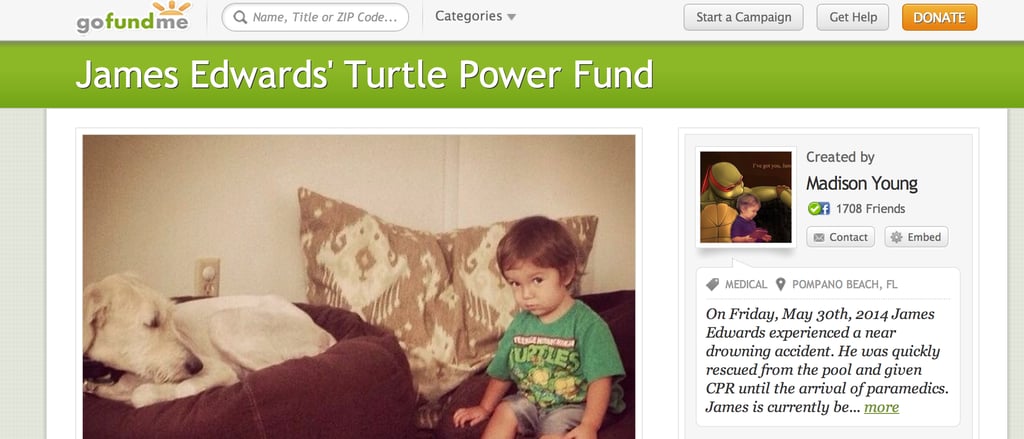 The family has never asked for anything more than continued prayers and positive thoughts, but after a family friend set up the James Edwards' Turtle Power Fund [9] to help cover all medical costs that will no doubt burden the sweet family, the cyber community stepped up once again. After only one day, nearly $25,000 was raised (and the number is climbing). Social media can do amazing things — and we can only hope the positive vibes keep on coming long after the Internet's favorite (and littlest) ninja walks out of that hospital.