Twin and Shared Room Design Tips
Room For Two: Twin Designs by Natalie Umbert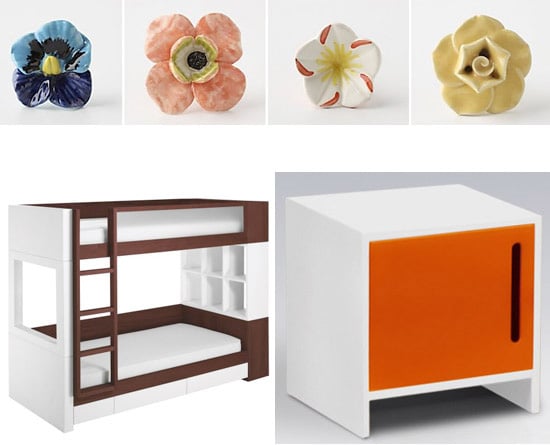 Moms of multiples have more to worry about than window treatments and duvet covers, so we enlisted the help of interior designer Natalie Umbert to give her tips on how to decorate shared rooms. Since twins and triplets are on the rise, we were curious to find out how parents can give each child a sense of self in a room for two or three. These are also practical ideas for siblings. Here are the highlights:
On making a room's design flow. "To showcase each child's personality in a shared space, choose one common thread. For instance, if one wants ballerinas and the other wants butterflies, let them have their choice — just make sure that you use the same colors despite the different themes. Especially for same sex twins, you should encourage them to choose items themselves (if they can!) that fit into a general color scheme or theme (trains and cars, or shades of blue, etc.). At least one furniture item should match, like the beds, and then you can play around with the rest. Try getting unique side chairs for each child, maybe one upholstered and the other one wood with cushions, OR try variations on the same bedside table — just change the knobs or hardware! Try to repeat the colors, even if they are in different shades, to create cohesion in the space. Designer's pick: Don't be afraid to add "mature" elements like sophisticated hardware. I love these vintage looking knobs from Anthropologie ($6-$16)."
To see more of Natalie's tips for giving children personal space in a shared room,
.
On decorative divisions of space. "To give kids their own sense of space in a shared room, try bunk beds with individual study/play alcoves beneath, and for babies, matching cribs floating in middle of room allow them to sleep next to other. No matter the sleeping arrangement, be sure to have some sort of clearly divided space — even if it's just an area on the wall with their names hanging — to help kids feel like can each claim their respective spaces. Designer's pick: duet bunk bed ($3,700) by truck product architecture for nurseryworks can be separated if and when the kids move into different rooms."
On shared rooms, but unique spaces. "Other things to consider when designing for twins are creating separate closets and study spaces. Twins (and multiples) will most likely be great sharers, but they shouldn't share everything — each child needs to feel a sense of ownership and this can be accomplished with small items that are purely their own, like a throw blanket with their name, a personalized rug, or their own craft supplies. Designer pick: Let kids help in the design process if they're old enough! These nightstands come in a variety of colors ($350) to suit your child's personality."
On when it's time to move children into separate rooms. "Though you may be tempted to put all your kids in the same room, especially with quads or more, this will work until they reach about three years old for different sexes and four or five for same sex. Around the time kids start kindergarten, they'll need to spread out to have the opportunity to explore their strengths, interests, and unique personalities, and their bedroom should be their personal space to do this in."