Unborn Baby Shot During LA Riots: 20 Years Later (VIDEO)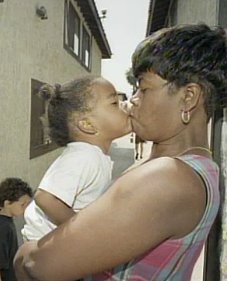 Anyone who's ever been pregnant knows the instinctive protectiveness you feel towards your belly during those months. Which makes it all the more painful to imagine going through what a mom named Elvira Evers did twenty years ago.
On April 30, 1992, Edwards was seven and a half months pregnant and living in Compton. As the LA riots unfolded around her she was accidentally shot — in the belly.
When she woke up a week later in the hospital, she immediately cried, assuming her baby had been killed by the gunshot. That's when a nurse told her that they had successfully delivered her baby via an emergency C-section and removed the bullet lodged in the baby's elbow. Newborn baby Jessica was okay.
Almost twenty years later, as the country looks back at the riots, the youngest victim happily tells her mother, "We made it."
To see more, watch the video below.
Visit msnbc.com for breaking news, world news, and news about the economy