When it comes to baby shower [1] invites, there is no shortage of adorableness. Simply take a peek at Minted [2] and Tiny Prints [3], and you'll already be overwhelmed by the many sweet options. But if your run-of-the-mill, available-to-anyone baby shower invitation just won't do, the following 20 invitations are sure to provide some original inspiration. From invites introducing some superspecial shower themes to those printed on balloons, wooden baby blocks, and even cloth diapers, these shower invitations are designed to wow.
Around the Clock Invite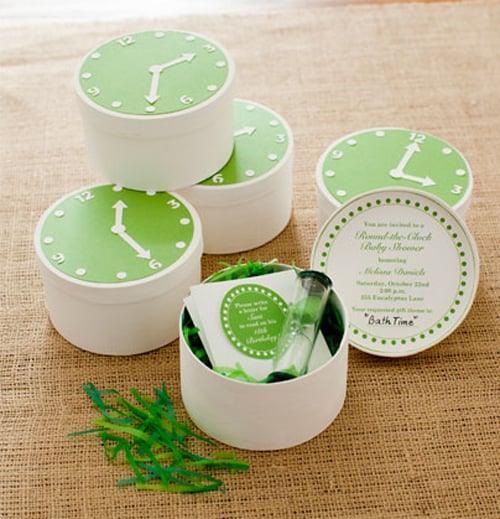 Pottery Barn Kids created these cute DIY invitations [4], which you can download for free. The Pottery Barn Kids site also includes instructions on how to assemble the sweet invites.
Pop-Up Baby Shower Invites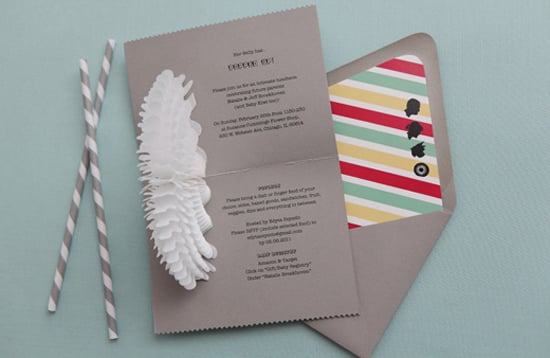 Chicago-based photographer Edyta Szyszlo created these DIY pop-up invitations [5] with the help of custom silhouettes from Le Papier Studio [6].
Source: Le Papier Studio [7]
Backyard Baby-Q
The combination of a cool typography and a unique theme ("backyard baby-q"? how cute!) makes Le Partie Sugar's retro-inspired barbecue invitations irresistible [8].
Folk Art Invitation
We love the hand-drawn look of Etsy seller Kelli Murray Art and Design's baby bird shower invitation [9], which comes with a not-so-custom price tag ($65-$137 for 10-60 sets).
A Baby Is Brewing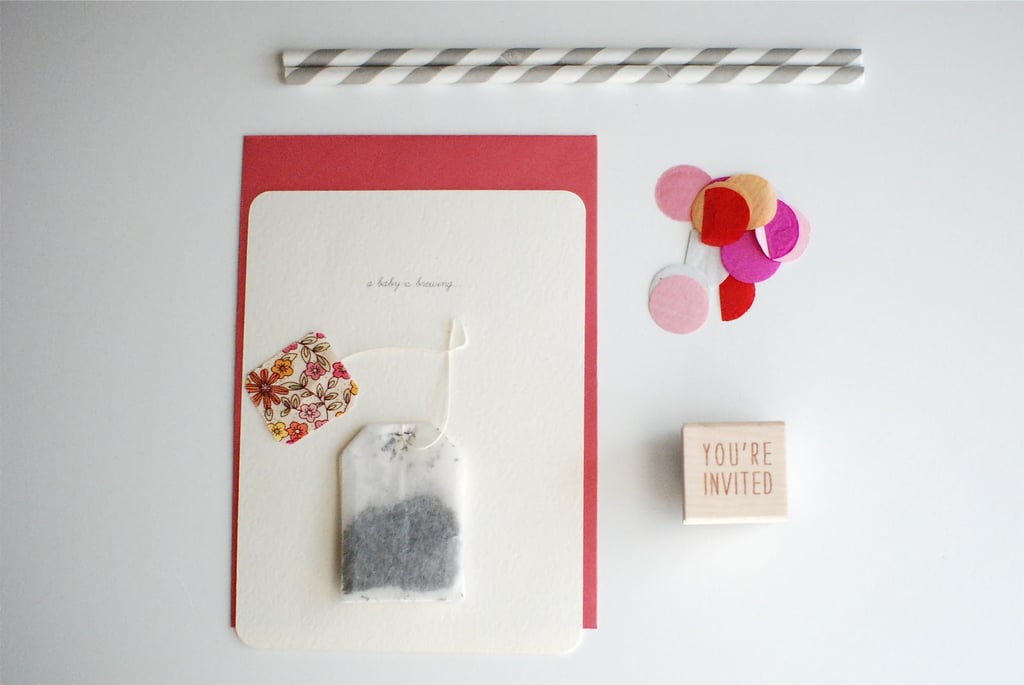 We love the sweet sentiment created by Casey of Paper + Twine [10], who made these simply spectacular tea-themed invitations [11].
Source: Casey Baudoin [12]
Classic Characters Invite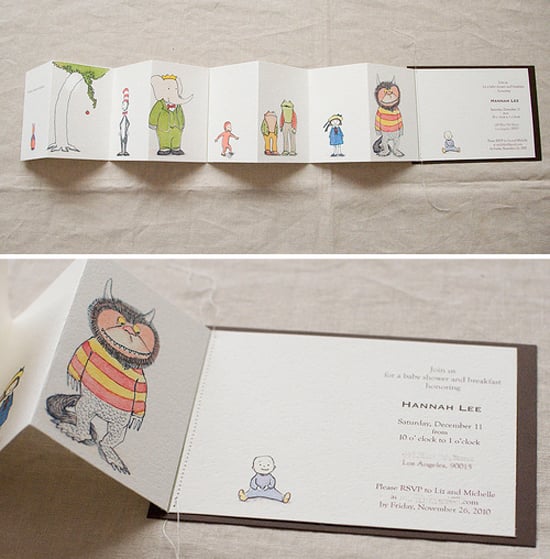 When your family includes the creative brains behind LA's Paislee Press [13] and illustrator Michelle Lee, you're probably going to have a pretty cute shower invitation, but this foldout invite, featuring classic children's book characters, is just beyond.
Source: Paislee Press [14]
Cloth Diaper Invites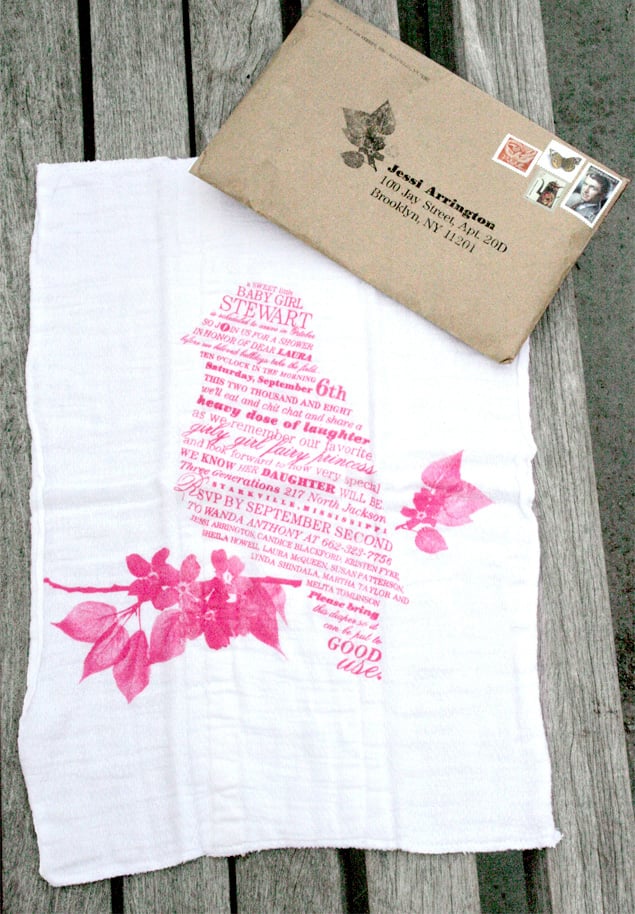 Yep, this beautiful bird invitation is actually printed on a cloth diaper. According to the designers at Workshop [15]: "This mother is planning to use cloth diapers for her baby, so we chose to silk-screen event information onto a cloth diaper that could be passed to the mother at the shower and later 'put to good use,' as the copy reads. The envelopes are 100 percent recycled shopping bags."
Source: Workshop [16]
A Proper English Tea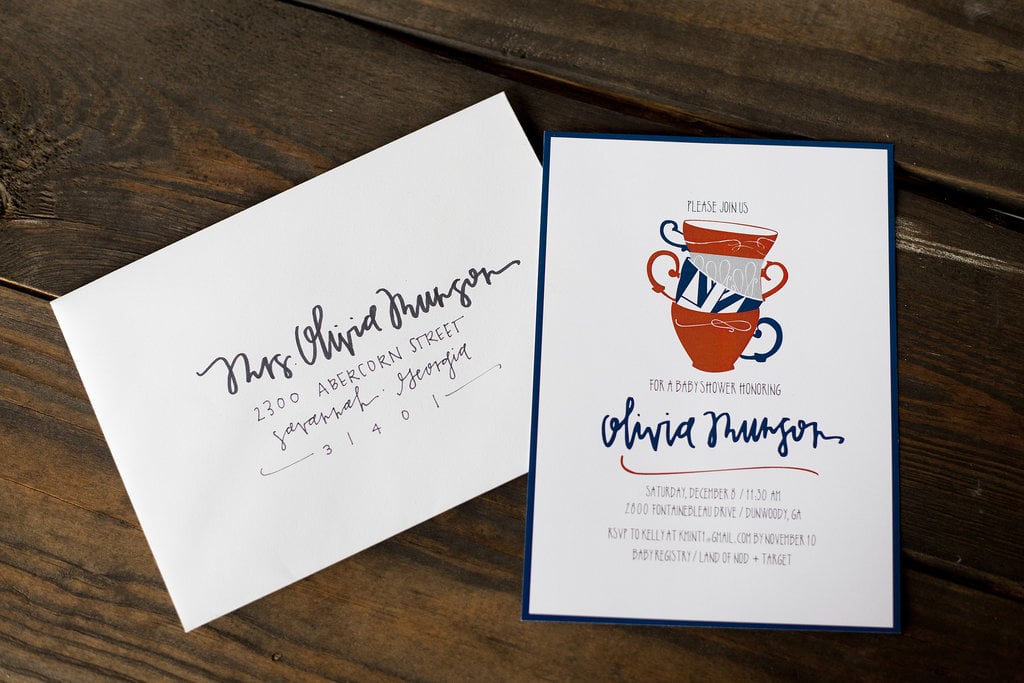 When it came time for Anglophile Olivia's British baby shower, stationer Made in the Fold came up with these sweet and whimsical tea party invitations [17]. They're now available for customization on Etsy, starting at $50.
Source: Achor & Eden [18]
Library Card Invite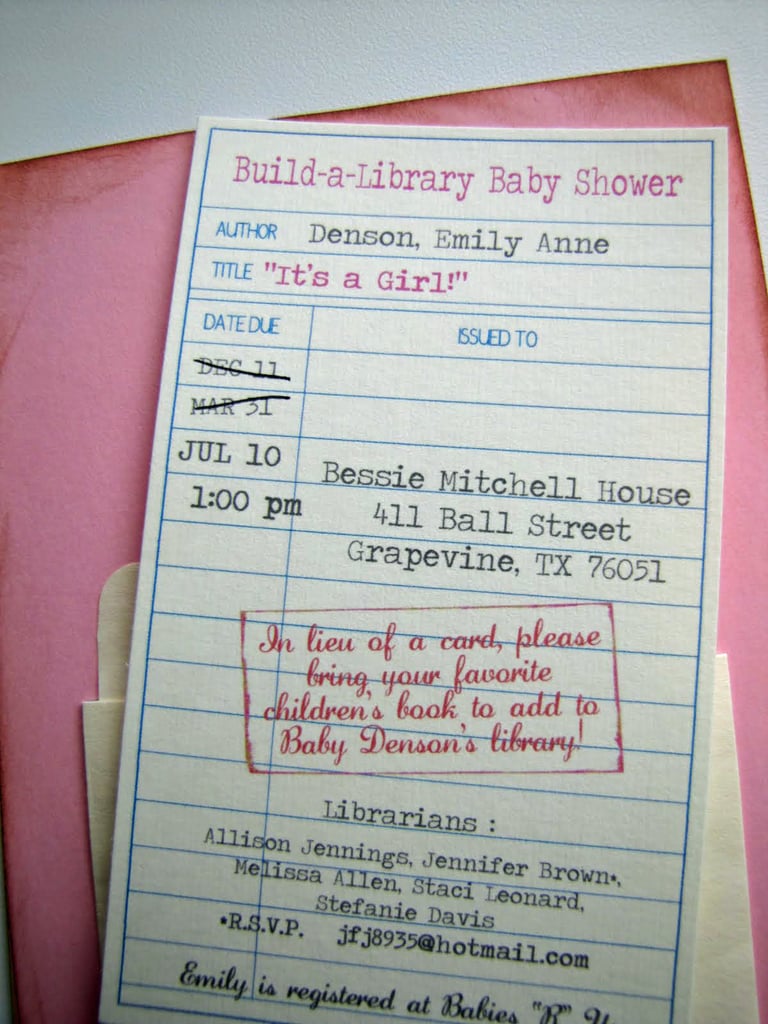 Jen of Lil Mop Top [19] created this library card invite for her sister's shower, but it's now available as a printable on Etsy [20]. It's the perfect intro to a book-themed baby shower.
Come One, Come All Invites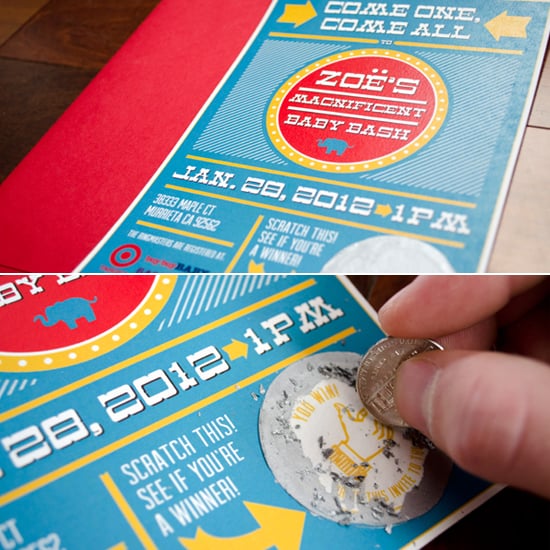 Designer Tommy Perez went for a circus, "sidehow baby" theme [21] for his own baby shower and introduced it with these awesome invitations. The highlight: a scratch-off detail that allowed guests to win prizes!
Source: Tommy Perez Design [22]
Fabric and Twine Invites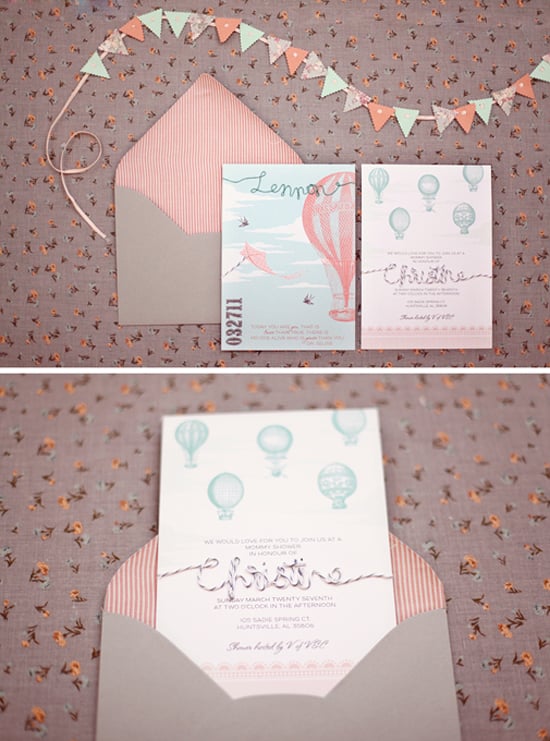 What makes these invites, designed by Ruby & Willow [23], superspecial? Fabric-lined envelopes and an invitation that uses crafty twine as the main lettering. Too cute.
Source: Simply Bloom Photography [24]
Time to Shower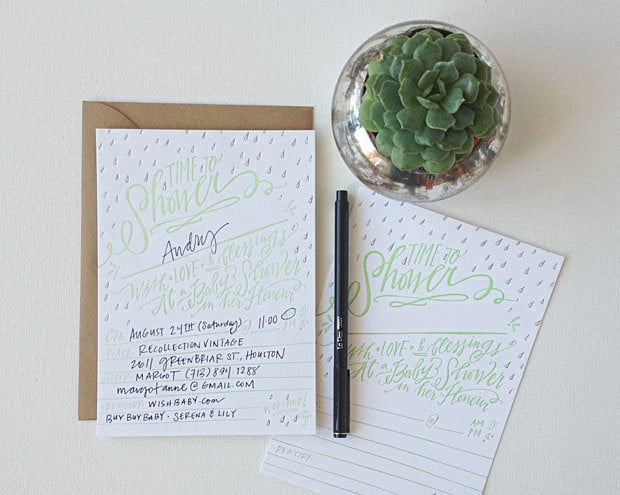 Lindsay Letter's Time to Shower letterpress invites [25] ($30 for 12) are a throwback with their fill-in-the-blank lines, but the playful calligraphy and metallic foil printing gives them a modern feel.
Ruffle Flower Invitations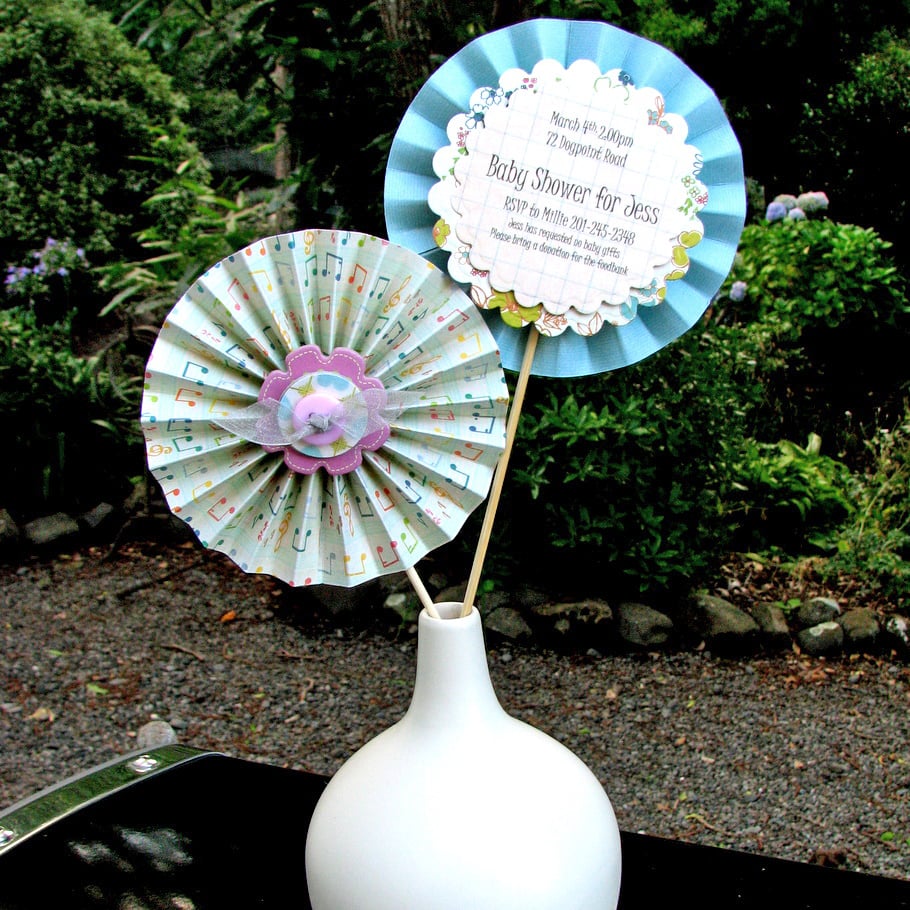 Lowri of Paper Vine created these ruffle flower invitations for a baby shower. Get a DIY [26] tutorial for the flowers here [27].
Source: Paper Vine [28]
Read All About It!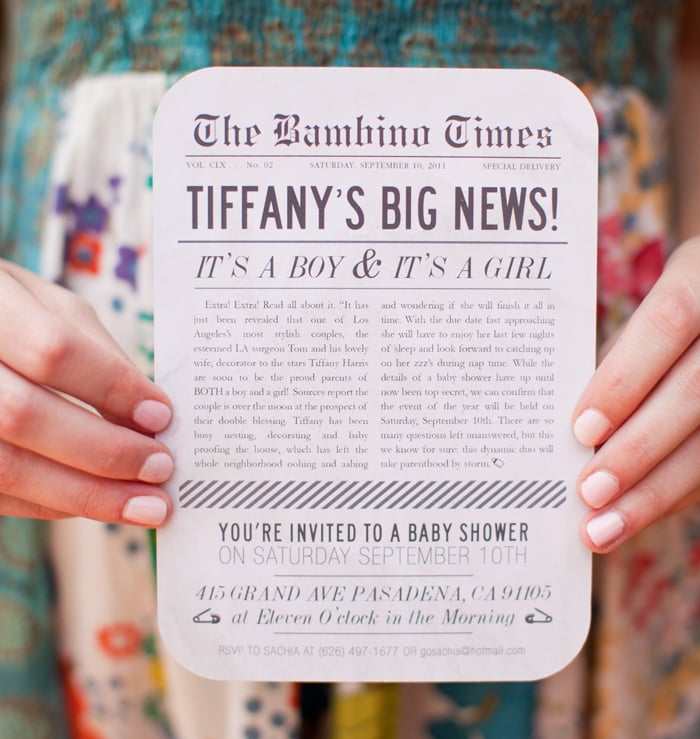 Layla Grayce [29] coowner Tiffany Harris is a baby designer for the stars, and the invitation for her own baby shower lived up to expectations. The vintage newsprint-inspired theme was introduced with these cute "Bambino Times" invites, created by Sara Westbrook [30].
Source: Sara Westbrook Designs [31]
She's Ready to Pop!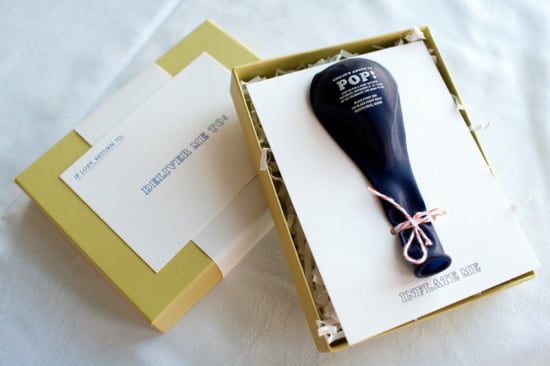 Gus & Ruby Letterpress [32] created these playful, but modern invitations for photographer Emilie Sommer's [33] baby shower. The invite text was printing on a balloon to add a 3D element. Letterpress enclosures, mailing labels, and a chartreuse mailer add to the appeal.
Source: Oh So Beautiful Paper [34]
Your Ticket to a Luxe Circus Shower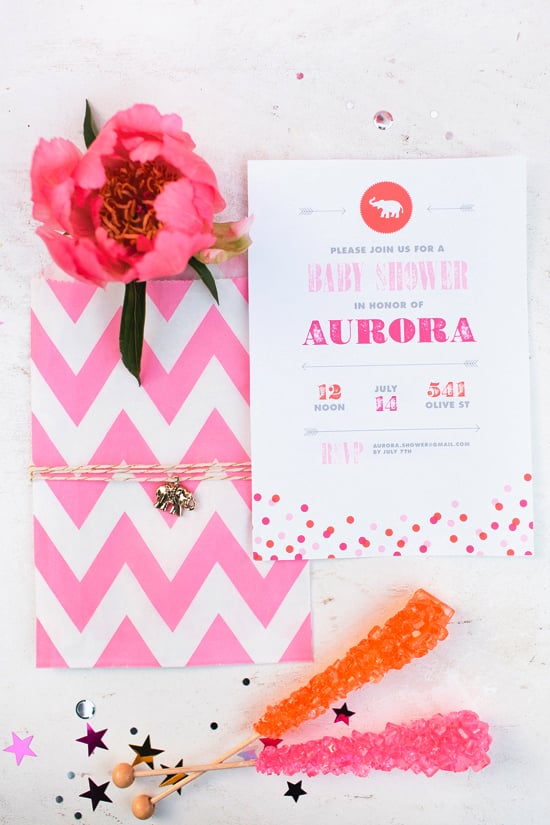 Somewhere Splendid designed these fun and feminine pink and orange invites [35] for a "Luxe Circus"-themed shower. Fun typestyles, a chevron bag, and a lucky elephant charm make them stand out in a pile of mail.
Source: Somewhere Splendid [36]
Gray, Pink, and Gold Letterpress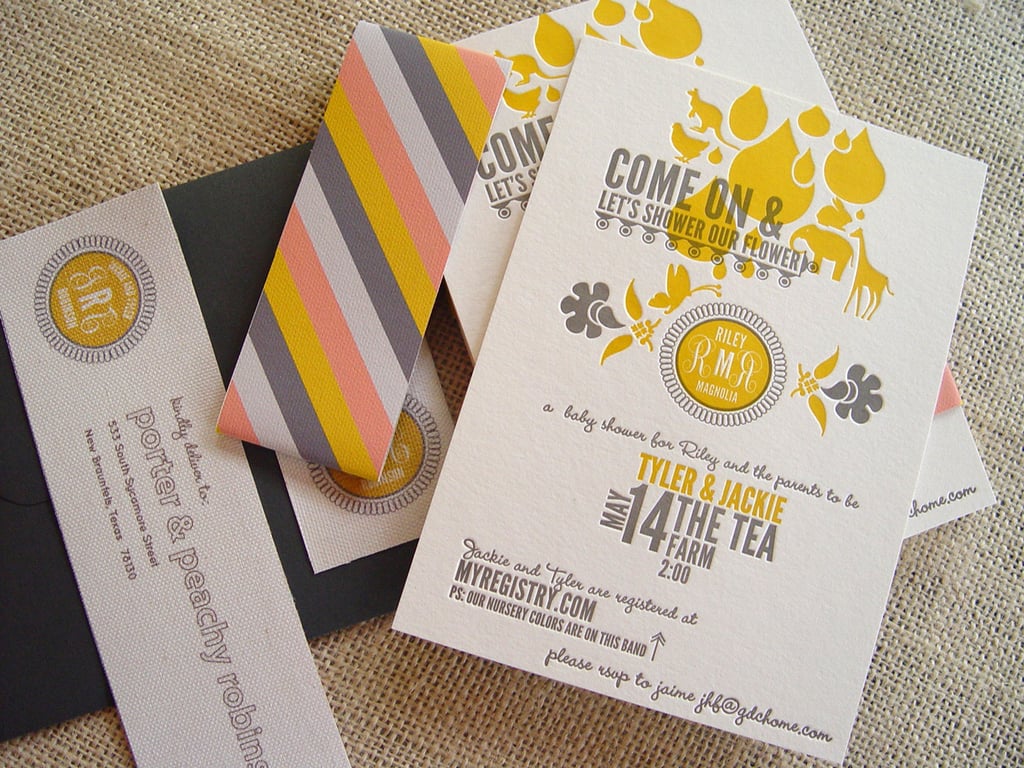 When you run your own letterpress studio [37], your shower invitations are probably going to be spectacular. We love that the couple behind 42 Pressed was inspired by their nursery's gray and gold nursery color scheme to create these chic, modern invites [38].
Source: Oh So Beautiful Paper [39]
Wooden Baby Block Invitation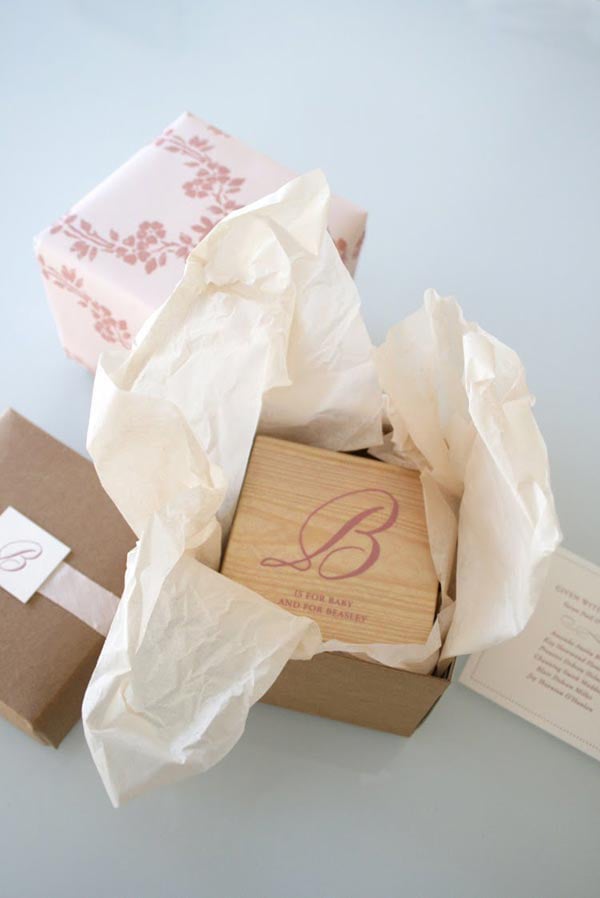 Sideshow Press [40] made these creative invitations. "The invites were silk-screened on wooden blocks and styled to follow the format of a baby block. We used a mixture of type and beautiful calligraphy by Elizabeth Jones. The blocks were packaged in kraft boxes with a letterpress hostess card, silk ribbon, and finished with custom printed wrapping paper." It's an invite and a favor all in one!
Source: Sideshow Press [41]
Kraft Party Invitations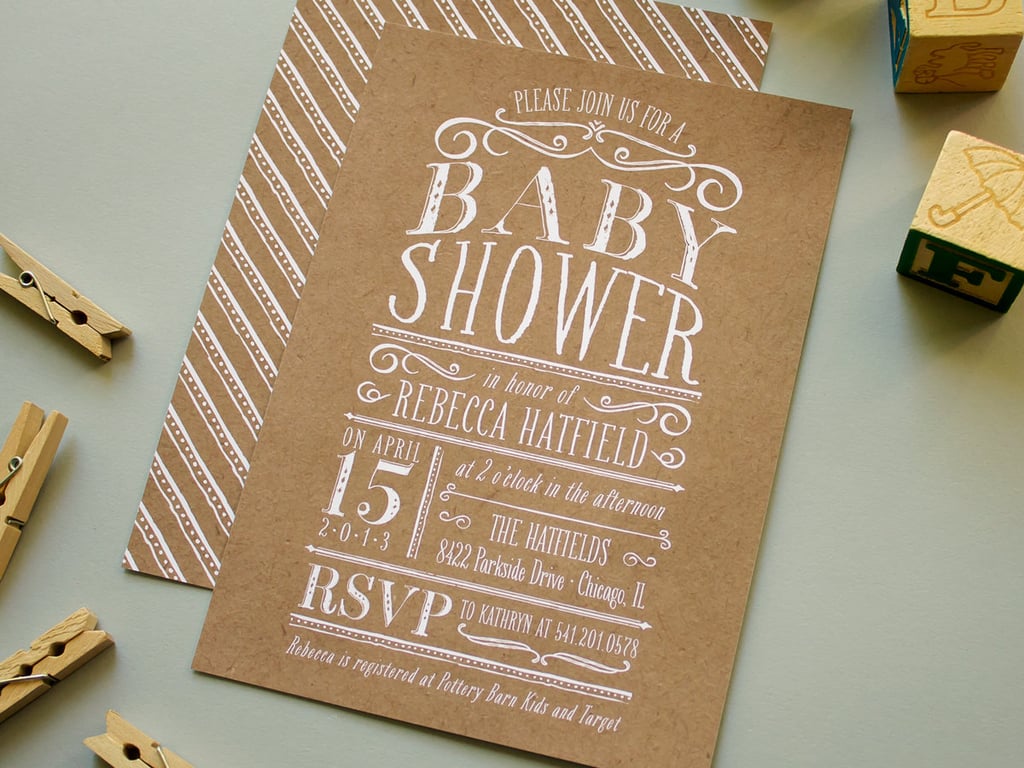 Chic and stylish, Banter and Charm's Vintage Lettering Baby Shower Invite [42] ($47) is understated, but still boasts plenty of personality.
Bubbles Go Pop!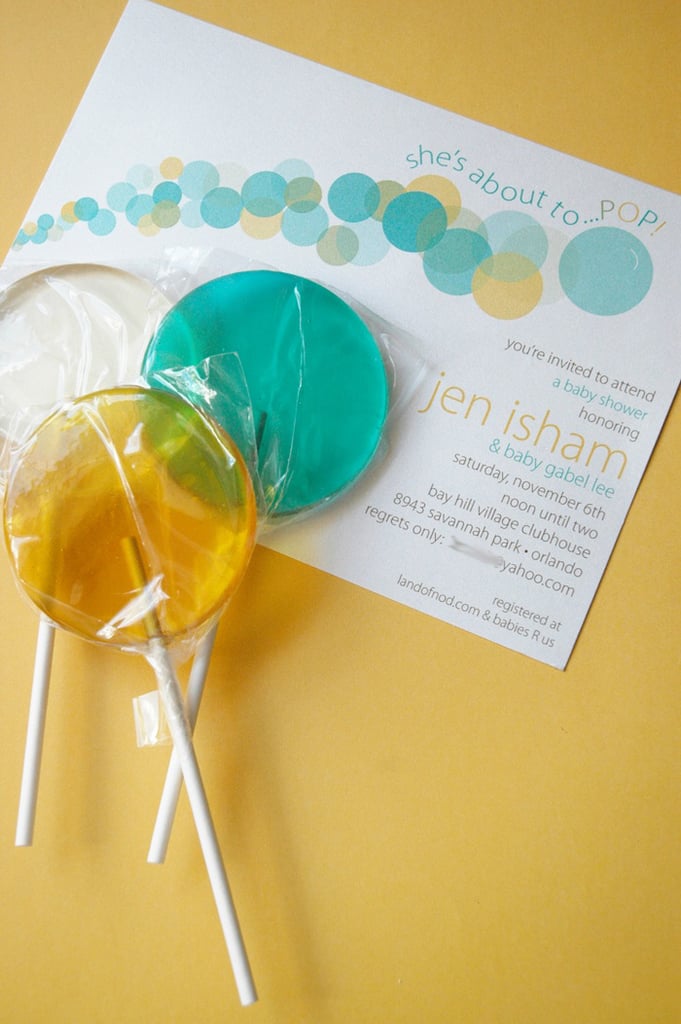 Jessica Kirkland of Pen n' Paperflowers [43] built an entire baby shower [44] around the "she's about to pop" theme, starting with lollipop invitations.
Source: Pen 'N Paper Flowers [45]