You're getting older, baby! A birthday [1] is mama's opportunity to celebrate her little one and get creative with her party-planning ideas, and the birthday cake may be the biggest detail on mama's party-planning to-do list. Whether mom's a baker and creates her confection from scratch or heads to the bakery with her vision in mind, get inspired for your little one's next birthday with these 73 unique, whimsical, and fabulous birthday cakes for baby and tot!
Start Your Engines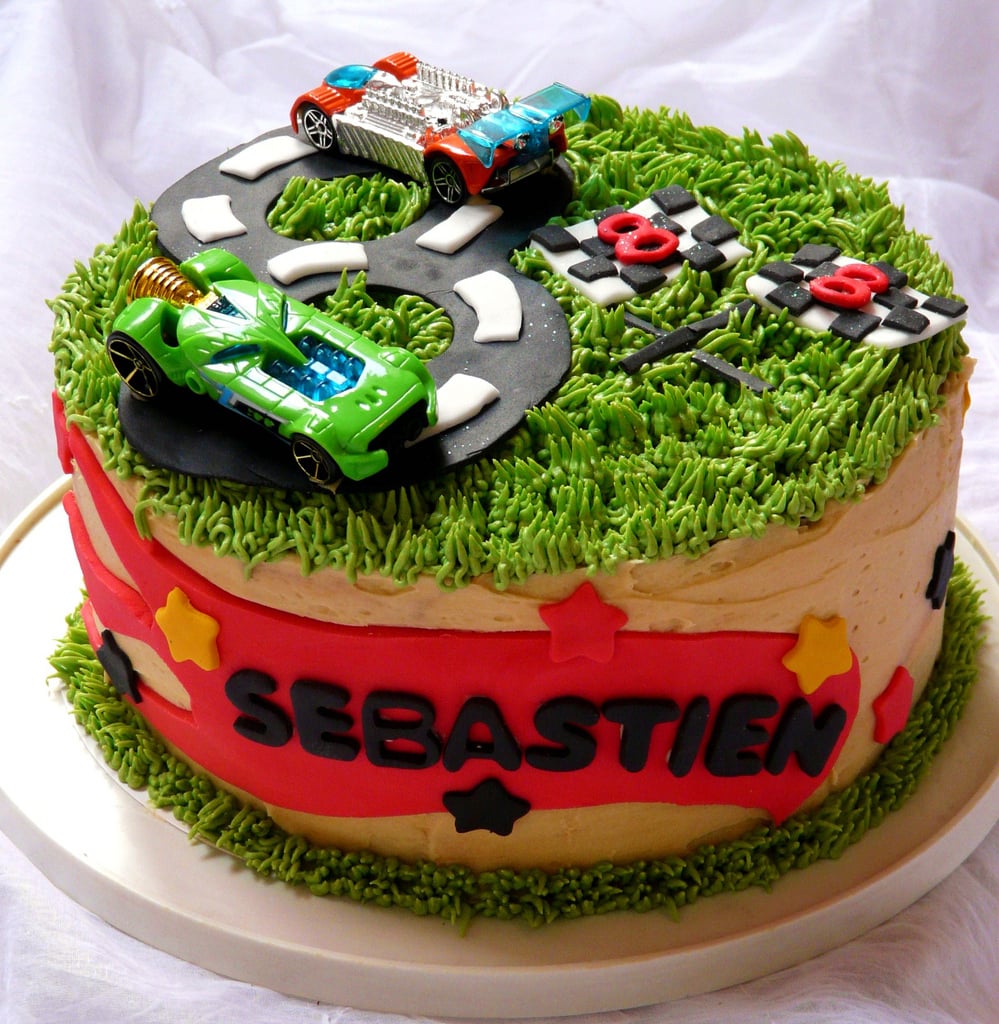 Little NASCAR fans will have their engines revving when they set their sights on this Hot Wheels cake. With a grass-like top and real race cars to play with, it's sure to be a hit with fans of high-speed chases.
Source: Flickr user Sugar Daze [2]
Nautical Pirate Cake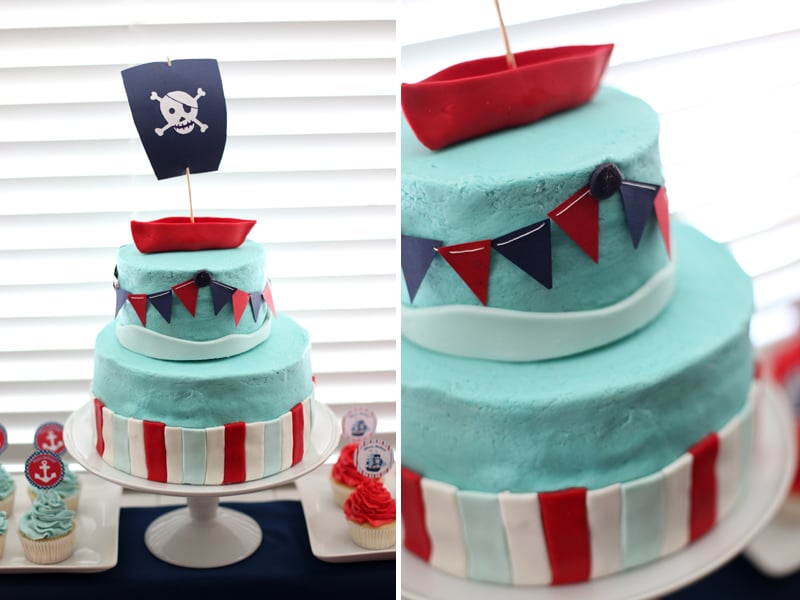 Ahoy mateys! A blue and red towering cake with bunting and a pirate's ship won't scare little mates, but it will draw them in to the sweets table!
Source: Pink Piggy Design [3]
And One Baby Makes Three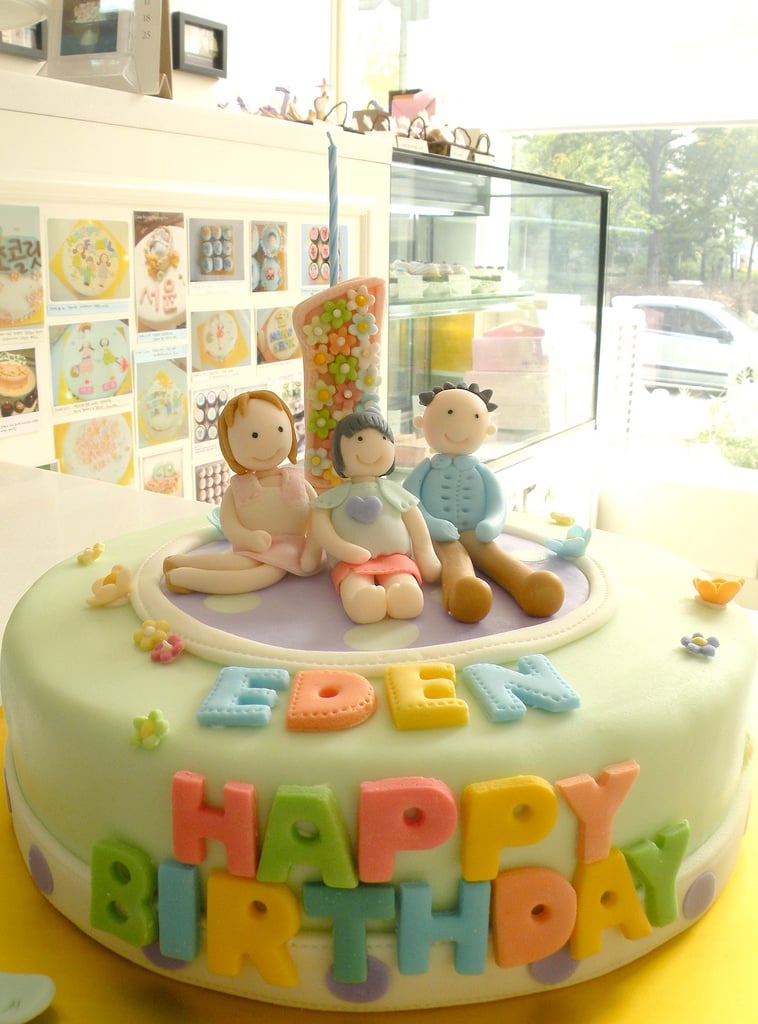 I'd call this impressive masterpiece a family tribute cake. It honors mama, papa, and baby — all of whom have survived baby's first year!
Source: Flickr user cakegirl [4]
Come Fly With Me Balloon Cake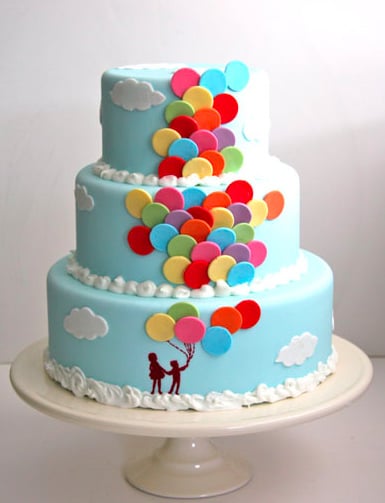 Up, up, and away we go! A whimsical cake — like this intricate fondant balloon masterpiece — can take an ordinary party table to unimaginable heights. This cake is so beautiful, mama might keep the idea for her next birthday!
Source: The Cake That Ate Paris [5]
Pink and Brown Owl Cake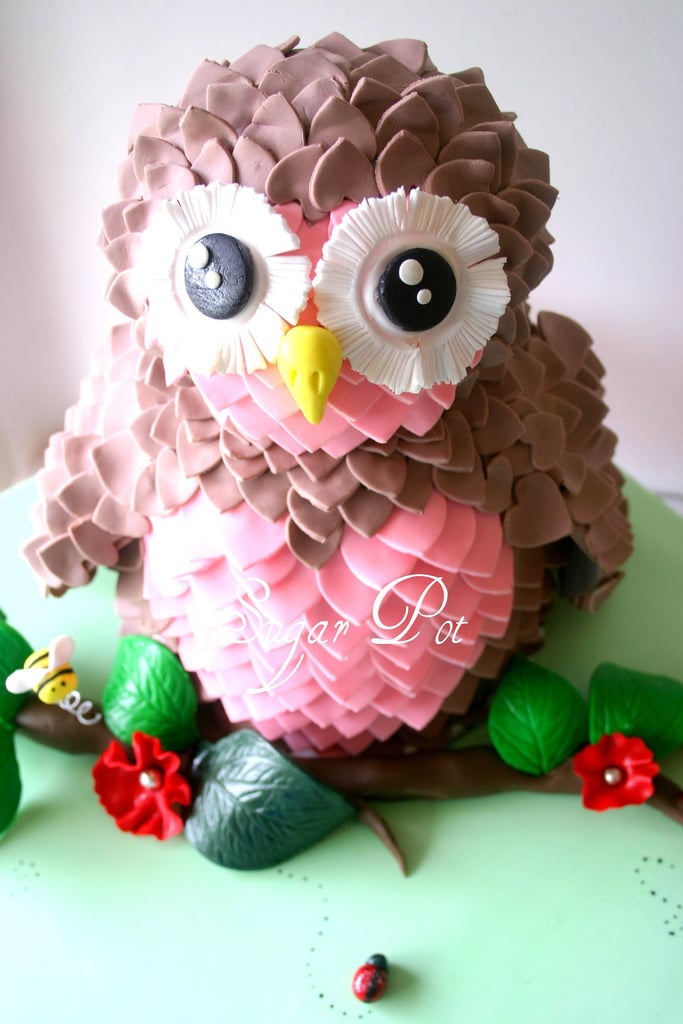 You'll have a hoot! Owls are still pretty popular creatures in the baby industry — because they're just so darn cute, we can't help ourselves. If owlies have captured your tot's heart, too, why not celebrate her next birthday with an owl cake?
Source: Sugarpot [6]
To Infinity . . . and Beyond!
Adding a toy version of a character to a movie-themed cake not only adds some dimension to the confection, but it serves as a gift for the celebrant, too!
Source: Flickr user kristinausk [7]
The Very Hungry Caterpillar Cake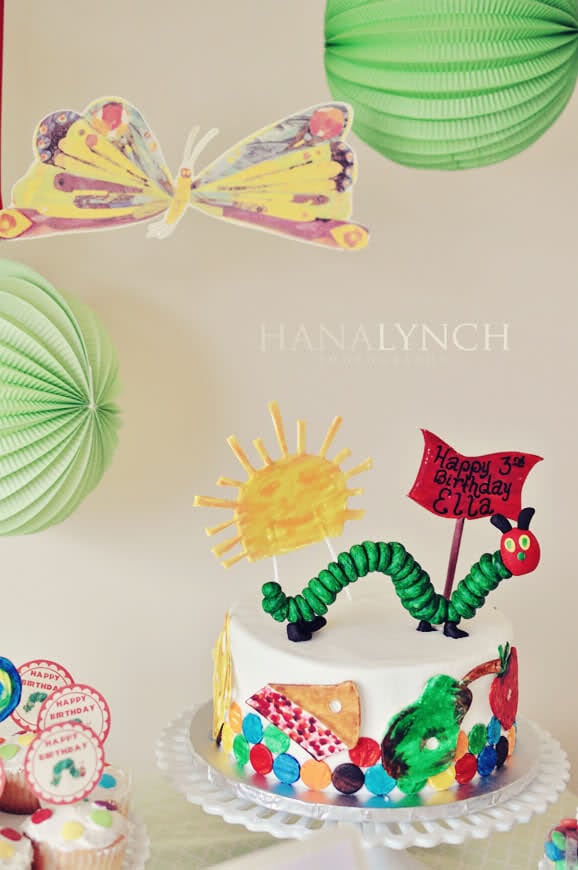 Got an Eric Carle fan on your hands? If your kiddo loves the classic children's book, then a Very Hungry Caterpillar birthday party [8] might be in your future — and you can't have a Very Hungry Caterpillar party without a hungry caterpillar-themed cake!
Source: The Mom Tog Diaries [9]
The Crowning Jewel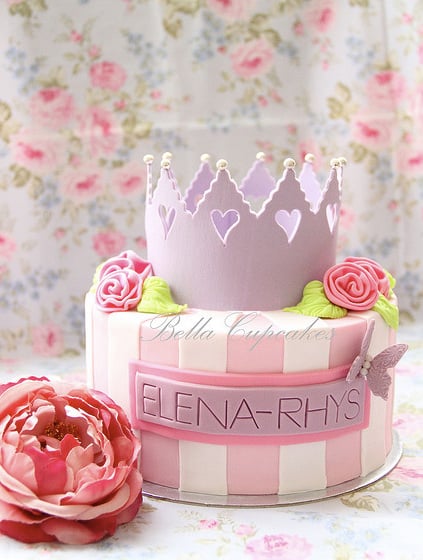 Happy birthday, princess! Your little girl may not be of noble blood, but she gets the royal treatment anyway — after all, she's royalty in your eyes. Make cake time at her next birthday party even more magical with a cake made especially for her royal highness — like this pink and lilac fondant princess cake.
Source: Bella Cupcakes [10]
Wonderful Willy Wonka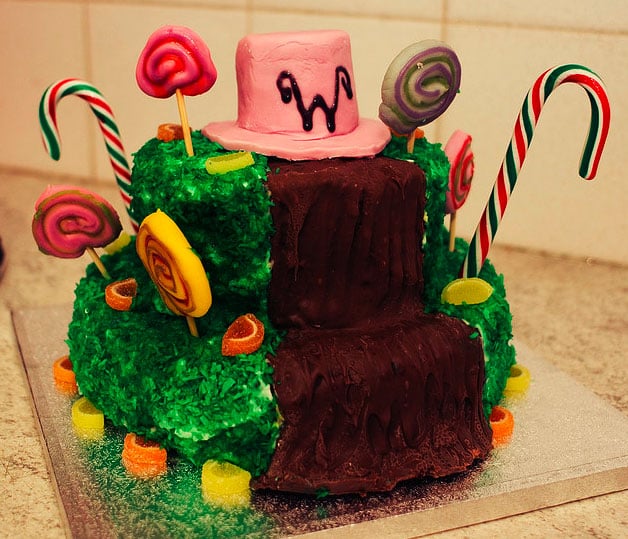 If your kids have candy on the brain, this is a birthday cake that delivers. Totally sweet, totally inspired.
Source: Flickr user erase [11]
Mickey Mouse Fondant Cake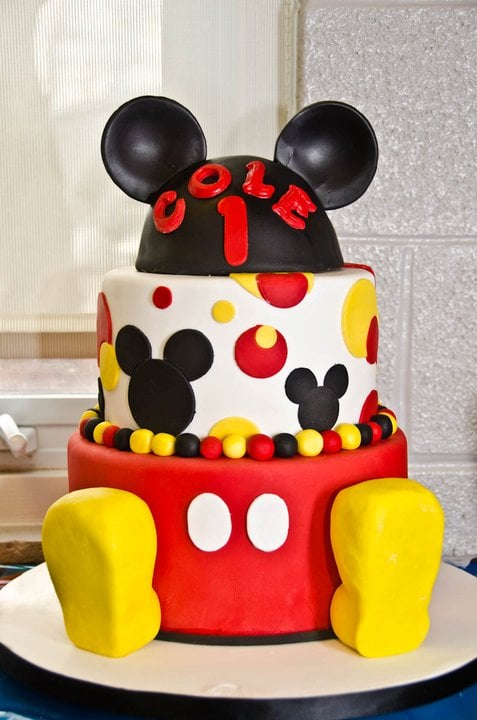 Hey everybody, it's Mickey Mouse! If your tot is a fan of Mickey Mouse — or any other character — then mama might already be considering a character-themed birthday. Have fun with your tot's birthday cake by commissioning a special birthday creation that will wow parents and kiddies alike!
Source: Sweet Eats Cakes [12]
Summer Flowers Cake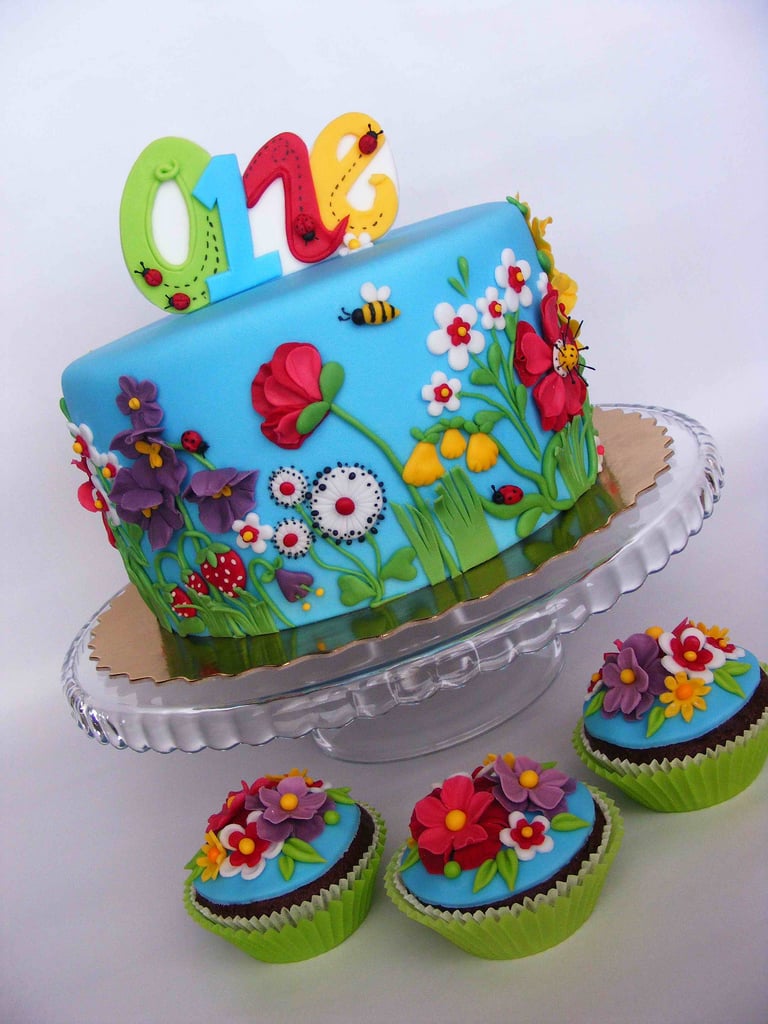 'Tis the season! Instead of celebrating with a character-themed party, celebrate the season your child was born in. Delicate and colorful details, like in this Summer flowers cake, will be unforgettable, picture perfect, and delicious!

Source: Flickr user bubolinkata [13]
Baby's First Ride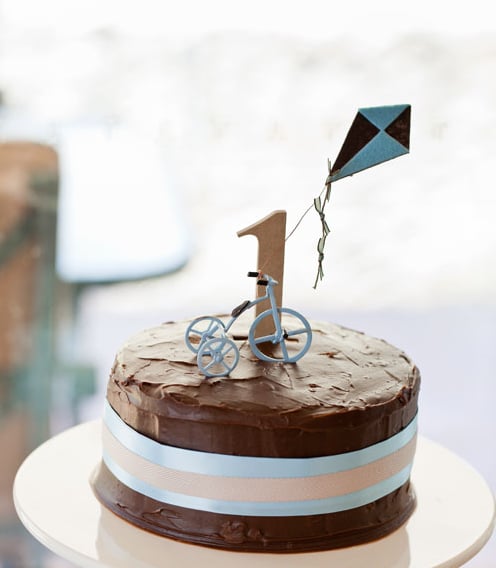 Evoke nostalgia with a vintage-inspired birthday. Custom-printed party decorations and a sweet toy tricycle make this bash even more special.
Source: Style Me Gorgeous [14]
My Little Love Bird Cake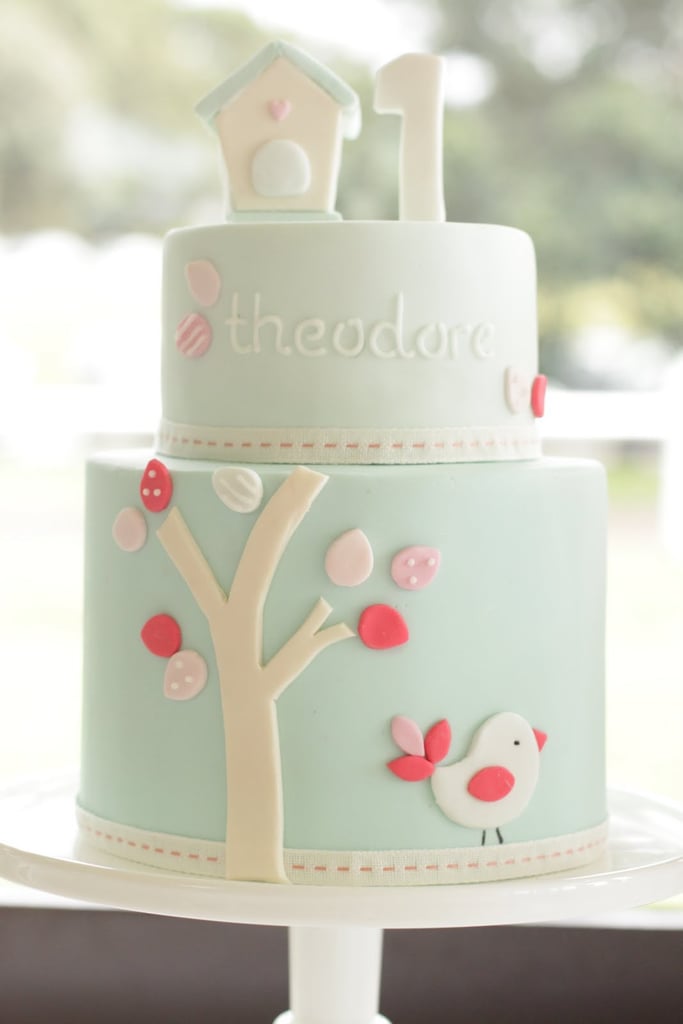 Hello, birdie! Baby only turns 1 once — and mama's ready to go all out to celebrate the occasion. Celebrate the love you feel for your lil one with a cake that's equally lovely. This just might be the sweetest first birthday cake we've ever seen!
Source: Hello Naomi [15]
Birthday Touchdown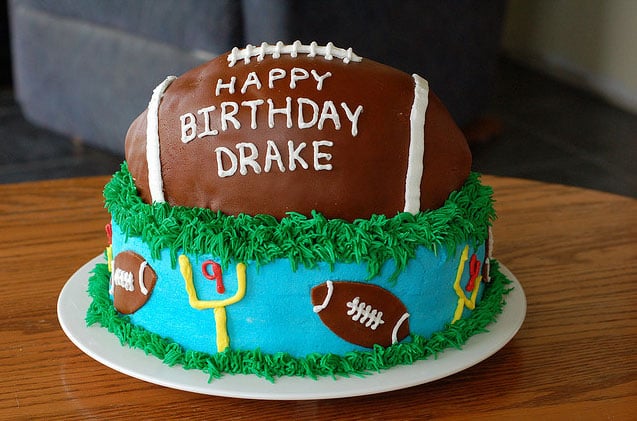 This football is a champion of cakes.
Source: Flickr user Samdogs [16]
Mod Elephant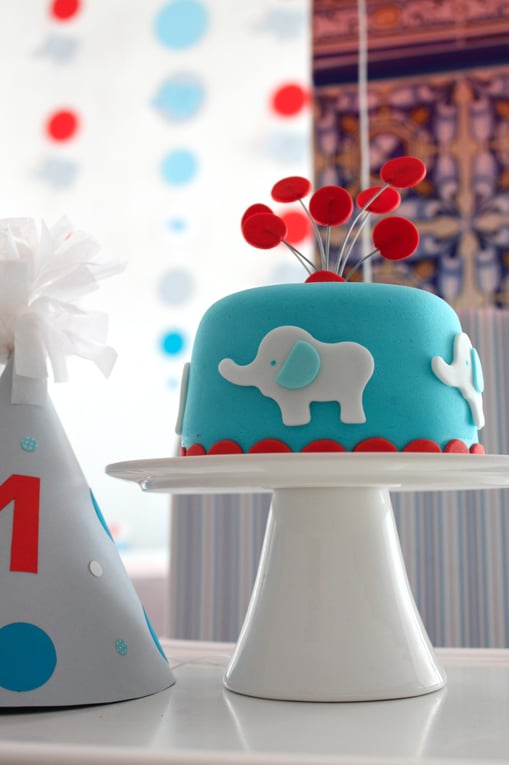 Can a first birthday party be modern, fun, and sophisticated all at once? Oh yeah! This fondant-covered cake made just for the birthday boy is the perfect combination of sweet and modern.
Source: Dulce Sobre Mesa [17]
Magic Hat Bunny Cake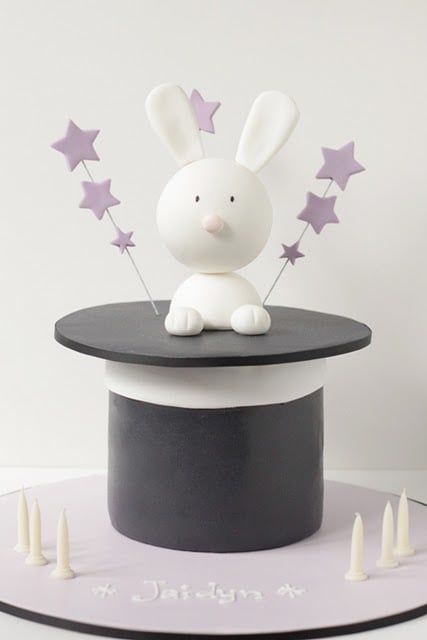 Abracadabra! One of the most beautiful things about being a kid is the ability to wonder and be amazed. A magic-themed party — with an especially magical rabbit in a hat cake — could make a believer even out of the most skeptical of guests!
Source: Hello Naomi [18]
Bumble Bee First Birthday Cake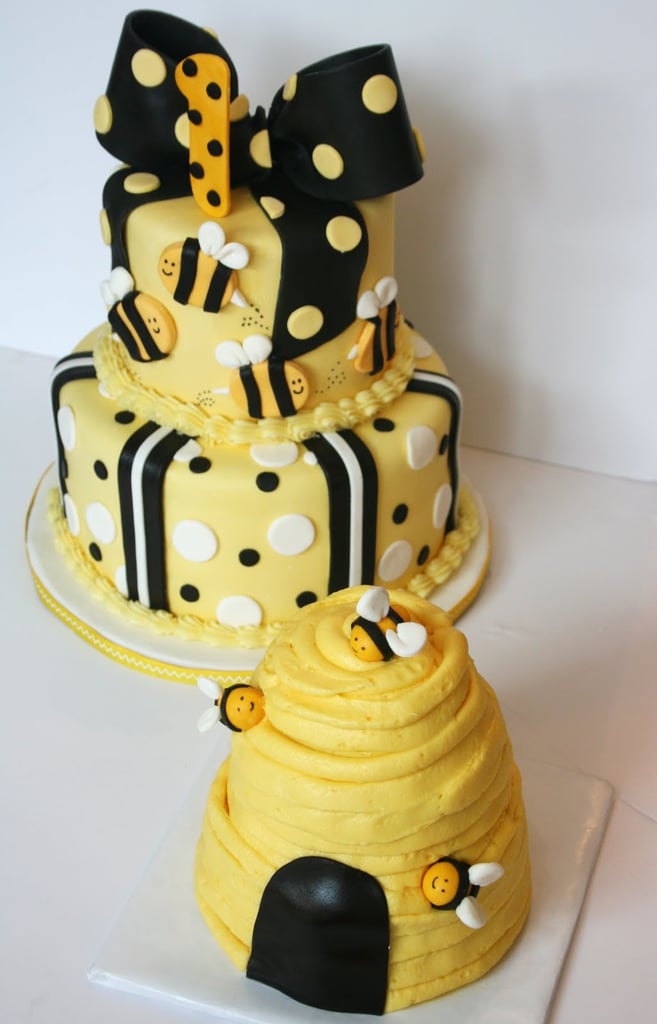 Bee happy! A bee-themed birthday is a wonderful idea for celebrating your kiddie's transition to toddlerhood — and a beehive smash cake is just the right detail to make an ordinary bee party extra bee-utiful!
Source: And Everything Sweet [19]
A Lego Cake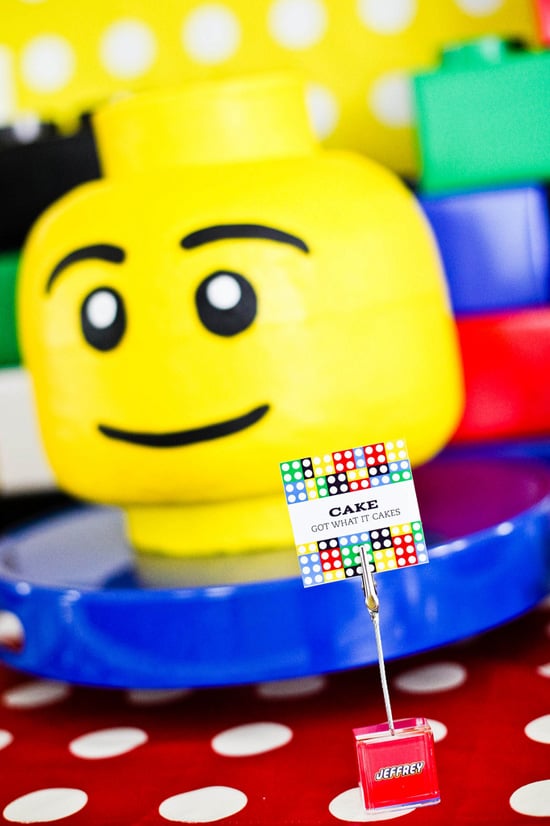 Let go of my Lego? Kids love Legos — and that's a fact! So don't be surprised if Mama's little brick lover requests a cake of his favorite minifigure [20] for his next birthday.
Source: Anders Ruff [21]
A Sunny Birthday Celebration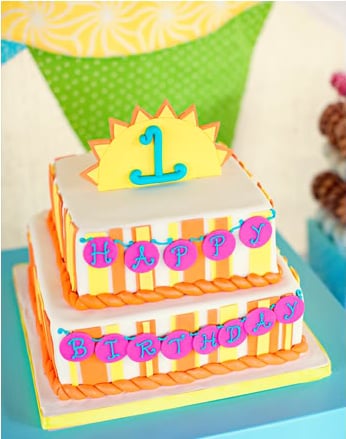 A chic and happy soiree to celebrate the light in your life! We love the bright look of this square cake.
Source: Wendy Updegraff Photography [22]
Set Sail!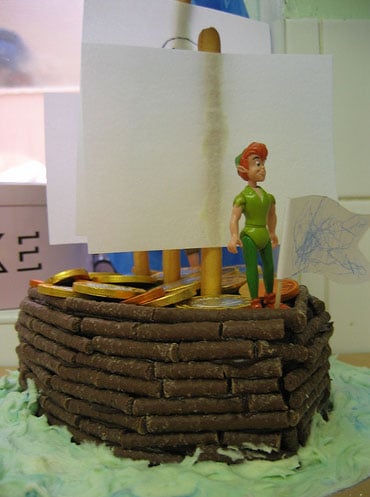 Constructing a boat is extra fun if the pieces are edible. This is sure to be a memorable treat long after your tot is grown up.
Source: Flickr user ldodds [23]
A Rose-Swirled Smash Cake
Perfectly girlie and perfectly pretty, this rose-covered smash cake makes for a great photo op before the birthday girl digs into it!
Source: Momentology Photography for I Heart Nap Time [24]
Friendly Faces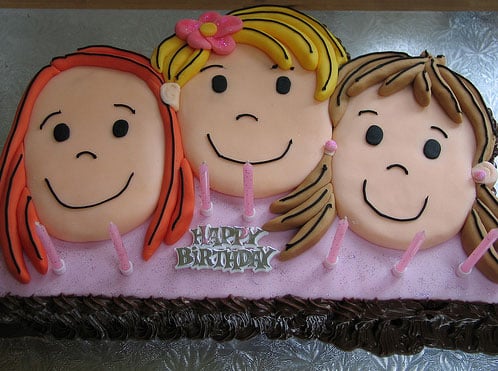 Your birthday girl will get a kick out of seeing herself and her best buds depicted on the cake.
Source: Flickr user whiper [25]
Birthday Princess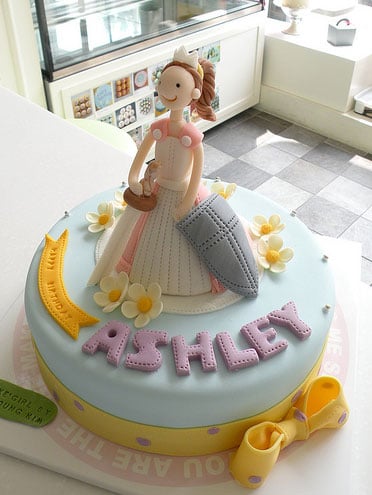 With a sword and shield in hand, this birthday princess can still hang with the boys.
Source: Flickr user Cake Girl by Hyeyoung Kim [26]
A Butterfly Garden Cake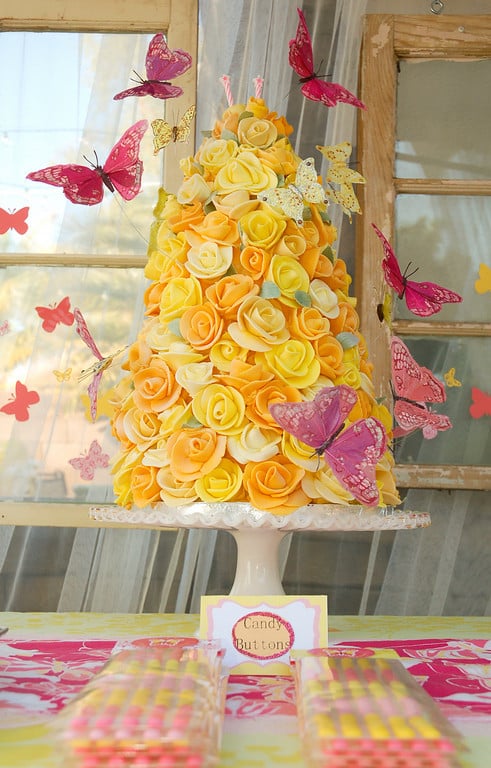 A little girl is never too young to host a garden party! And this cake — a Peggy Porschen design — had over 200 roses on it to rule the dessert table.
Source: Tradewind Tiaras [27]
An Elegant Princess Cake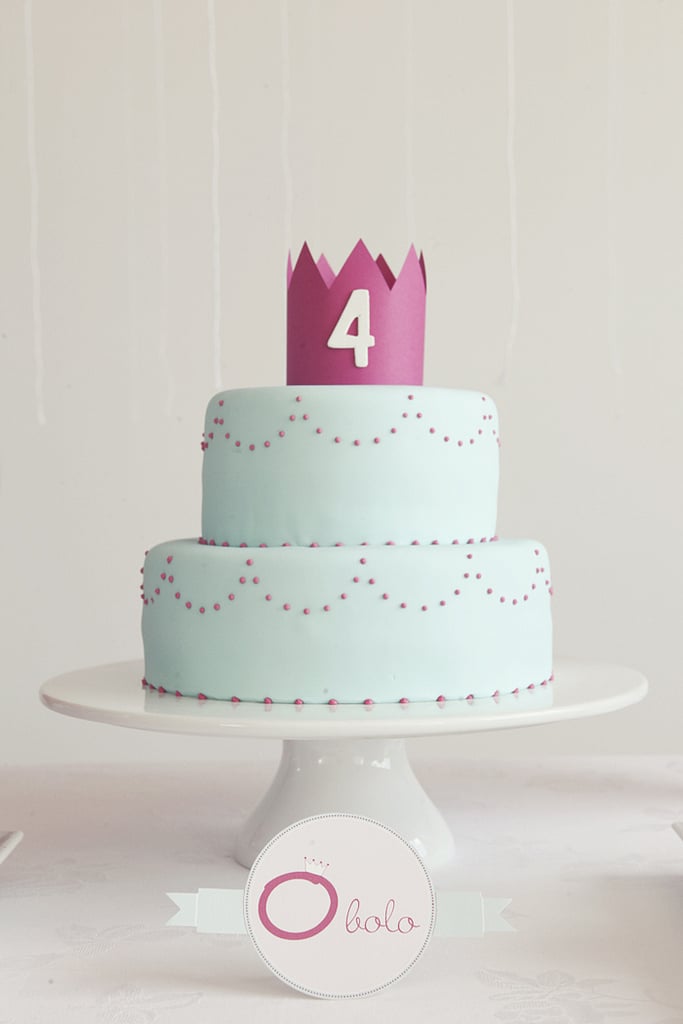 Who says a princess cake has to be frilly and pink? This princess-themed birthday party [28] had a simple and beautiful cake that proves you don't have to go over the top to be royal!
Source: Branco Prata [29]
Fun Animal Birthday Cake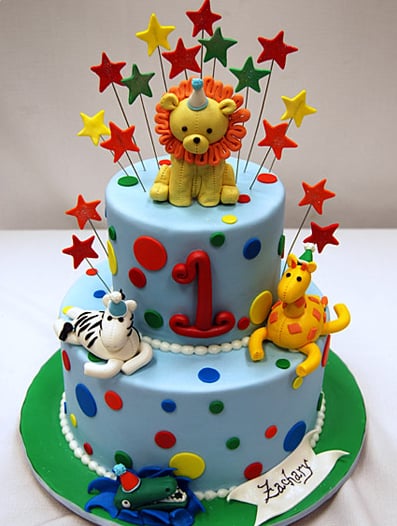 Let's roar! Baby animal themes are very popular to celebrate a child's first (or second) birthday party. Make your party unforgettable with a showstopping cake like this fondant-embellished animal birthday cake.
Source: Pink Cake Box [30]
Super Mario Fun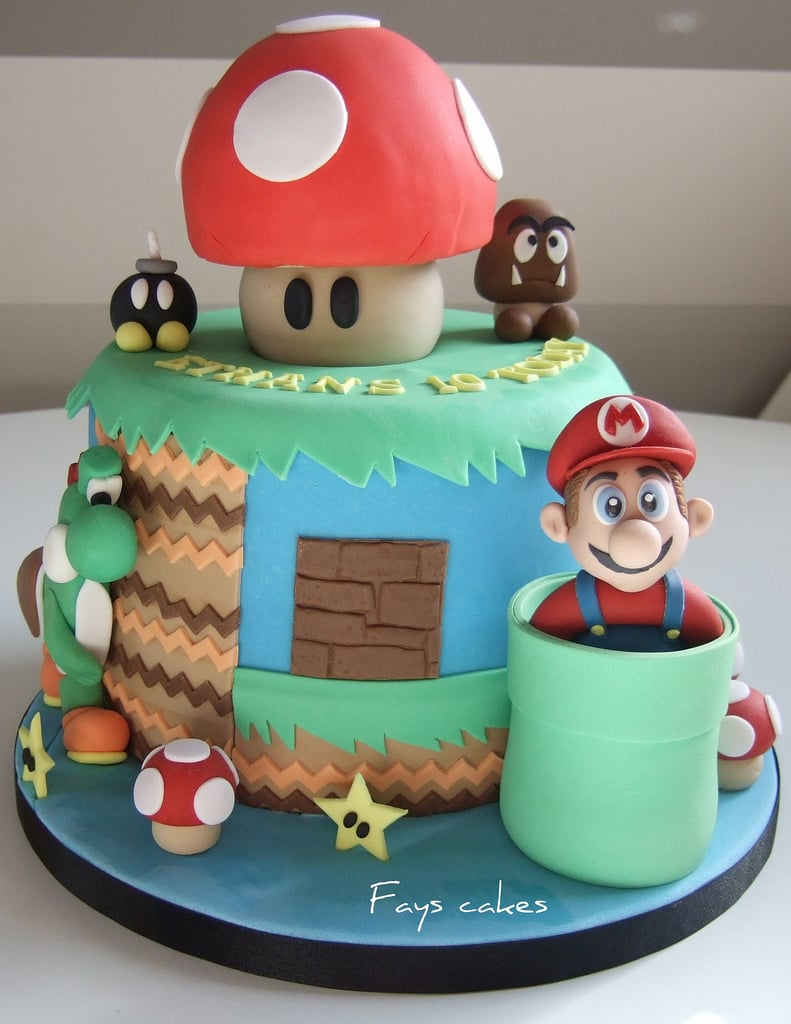 You can almost hear the theme song playing upon setting eyes on this magnificent Super Mario Bros. cake. With an authentic-looking Mario and plenty of mushrooms, it will be the little gamers' favorite cake ever!
Source: Flickr user Fays cakes [31]
Elmo's World
Finding a tot who doesn't love Elmo is like finding a needle in a haystack, and this girlie Elmo soiree [32] — complete with a towering Elmo cake — takes the standard Sesame Street party to a whole other level!
Source: WH Hostess [33] via Hostess with the Mostess [34]
Out of This World Space Party
Three, two, one, blast off! You can't take a child to the moon (yet), but you can still create an outer-space birthday party theme [35] that's out of this world!
Source: Amy Atlas [36]
A Puppy Party Cake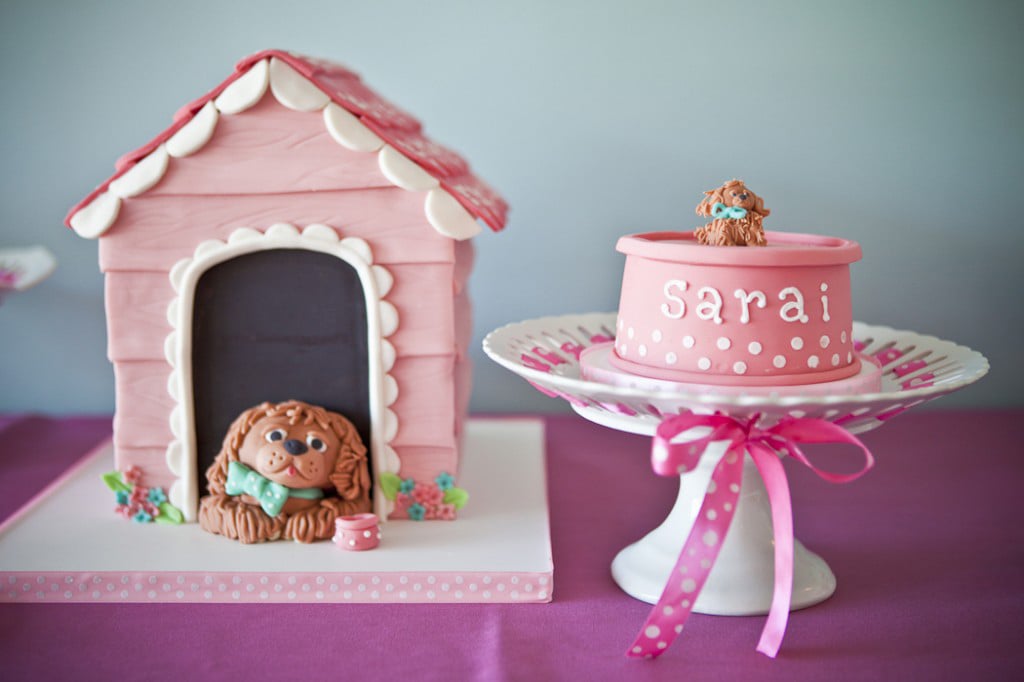 Bow wow indeed! You don't have to have a pet dog at home to love them — but it certainly helps for the pictures! This puppy-themed cake [37] proves that puppy power is here to stay.
Source: Allyson Wiley for A Little Savvy Event [38]
Vintage Airplane Cake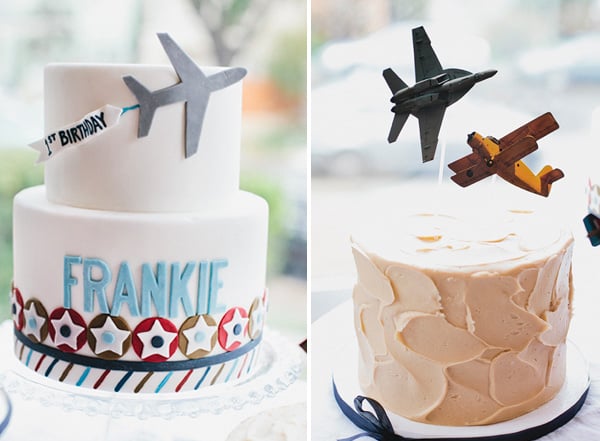 With smooth lines and some vintage plane accents, these retro cakes are the perfect centerpiece for an airline-inspired soiree.
Source: Posh Paperie [39]
A Pirate Ship Cake to Inspire a Tiny Crew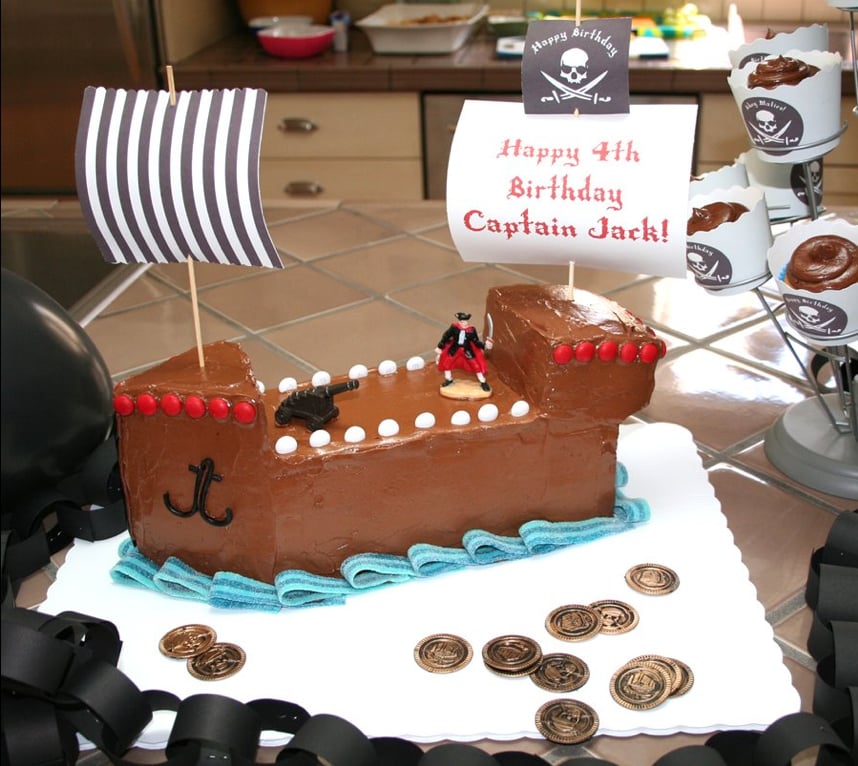 This homemade confection, made by creatively cutting up a larger sheet cake, is just what every pirate captain needs at his birthday party.
Source: Pencil Shavings [40]
Vintage Superhero Cake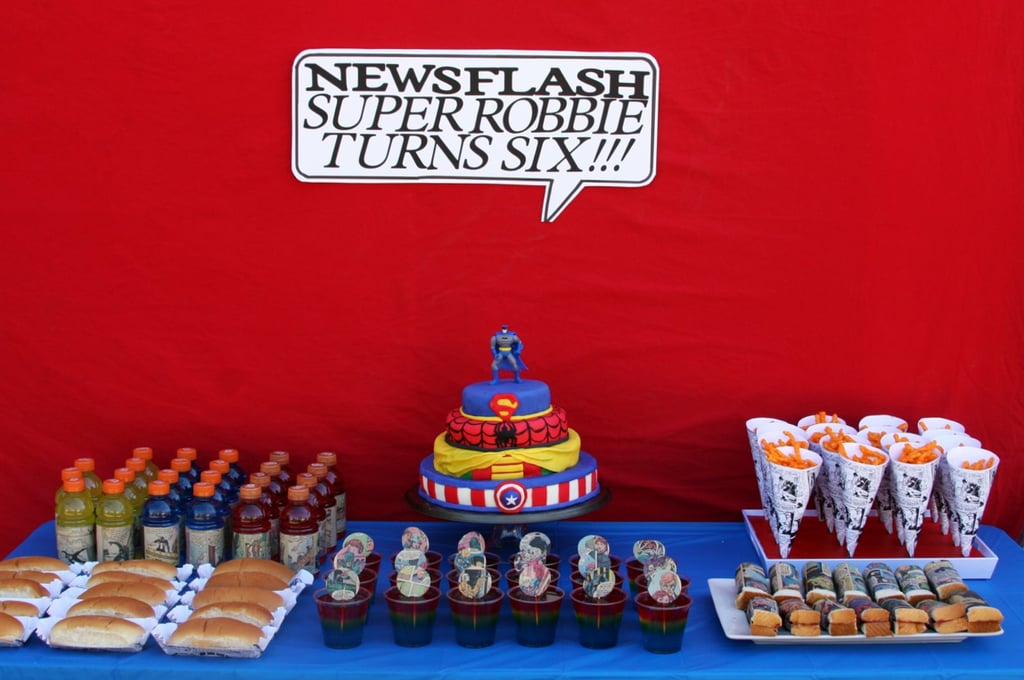 There's no need to pick a favorite superhero when you can combine four or more in one cake. For Robbie's comic superhero party [41], his mama ensured that all of the superpowers were represented in this four-layer confection!
Source: Life Frosting [42]
Silhouette Cake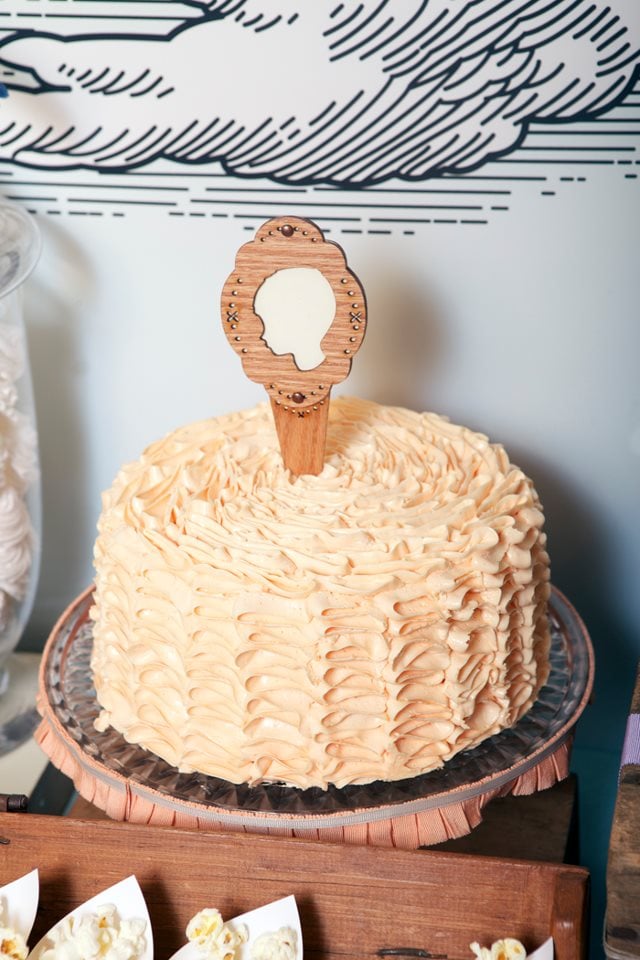 A peach-vanilla buttercream, three-layer birthday cake from a vintage airplane party [43] got even cuter with a cutout silhouette cake topper. Click here [44] for a similar style.
Source: Keren Precel Events [45]
Modern Geometric Cake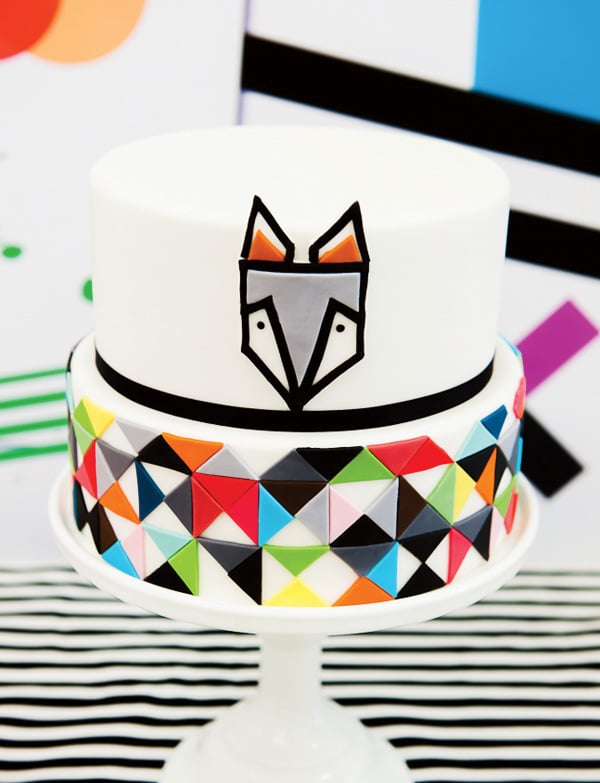 This fun modern geometric cake [46] was lovingly created by Helen of Kiss My Cakes [47].
Source: Hostess With the Mostess [48]
Cake at Work
For a construction-themed birthday party [49], the cake was frosted very simply and then decorated with mini construction signs. To connect the signs, the hostess used Strawz [50] she found in the Art Institute of Chicago's museum shop.
Source: Wants and Wishes Design [51]
A Glass Menagerie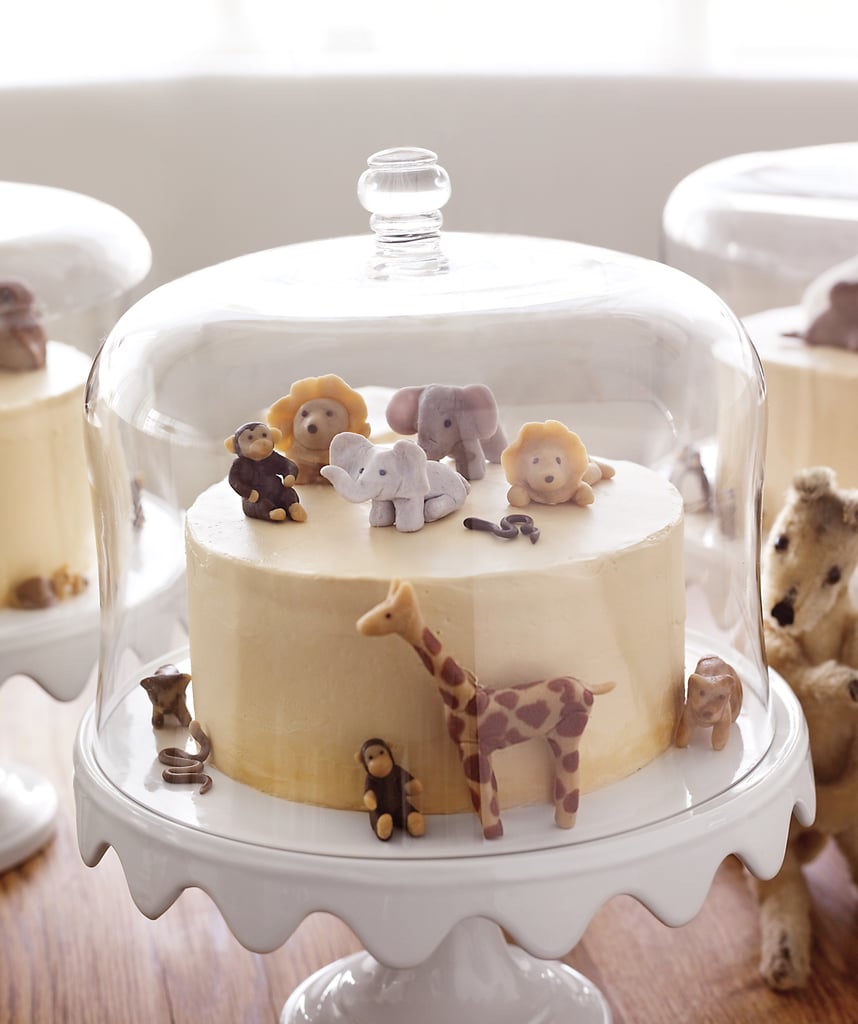 The focal point at Martha Stewart's granddaughter's first birthday party [52] was the dessert table, where three cakes covered with marzipan animals stole the show.
Photos by Francesco Lagnese. Courtesy of
Martha Stewart
Living. Copyright © 2012. Originally published in the October issue of
Martha Stewart Living magazine
[53]
Sprinkled Ruffle Cake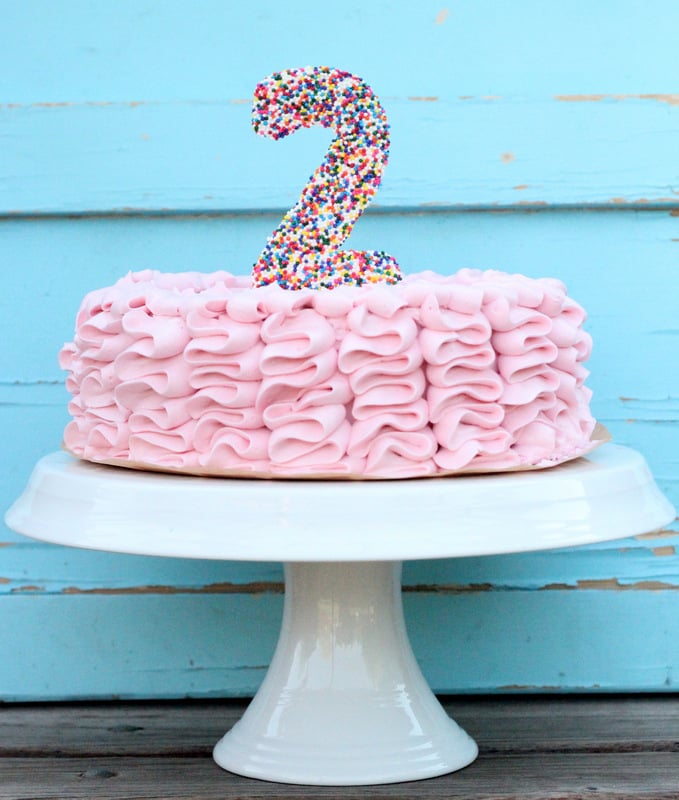 For her daughter's second birthday, this mama made a ruffle cake and sprinkle cake topper [54]. Get the tutorial here [55].
Source: Kojo Designs [56]
Glamping Cake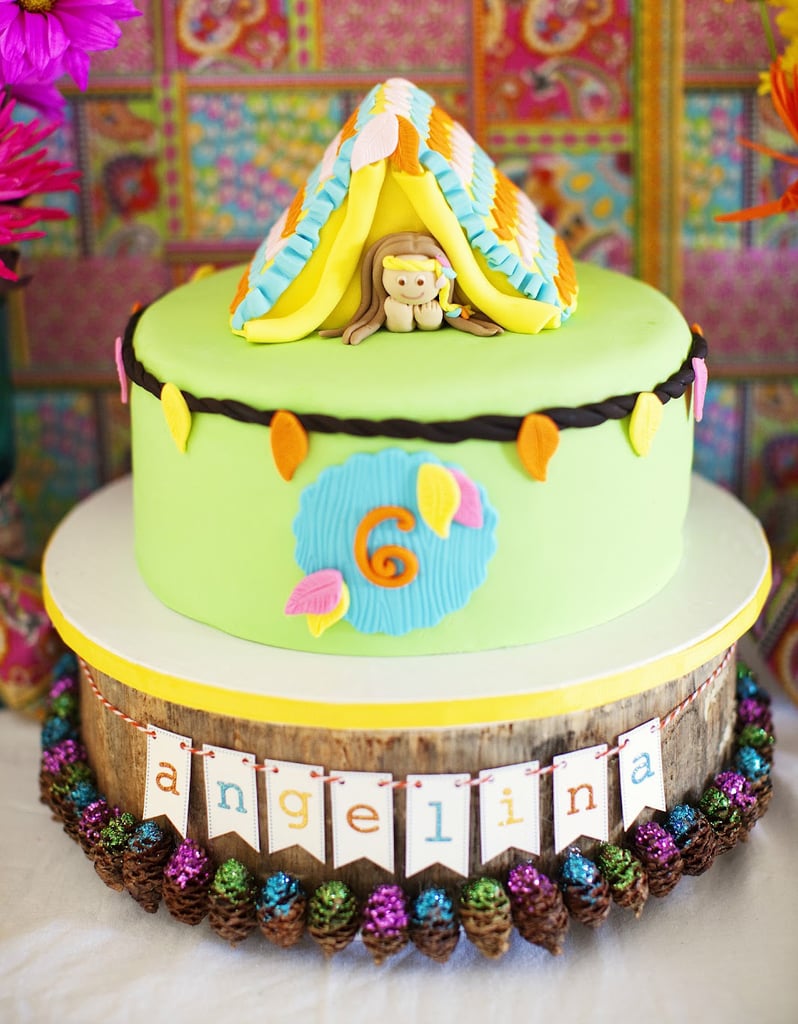 For the cake at her vintage glamping party [57], this birthday girl asked for a little girl inside of a tent. And that's just what she got — including a feather headband.
Source: Love & Sugar Kisses [58]
A Star Cruiser Cake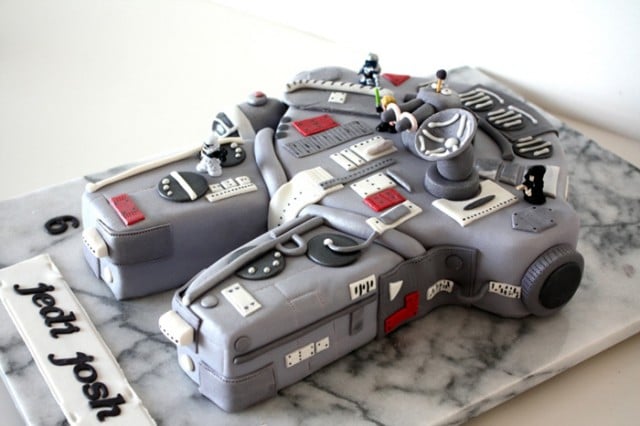 The pièce de résistance at a Star Wars party [59] was a Star Cruiser cake created by Kiss Me Kate [60].
Source: Anders Ruff [61]
An Ombré Flamingo Cake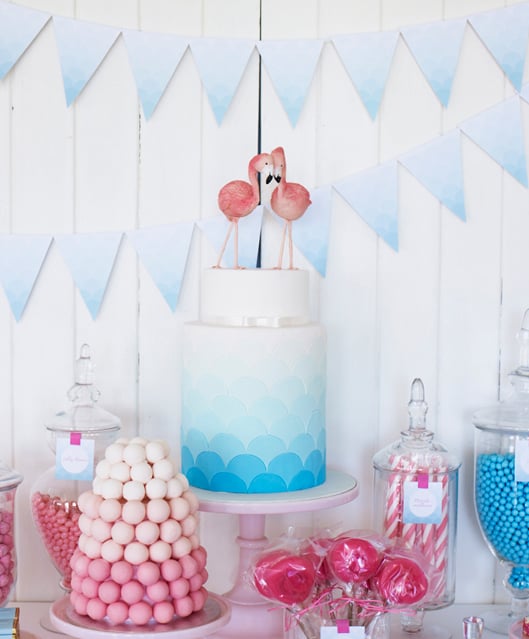 For a retro pink flamingo pool party [62], this ombré blue cake — topped off with flamingos — was just the way to go!
Source: Sweet Style [63]
A Braided Green and Pink Cake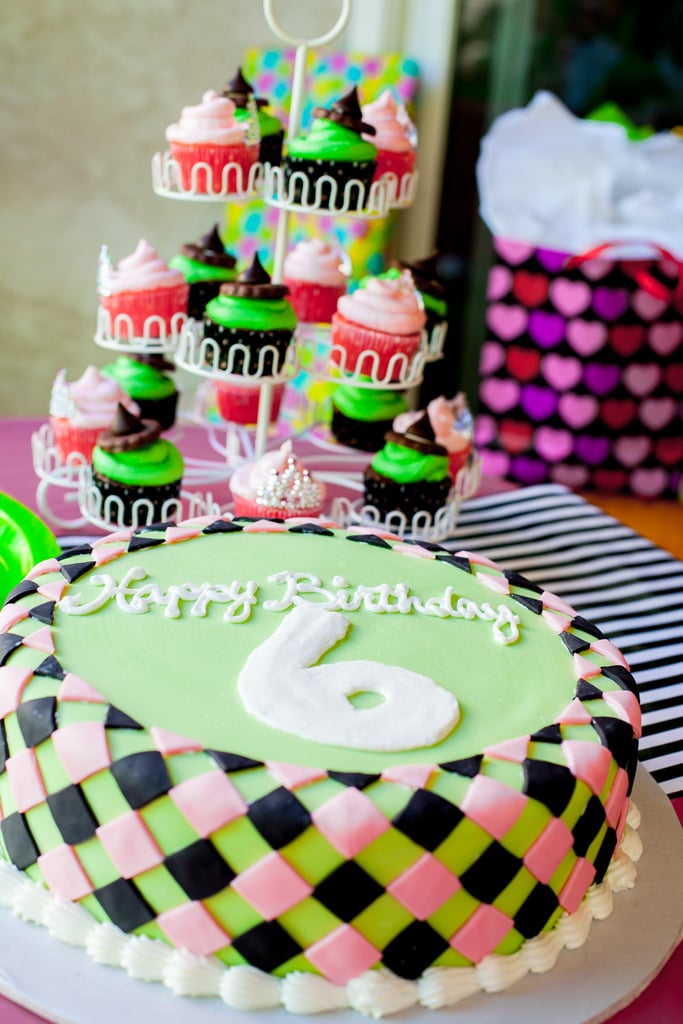 This green cake — part of a Wicked-inspired birthday party [64] — was made by adding pink and black diamonds to a plain green cake.
Source: Melanie Monroe Photography [65]
Cinderella Cake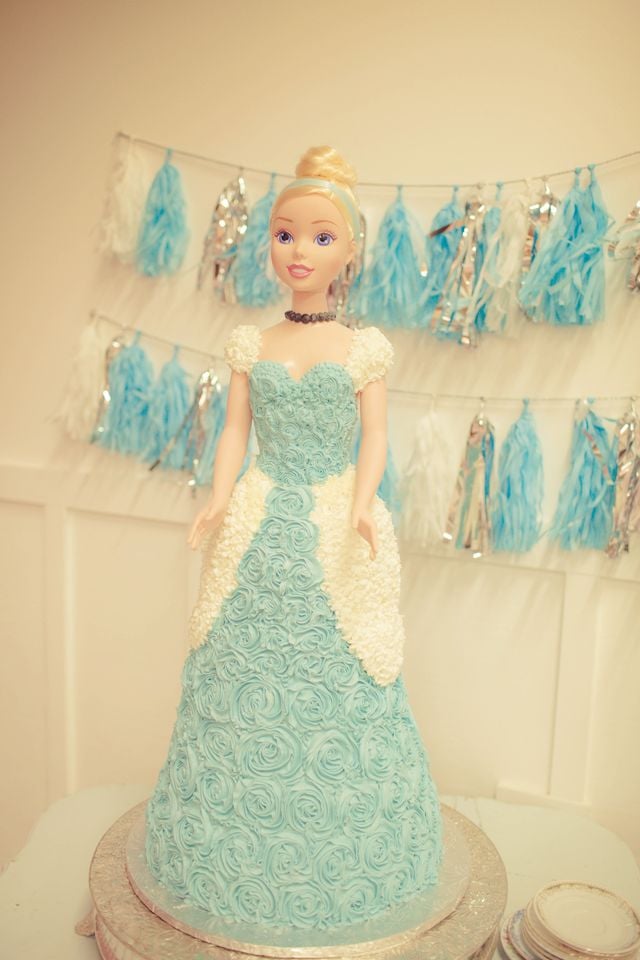 A cake in the likeness of the Disney princess made for a dramatic centerpiece at a Bibbidi Bobbidi Boutique party [66]. "As if we didn't have enough dessert, my husband and I decided to make Ally an actual Cinderella cake," Jenny shared. "It was quite the experience. We spent an evening carving cake to shape Cinderella's dress, and I decorated Cinderella in blue buttercream roses until the wee hours of the morning. When the cake was done, it was gorgeous, but ended up being almost four feet tall! A little too tall to transport. So we had to call in a friend with a van to get Cinderella to the party! We placed Cinderella on her own table, in front of the cutest tassel garlands made by The Flair Exchange."
Source: Jenny Cookies [67]
Peter Pan Cake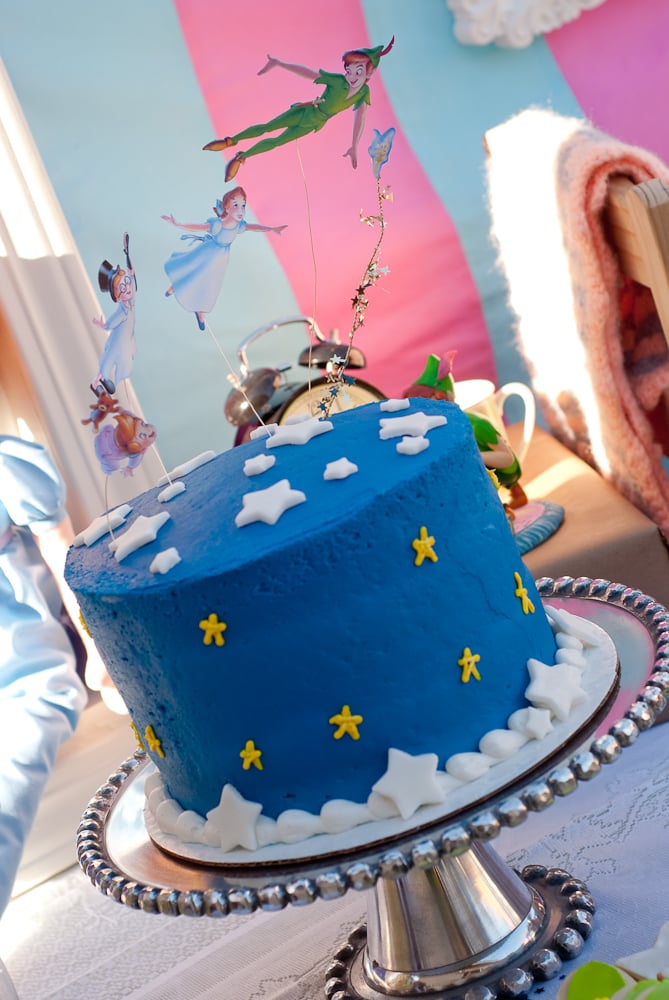 A simple blue cake with a few added stars quickly transforms into a scene from Peter Pan's flight [68] with the addition of a few cutouts flying high above.
Source: Miss Party Mom [69]
Angry Birds Cake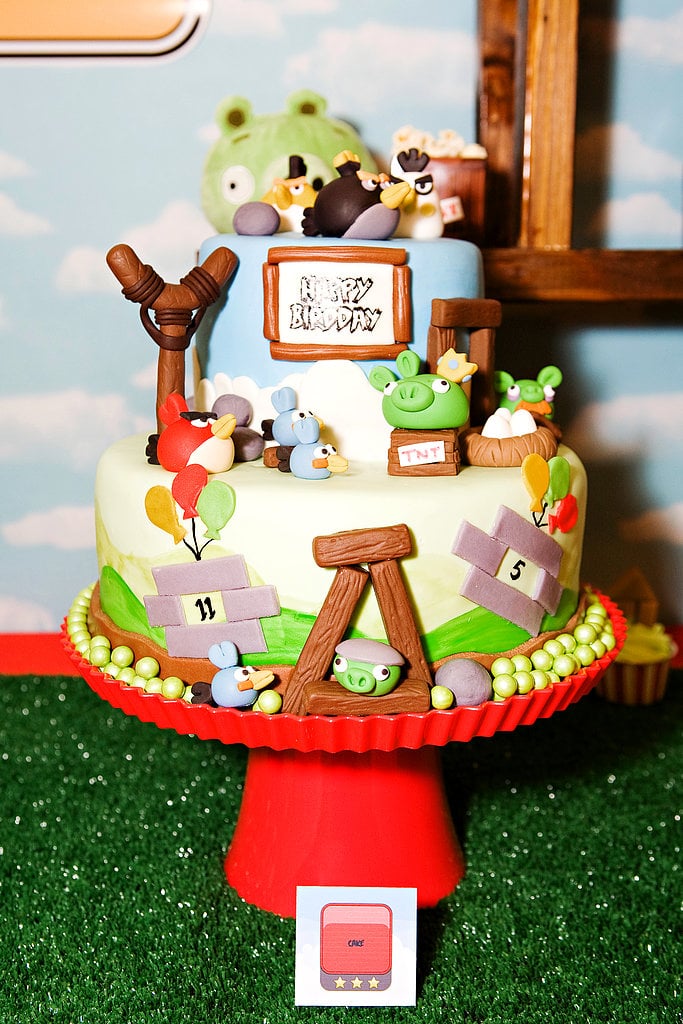 An Angry Birds-themed party [70] had quite a centerpiece with this incredibly delicious two-tiered cake with molded chocolate and fondant scenery. Complete with 3D fondant birds and game elements by Lynlee's Petite Cakes [71], the cake looked like a scene out of the game.
Source: Banner Events [72]
A Barnyard Cake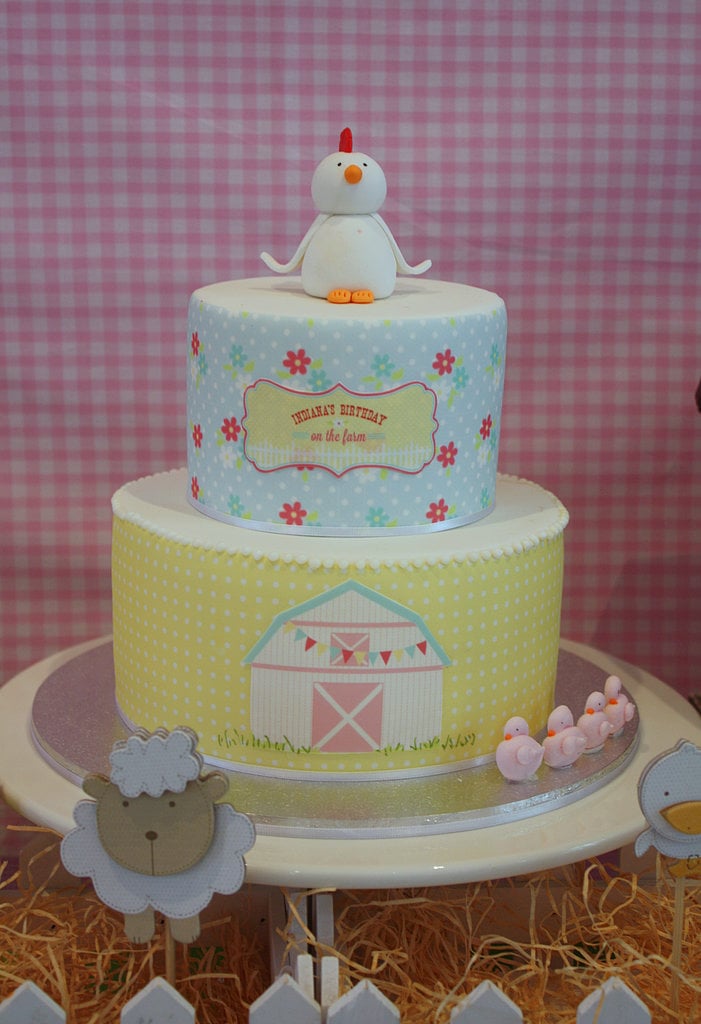 Topped with an adorable rooster, this farm cake [73] featured sweet edible paper to finish off the design.
Source: Kiss Me Kate [74]
An Elephant and Balloon Cake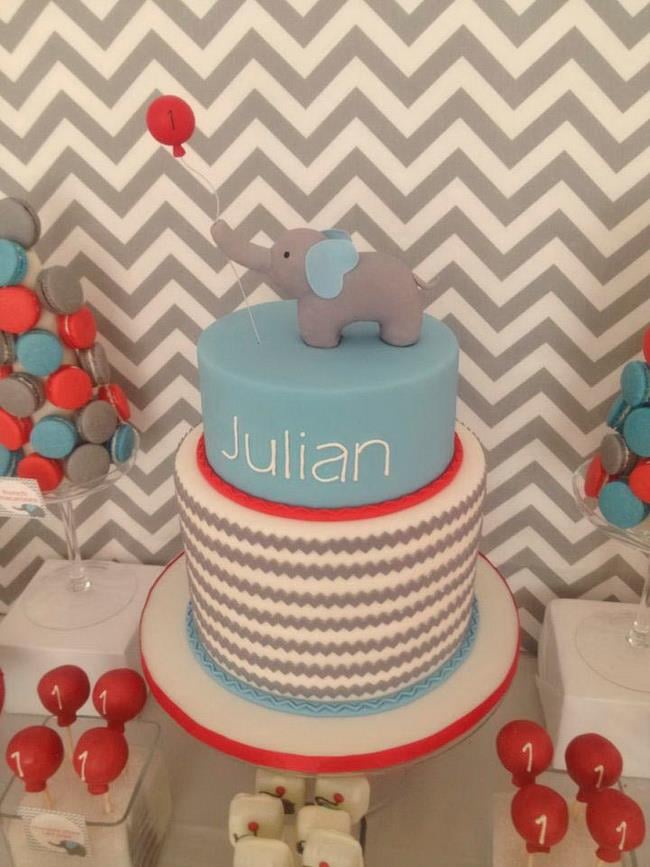 How sweet was this awesome, elephant-topped first birthday cake [75] that featured the party's big themes — elephants, chevron, and balloons?
Source: Oh So Chic Celebrations [76]
A Classic Race Car Cake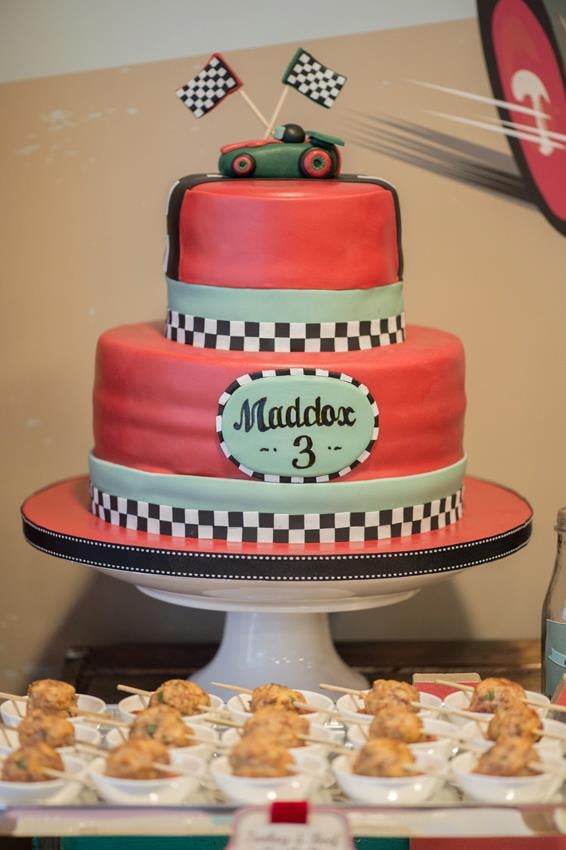 For a retro race car party [77], this three-tiered cake — complete with checkerboard flags and a vintage car — was the perfect way to celebrate the birthday boy.
Source: Keren Precel Events [78]
A Sleeping Beauty Creation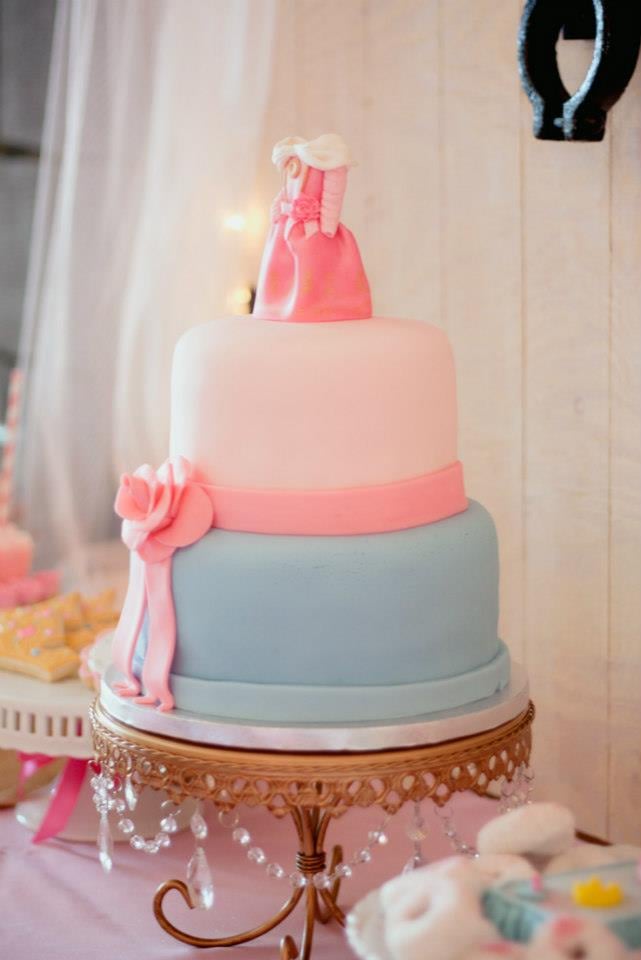 Sleeping Beauty's classic style was epitomized in this beautiful cake topped with her dress [79].
Source: Fanciful Events [80]
Rose-Adorned Cake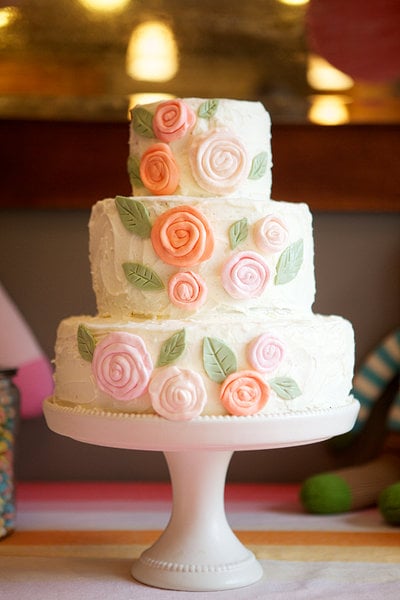 For a BlaBla doll-themed party [81], this shabby-chic, rose-adorned cake was a beautiful way to celebrate.
Source: Portraits by Lucinda [82]
A Cinderella Princess Cake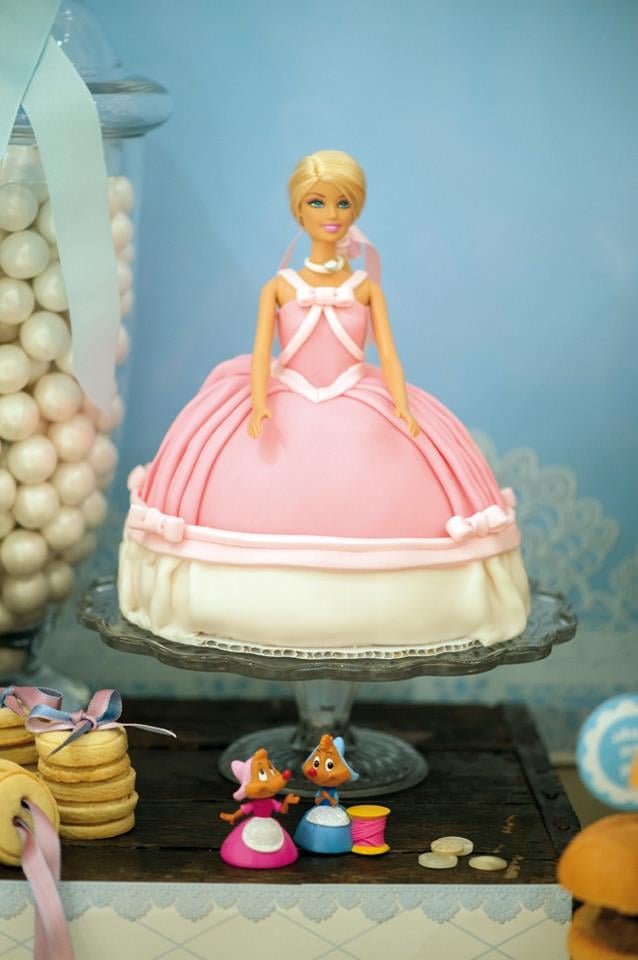 Cinderella certainly looked like the belle of the ball with this amazing princess cake that was the centerpiece of a Cinderella-themed party [83].
Source: Keren Precel Events [84]
A Pastel Carousel Cake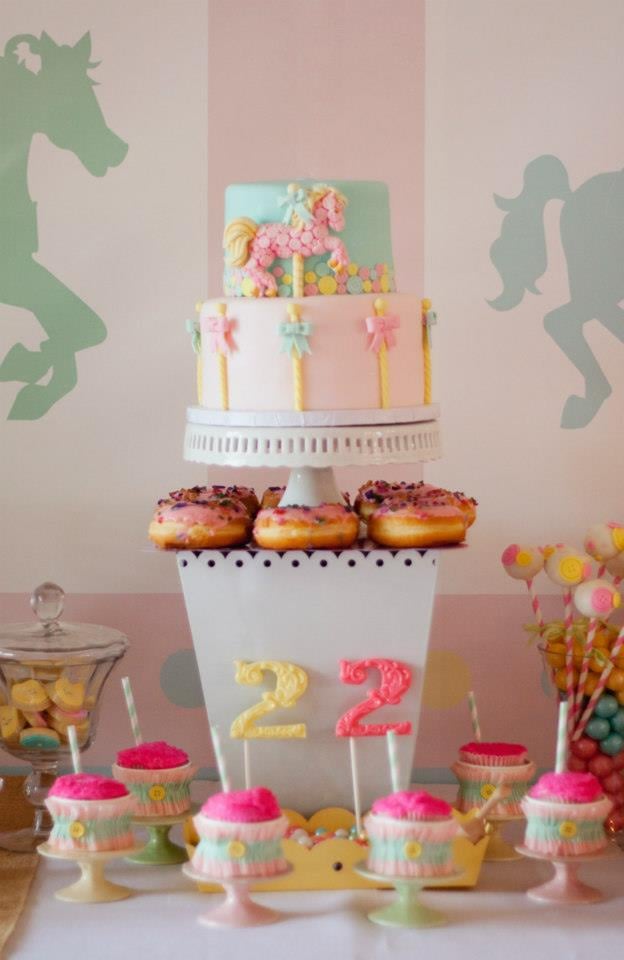 This awesome carousel cake and rock-candy-topped doughnuts were just some of the many desserts at this carousel-themed party [85].
Source: Fanciful Events [86]
A Lorax-Inspired Cake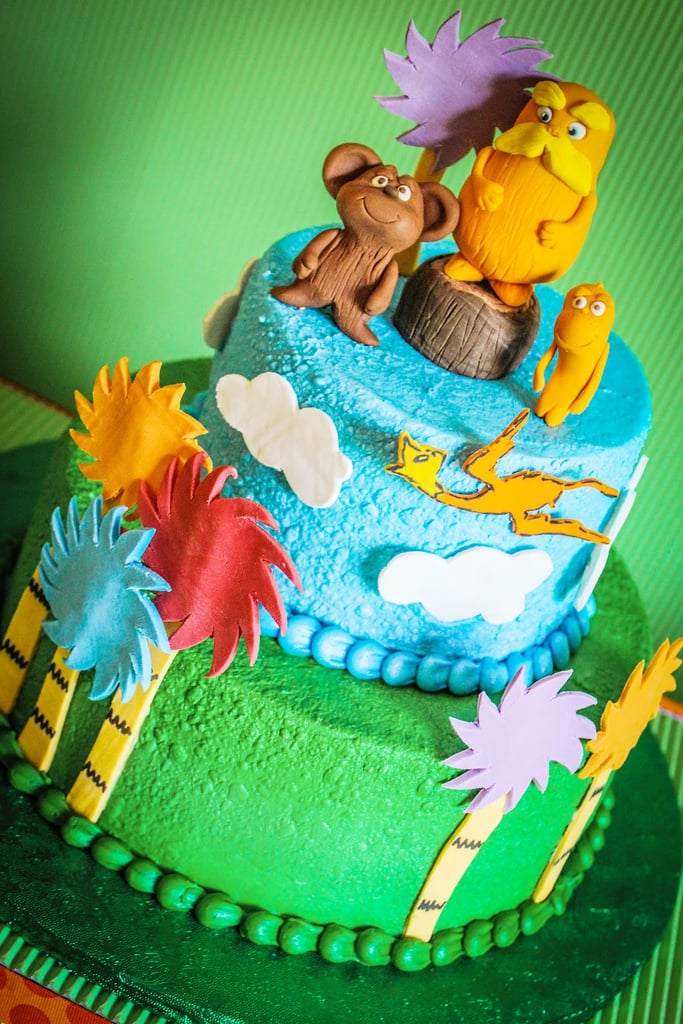 For a Lorax-inspired birthday party [87], the bakery made a basic blue-and-green tiered cake and then the mom decorated it with 3D Lorax, Barbaloot, and Humming Fish cake toppers.
Source: The Party Wall [88]
Ombré Cake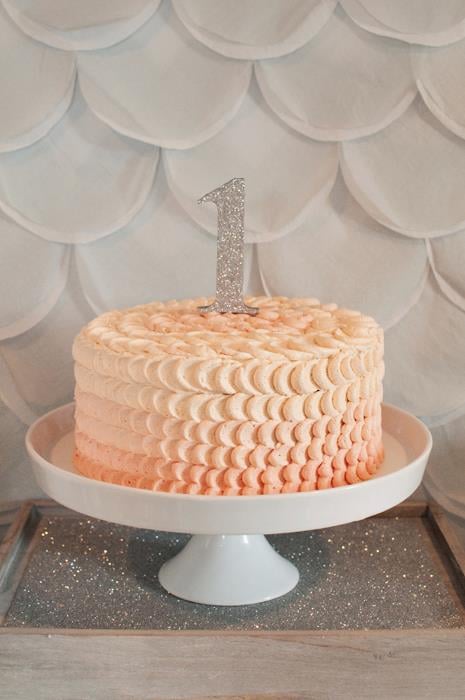 For a sweet silver and peach first birthday party [89], partygoers were treated to an ombré cake with a sparkly number one.
Source: All the Frills [90]
A Tower of Color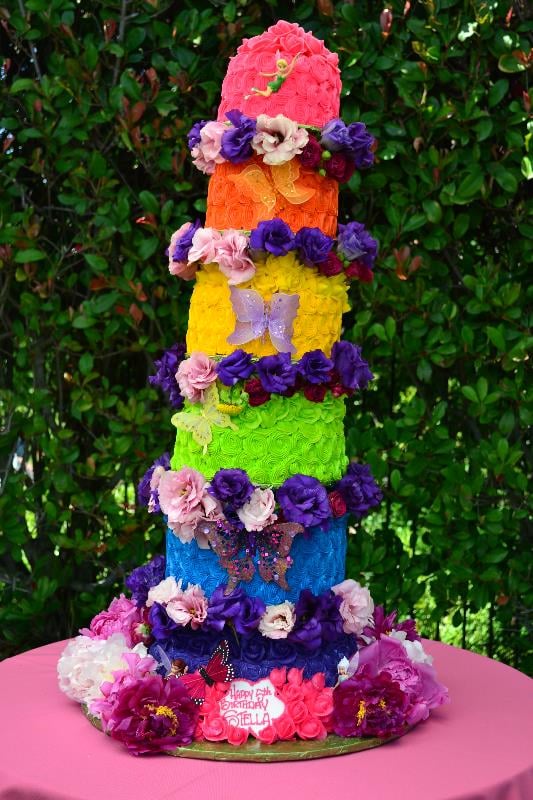 Tori Spelling [91] threw a flower-power-themed party [92] for her daughter Stella, taking the theme to new heights with this cake. "It's a tradition in our family to get a cake from Hansen's Cakes [93] — the cake makers in Hollywood. I had a Hansen's cake at every one of my birthday parties as a little girl, and I'm of course continuing the tradition with my four babes," she said.
Source: Tori Spelling [94]
Peter Rabbit Cake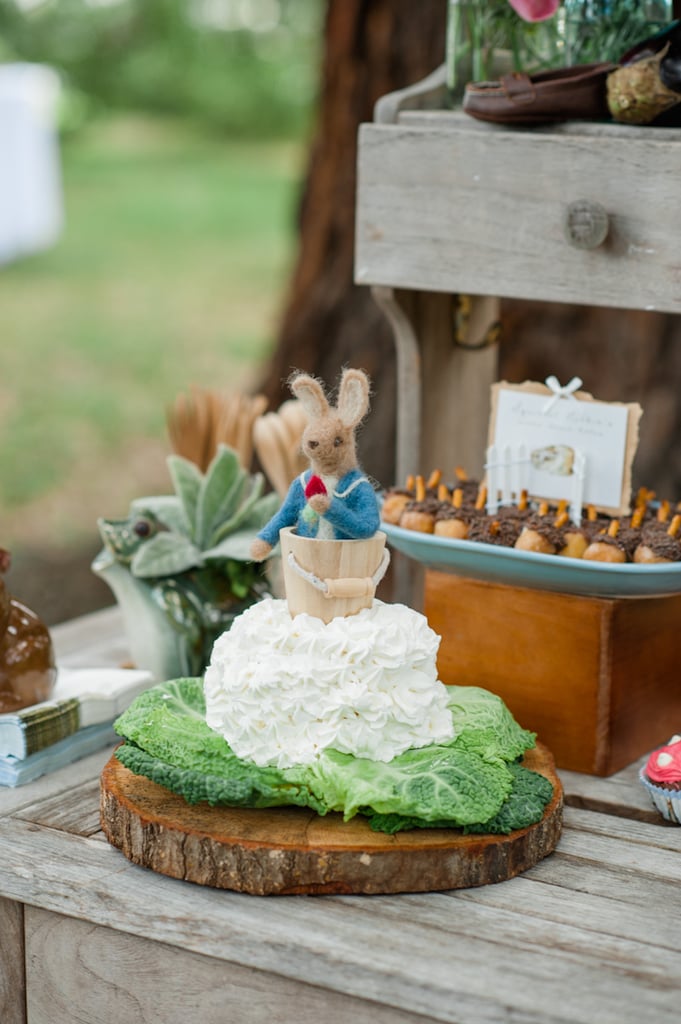 For her Peter Rabbit-themed first birthday party [95], one mom turned a white cake into a Peter Rabbit masterpiece!
Source: Alex Michele Photography [96]
A Superhero Cake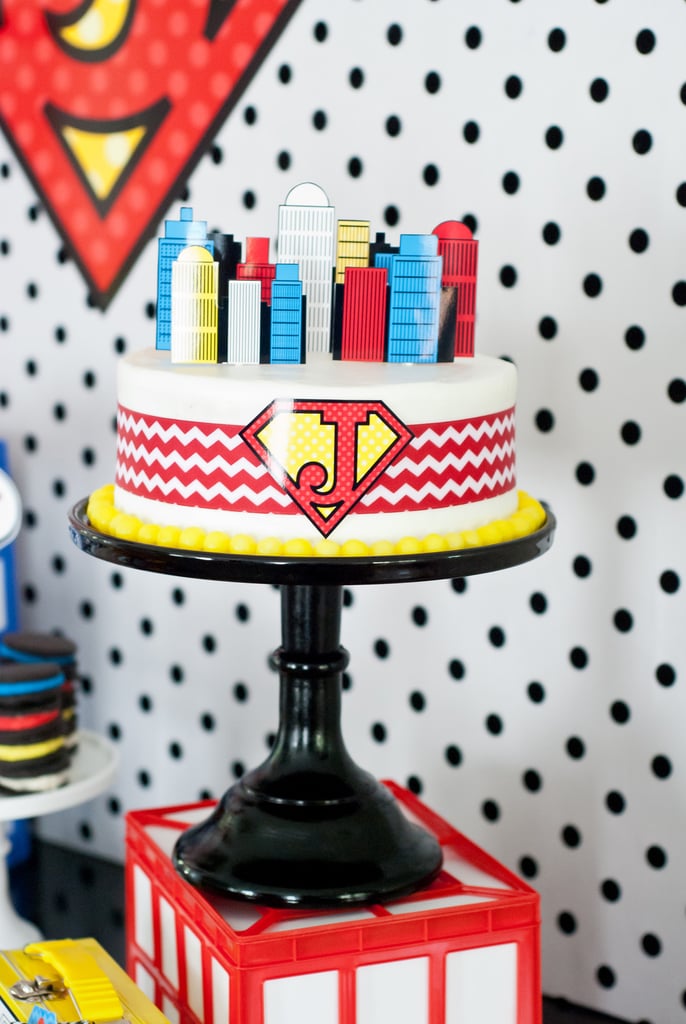 "Our local Super Target sold a round two-layer white cake for $12, and we embellished it to look like a custom decorated superhero cake," Maureen Anders says of the cake for her superhero-themed [97] party. The party planner added a chevron ribbon, a yellow Lemon Head candy border, and a printable skyline to jazz up the cake.
Source: Anders Ruff [98]
Cakes Galore
Why only serve one cake when you can serve nine? That was the thought process behind this pretty and cake-filled party [99] thrown by an Australian mom.
Source: Sweet Style [100]
Pink and Gold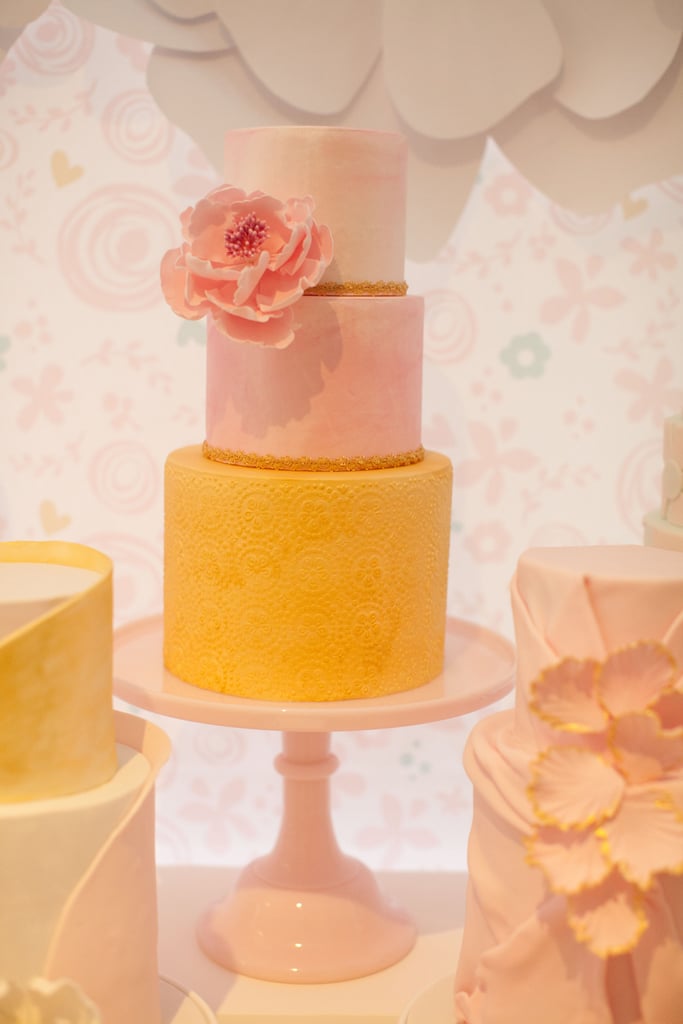 Sweet as can be, this pink and gold cake [101] was simple and elegant for a first birthday party.
Source: Sweet Style [102]
A Pasta-Themed Cake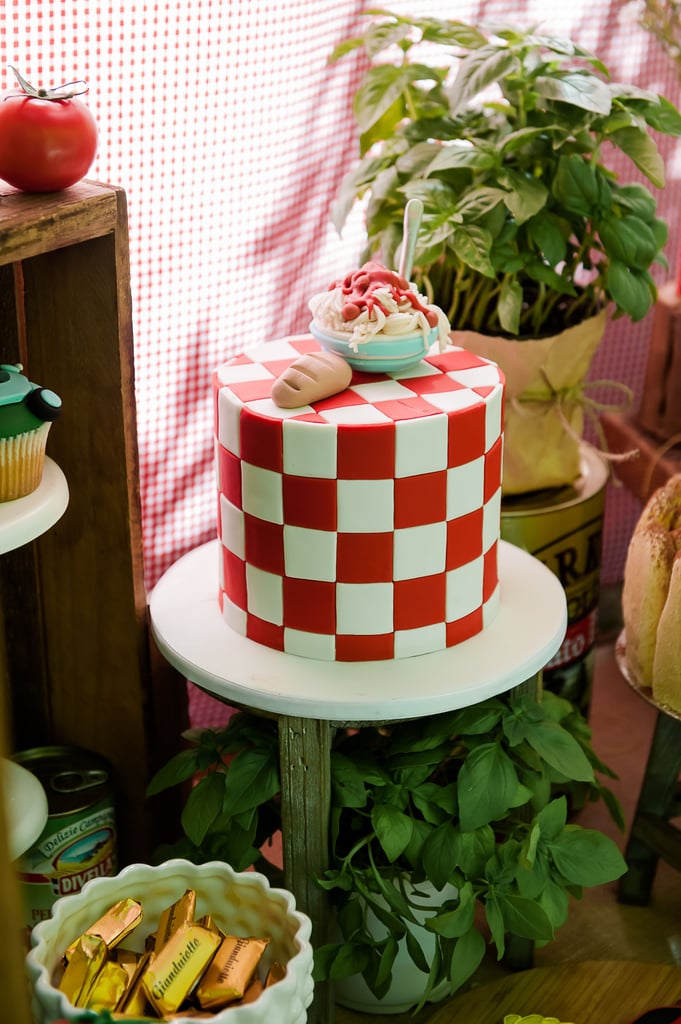 Dinner for dessert? You have to look carefully to see that this Italian-themed party [103] actually served up a cake with a spaghetti and meatballs fondant topper as dessert.
Source: Ham & Pea Design & Paperie [104]
Construction-Themed Cake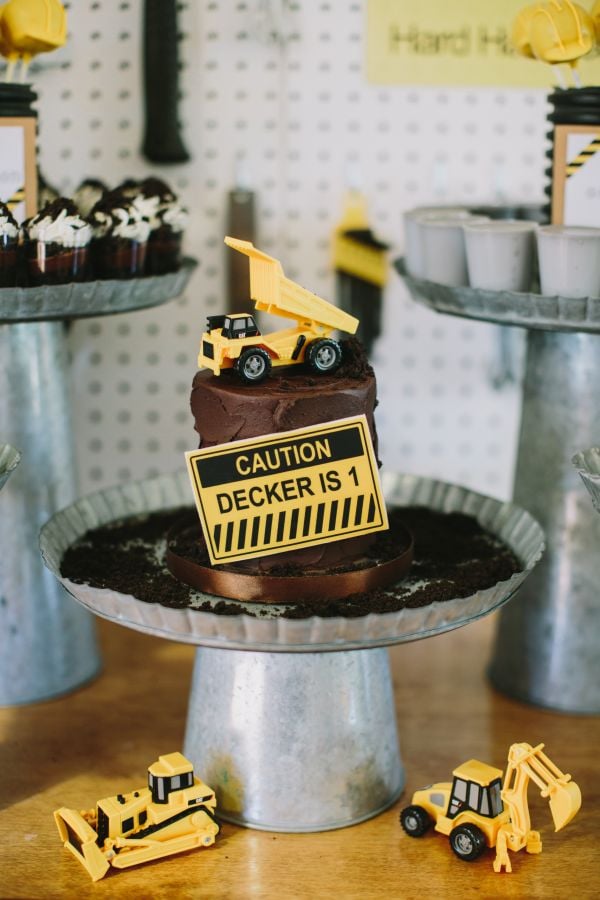 No need to go overboard when designing a cake. For this construction-themed party [105], a simple chocolate cake was elevated with a dump-truck topper and a caution sign.
Source: Inspired by This [106]
Elmo Cake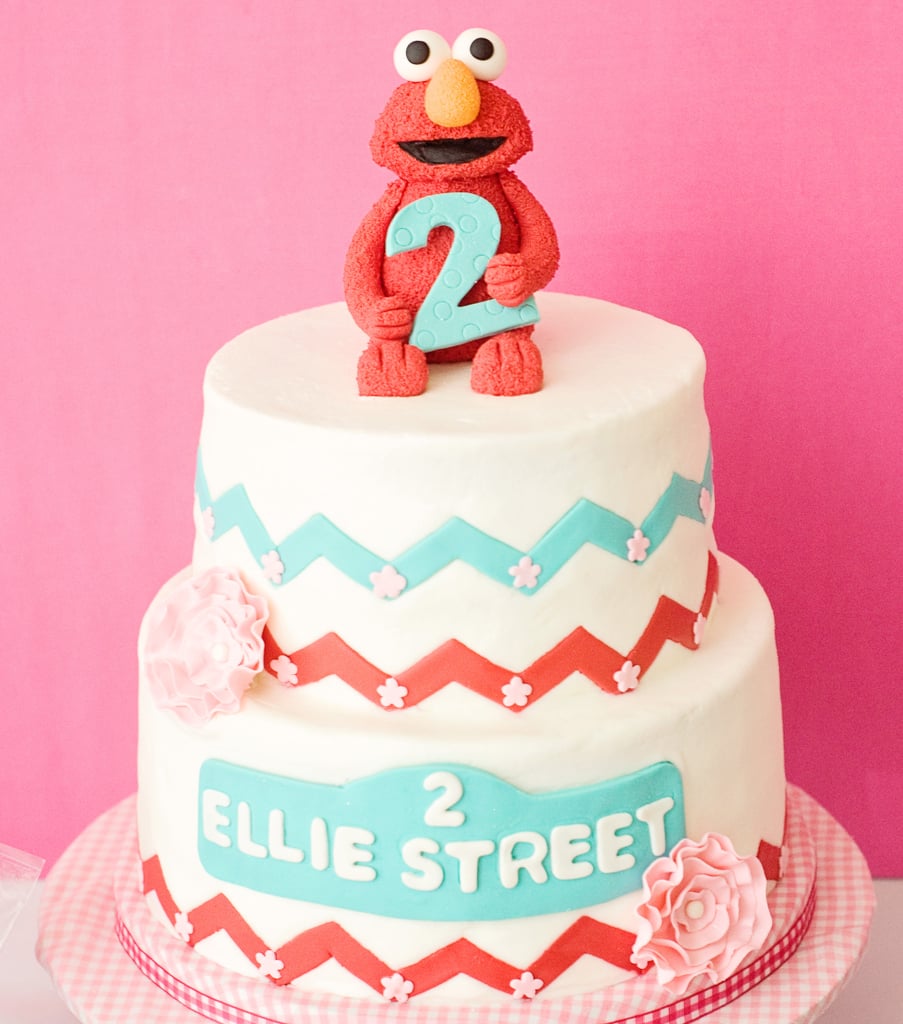 An Elmo-themed party [107] can look elegant and special with a cake as beautiful as this one.
Source: The Crafting Mama [108]
Rainbow Hearts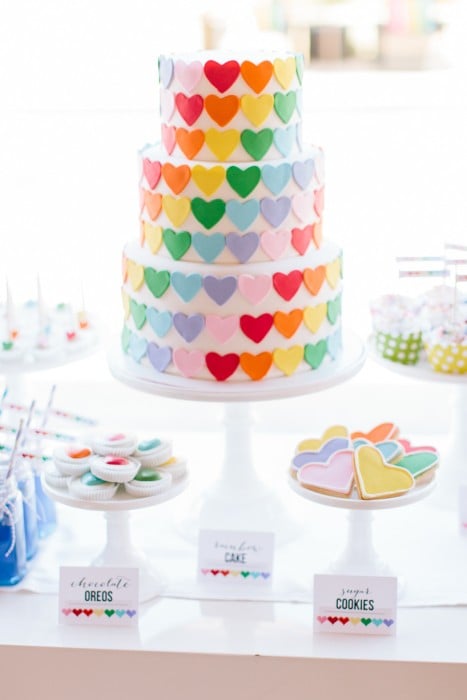 How beautiful was this rainbow hearts [109]-themed cake that tied the whole rainbow-themed party together?
Source: The TomKat Studio [110]
A Shabby-Chic Safari Cake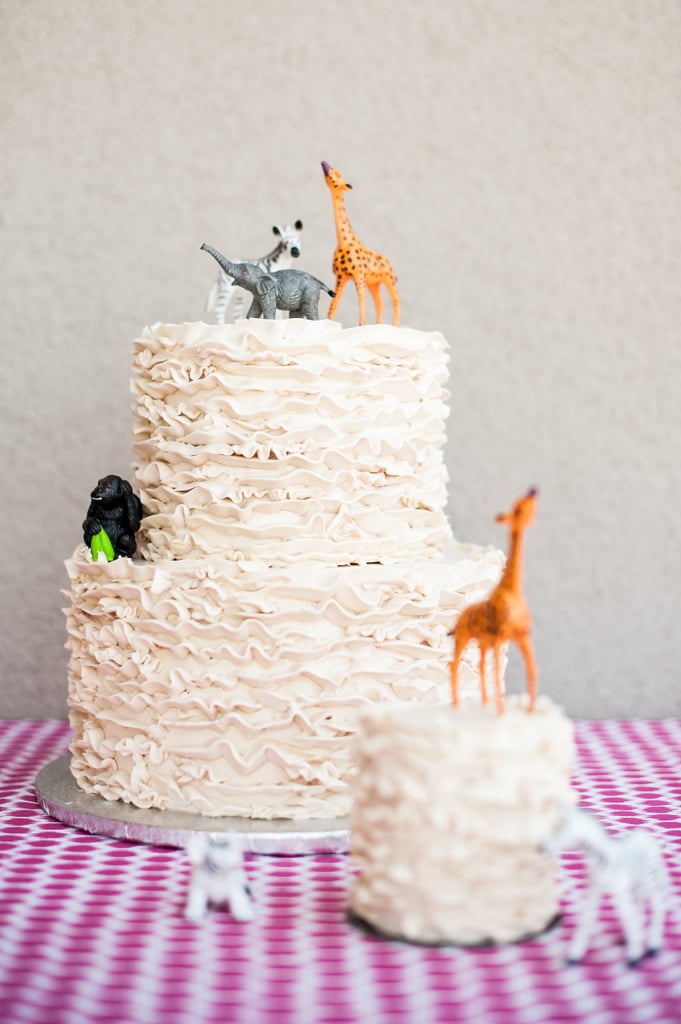 A simple ruffle cake was topped with a menagerie of safari animals to tie in with a safari-themed party [111].
Source: A Little Savvy Event [112]
A Hello Kitty Cake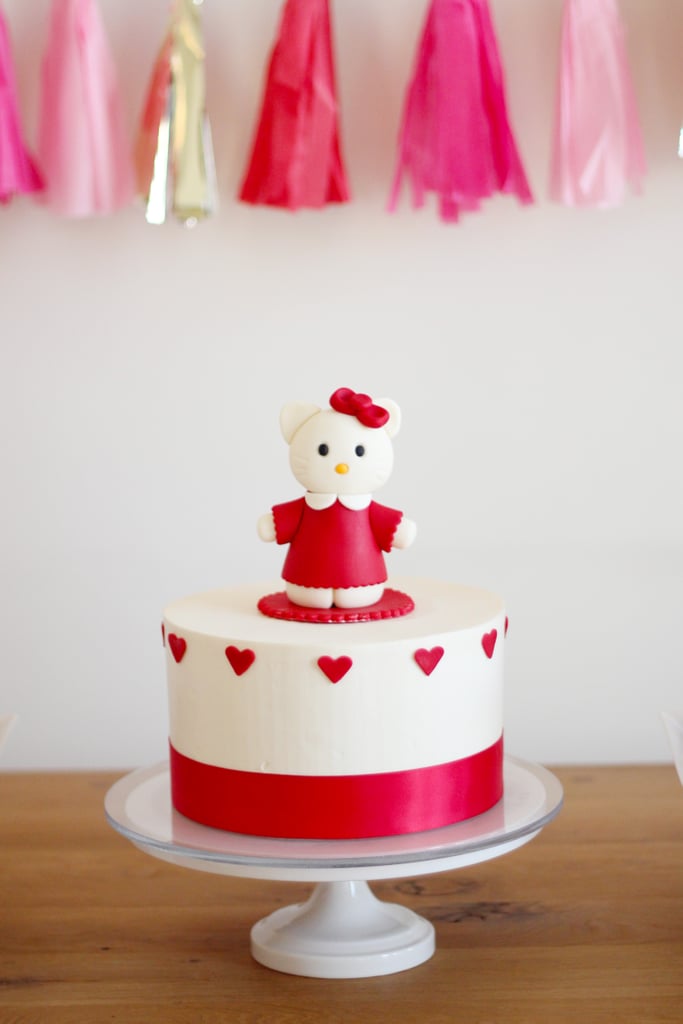 This sweet Hello Kitty cake [113] was just perfect!
Source: Gloria Wong Design [114]
A Girlie Birthday Cake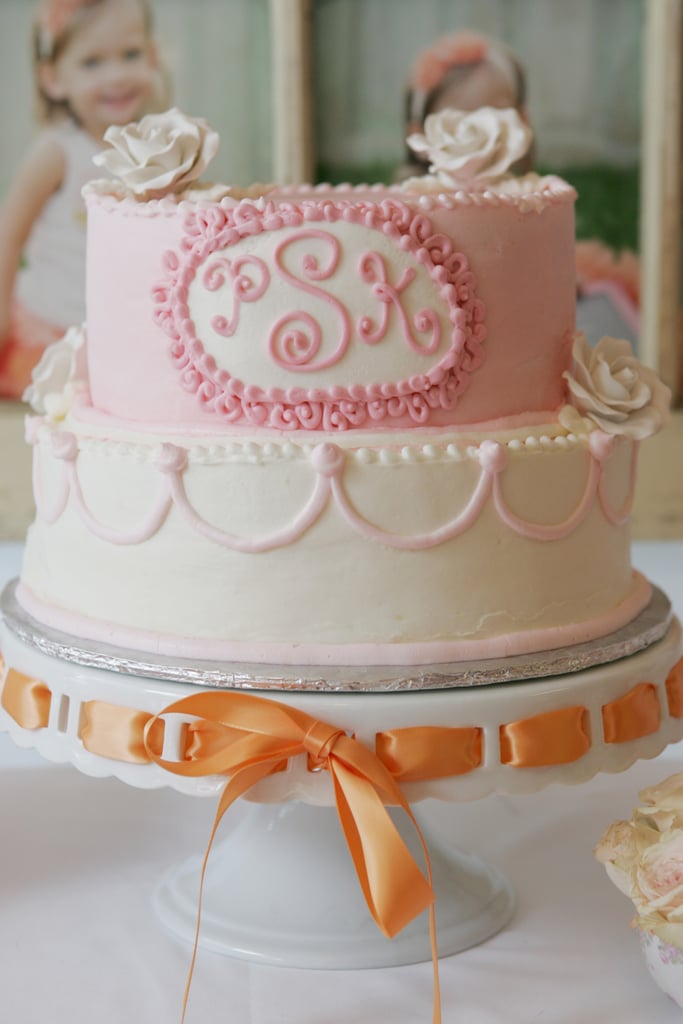 This girlie cake was perfect for a tutus and teacups [115]-themed party.
Source: CN Photography [116]
Captain America
How cute is this cake topper?
The Hulk
This five-tier cake shows the many sides of Bruce Banner.
Batman's Gotham City
Your hero is sure to protect this cake.
Who You Gonna Call? Ghostbusters!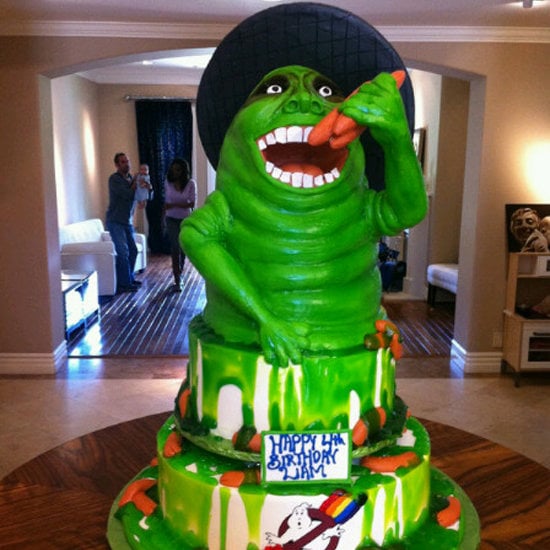 Who you gonna call for a Ghostbusters party? [117] Tori Spelling [118]! The 90210 alum and then mom of two threw her son a Ghostbusters-themed afternoon included a giant slime cake, custom cookies, cake pops, and homemade proton packs for the guests to wear — complete with silly string to fight oncoming apparitions.
Charlotte's Web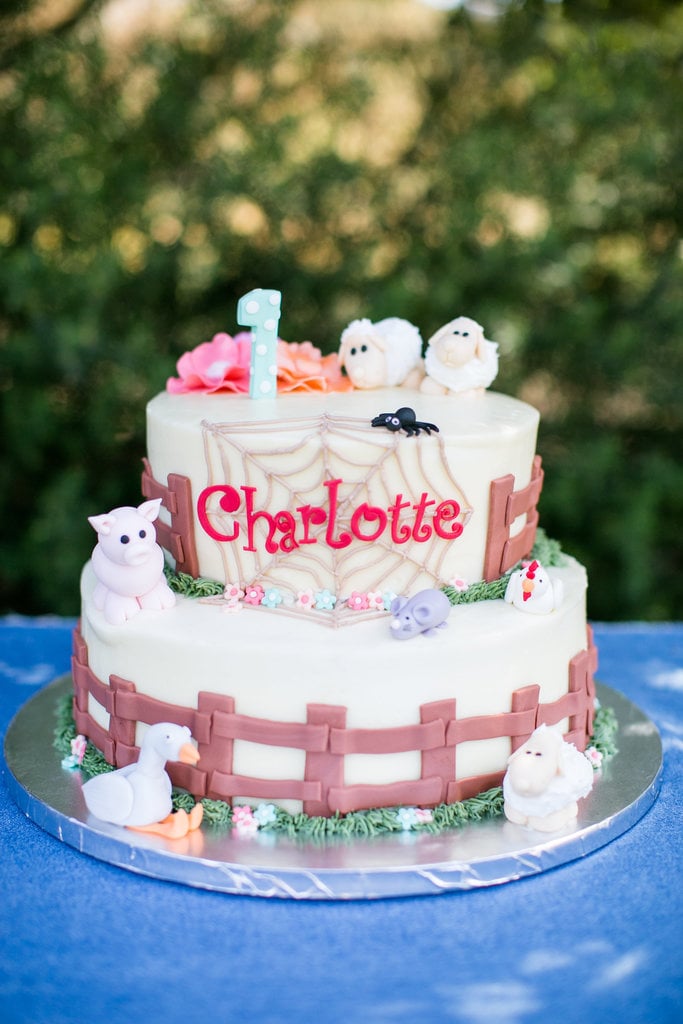 Charlotte's Web is a classic story that's read to just about every girl and boy in school and at home. When it came time for tiny tot Charlotte's first birthday bash, the team at Katie Rebecca Events [119] knew they wanted to throw her an unforgettable party centered around sweet treats and colorful decor. The theme was a Charlotte's Web state fair, set in San Francisco.
There were delicious carnival-themed treats like pretzel bites, sliders, tater tots, grilled corn on the cob, and even a flavored popcorn bar. Moms and dads were also treated to refreshing slushy sangria. When the children were not enjoying their yummy snacks, they participated in face-painting and a ringtoss game. There was even a board with a large collection of toys for the winners of the games. Baby Charlotte also had a blast, especially while eating her little sheep cake. Read on to see how you can throw your little one a Charlotte's Web-themed party too!
The Little Mermaid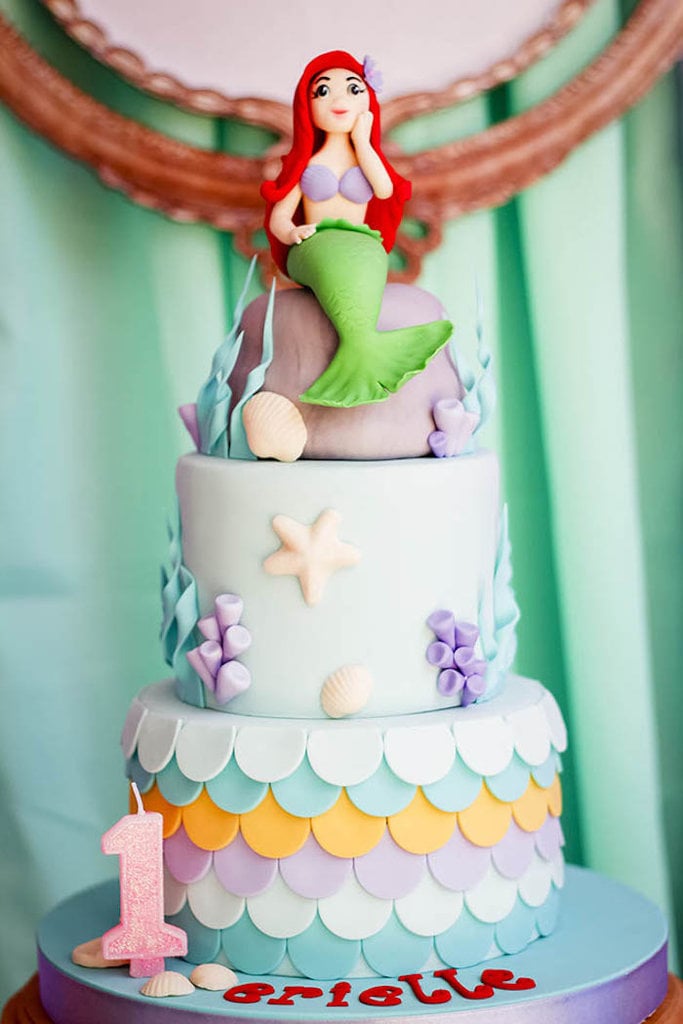 This whimsical mermaid birthday party was submitted by Pamela Clavejo of Pamie's Party Prints [120].
This party theme is always so cute for a little girl! I love cake and darling table centerpieces used in this particular party! I also love all of the many ribbon tassels throughout! This party will definitely inspire and impress!
Safari Birthday Girl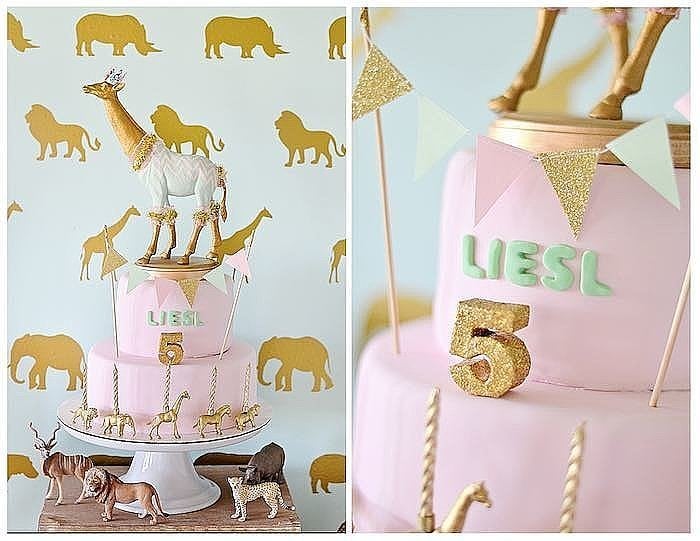 Lions, Tigers and Bears . . . and this adorable Safari themed birthday bash! Covered in pink, gold, lots of amazingly girly accents and a live animal show for entertainment, this party's attention to detail will definitely bring a smile to your little explorer's faces. Keep clicking for all of the details [121]