Vaccinating Kids For the Swine Flu
Are You Planning on Vaccinating Your Child For the Swine Flu?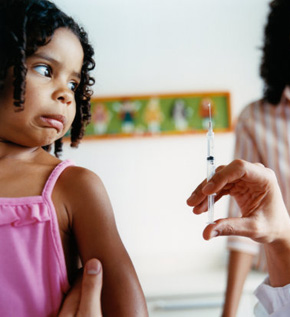 Pumpkin carving, baseball playoffs and chilly weather are all signs of Fall fun and unfortunately, the dreaded flu season. After last year's breakout of the swine flu, also known as H1N1, parents are facing a whole new ballgame. When the virus first came to light, people were in defense mode as the only way to fight the disease was hand washing, arm coughing and other simple avoidance tactics. Now, however, the public is being offered the opportunity to get ahead of the game with the new swine flu vaccine.
While 65 percent of LilSugar readers said they would not get the vaccine if pregnant, I wonder if those same parents will be hesitant to sign their kiddo up for the shot knowing the swine flu is being blamed for claiming the lives of 76 children. A tough question for many parents, it is important to make the right call for yourself. To see some questions and answers regarding the safety of the vaccine, check out the thorough article by Tara Parker Pope of the New York Times and tell me if you are for or against the swine flu vaccine.