There isn't much that Seattle-based Jenny Keller touches that doesn't turn to gold. The baker and event designer behind Jenny Cookies — who just happens to be the brains and oven behind many of Tori Spelling [1]'s kids' birthday parties, the Guncles' Doc McStuffins party for their daughter, Simone [2], and the sweetest Cinderella party [3] we ever did see — is now sharing her secrets with other aspiring party-throwers with the release of her new Eat More Dessert: More Than 100 Simple-to-Make and Fun-to-Eat Baked Goods From the Baker to the Stars [4] ($13, originally $25) this week.
Among the parties she shares in the book is this adorable vintage-themed baby shower she threw her cousin. "My aunt Susan and I both share the same love for all things vintage, so when my cousin was expecting her first baby, we knew we wanted to give her a shower with a vintage theme," Jenny shared. "We had been picking up all sorts of darling antique baby items at secondhand stores, flea markets, and estate sales, saving them for the perfect occasion. We'd found a vintage tin baby scale, a gorgeous glass baby buggy, an old stork piggy bank, and various vintage baby fabrics. The combination of everything just seemed to flow together, so we went with 'vintage baby' as our shower theme."
Read on for all of the details about the special day, and pick up a copy of Jenny's beautiful book for even more party inspiration!
The Dessert Table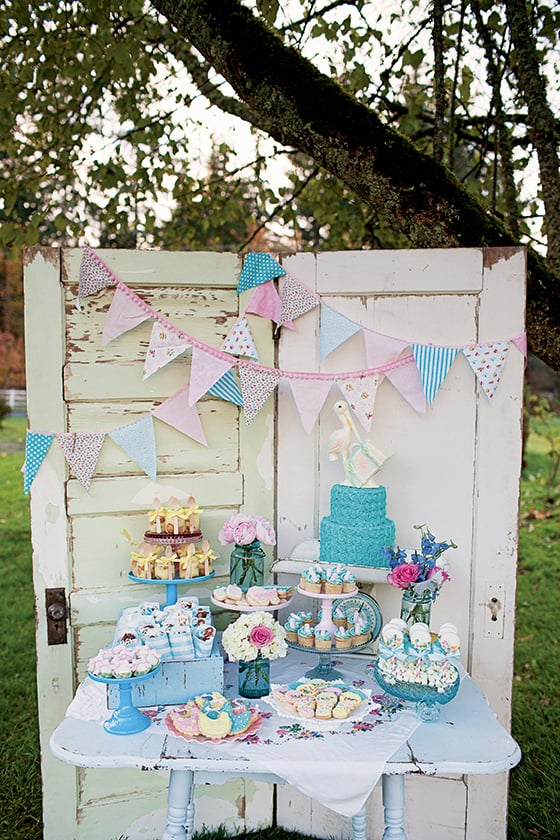 "Since I'm a big believer that the dessert table is the centerpiece of any fantastic party, I have to say the dessert table was my favorite party element," Jenny, understandbly, said. "I stood old doors behind my table to create a backdrop, then hung fabric garlands across. The chocolate-dipped Oreo rattles were my favorite dessert on the table, second to the cake that sat pretty atop the vintage baby scale."
"The actual table itself had been found free on Craigslist," Jenny added. "It was the ugliest shade of hunter green you'd ever seen. My husband rolled his eyes as he watched me unload it from our SUV. But with a coat of paint and some sandpaper, the hideous hunter green drop-leaf table transformed into a sweet little baby blue party table!"
Source: Kelly Bowie for Jenny Cookies [5]
Baby Bib Cookies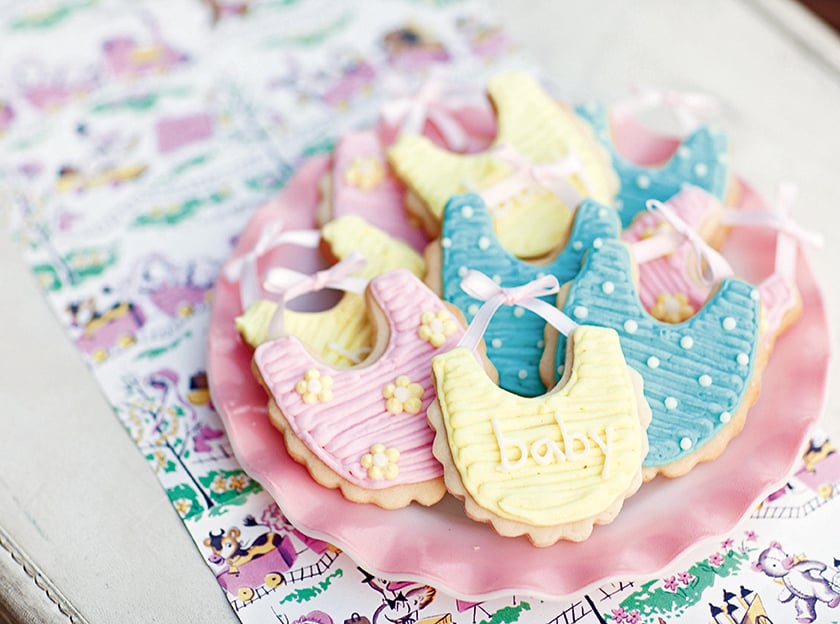 How cute are these buttercream-decorated cookies? The most adorable part? The ribbons that are attached to them prior to decorating (they're attached with melted candy!).
Source: Kelly Bowie for Jenny Cookies [6]
Rattles From Seattle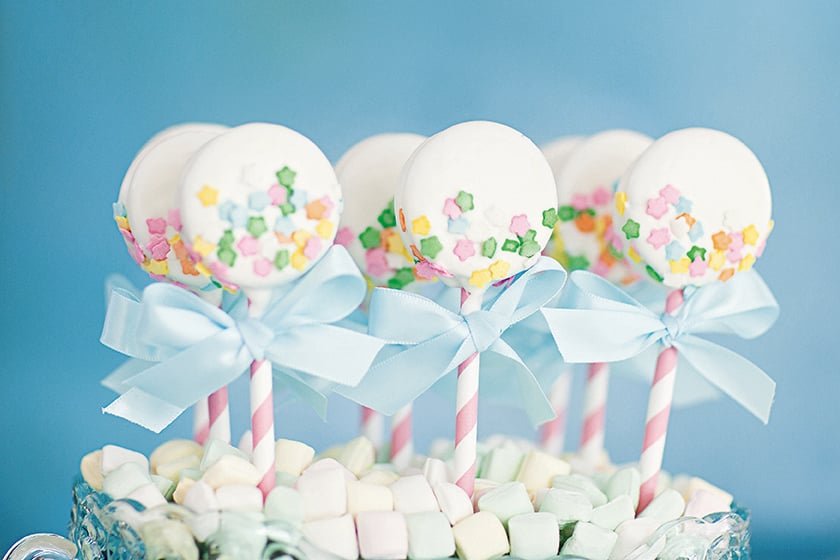 These sweet, pastel baby-rattle cookies hide a tasty treat . . . they're actually store-bought Oreo cookies dipped in vanilla candy melts and sprinkles. Jenny stood them in a piece of styrofoam covered in traditional baby-shower mints for a nostalgic look.
Source: Kelly Bowie for Jenny Cookies [7]
Rattle Cookies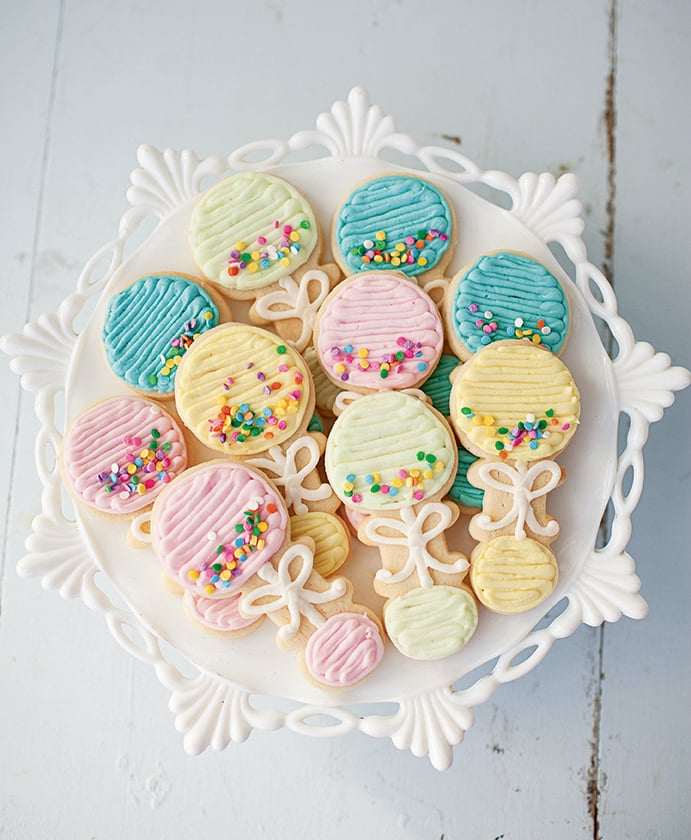 These barbell-like baby-rattle cookies will certainly bring back memories for guests of all ages. For a more personal feel, Jenny recommends writing the baby's name on them, if the mom-to-be has already announced it.
Source: Kelly Bowie for Jenny Cookies [8]
Baby Bottle and Baby Buggy Cookies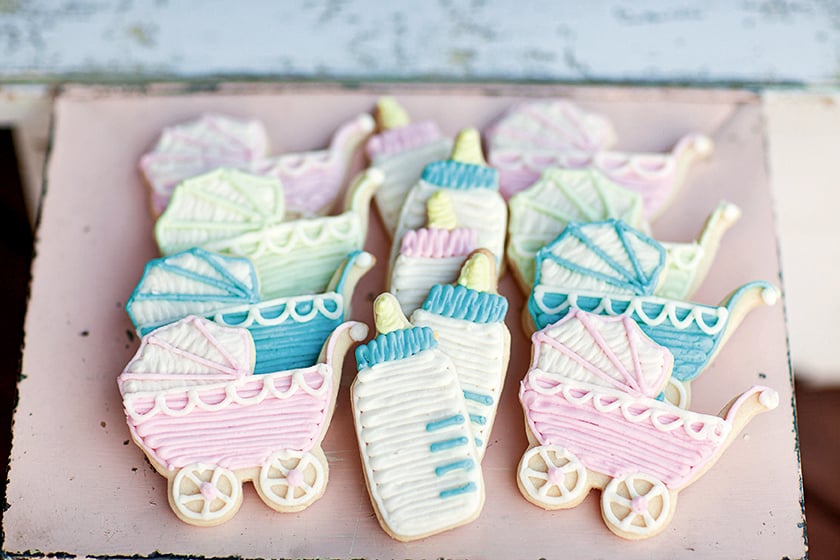 What better to celebrate a shower than cute baby bottle and baby carriage cookies? In Jenny's book, she gives specific instructions for re-creating the look.
Source: Kelly Bowie for Jenny Cookies [9]
The Swirled-Surprise Cake
Weighing in at 12 pounds, the cake created a focal point for the party. But the cake was more than meets the eye. "The cake cutting definitely stands out as a memorable party moment," Jenny shared. "Instead of your typical white cake, I secretly colored the cake batter blue to surprise party guests with the baby's gender. We called it the 'Blue or Pink, What Do You Think?' cake. As a party activity, we passed around newborn diapers and a Sharpie. Each guest wrote a little message or something funny on a diaper. Kinda entertaining for those 3 a.m. changings!"
Source: Jenny Keller of Jenny Cookies [10]
Welcome-Home Kit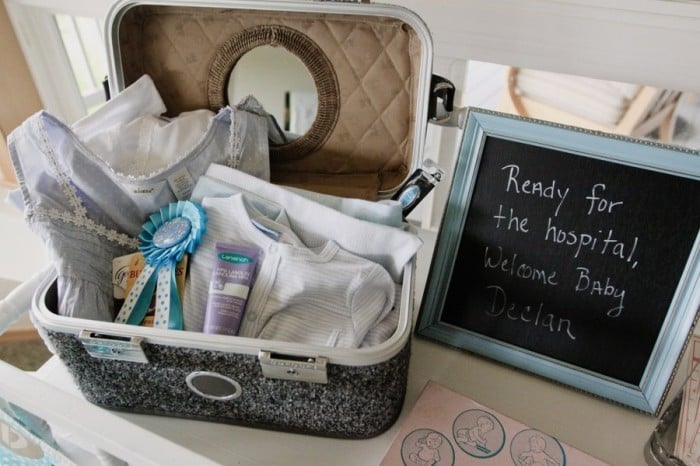 Jenny assembled a welcome-home kit, including a onesie, some nursing ointment, and some pacifiers, inside an old tin bread box.
Source: Jenny Keller of Jenny Cookies [11]
Baby-Shower Games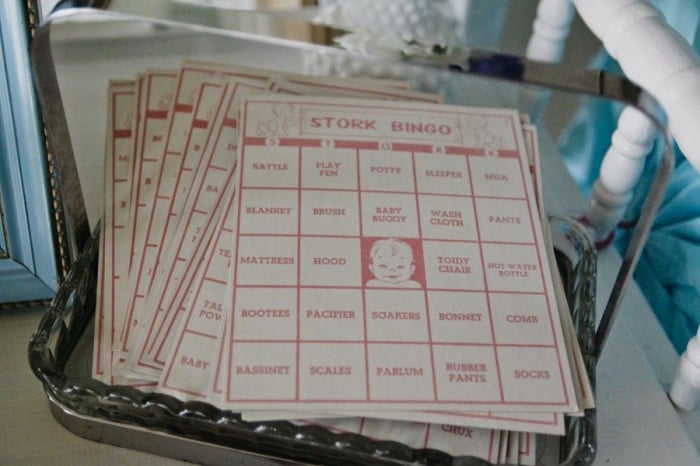 Some things never change in the world of baby showers, as witnessed by the vintage stork bingo game Jenny found.
Source: Jenny Keller of Jenny Cookies [12]
The Book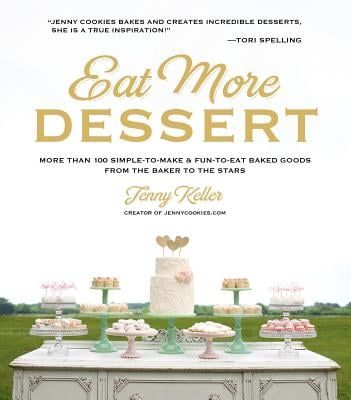 Pick up Jenny's Eat More Dessert [13] book for even more party inspiration (and recipes!).