Ways to Get the LeapPad Explorer and Let's Rock Elmo
How Far Would You Go to Get the Hottest Toys of the Season?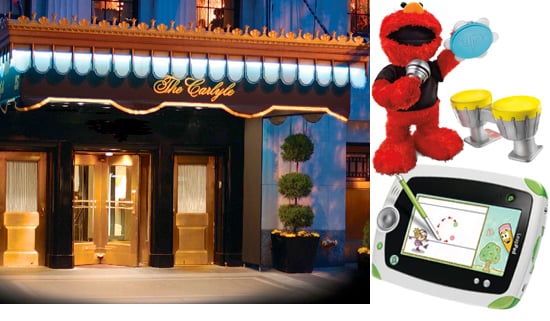 We hate to say we told you so, but we warned you that they'd be the hot toys of the season. It's beginning to look like the Zhu Zhu pet crisis of 2009 all over again as desperate parents try to get their hands on the LeapFrog LeapPad Explorer and Let's Rock Elmo. Amazon and the traditional brick and mortar toy stores are sold out of both, and parents are doing just about anything to secure them in time for the holidays.
Those with a desire to travel and an extra $780 on hand now have a new option. New York's posh Carlyle hotel (Suri Cruise has spent many nights in its luxe rooms) just introduced a special Santa's Shopper package that guarantees the kiddos will wake up to either a Let's Rock Elmo or Leapfrog LeapPad on Christmas morning. The package includes a choice of toys, overnight accommodations, two drinks at the hotel's famous Bemelmans Bar, breakfast at the hotel restaurant, complimentary gift wrap (!), and shipping the gifts home (for an additional fee). Extreme, yes, but a mama's got to do what a mama's got to do, right?