Website lil Loves: Kaboom!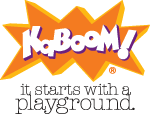 Spending the afternoon at our local playground is something that most of us take for granted, but for some, the cherished gathering spots are the result of a community effort to create safe and enjoyable areas for lil ones to explore. KaBoom!, a national non-profit group based out of Washington, DC, believes that outdoor, unstructured play is beneficial to tots of all ages and works with communities to build playgrounds. Since 1995, KaBoom! has led more than 1,500 playground construction projects — built by all-volunteer forces on single-day builds. The organization has also provided training and grants to build an additional 2,000 playgrounds across the country.
With the goal of providing a great place to play within walking distance of every child in America, KaBoom! offers the KaBoom! Playspace Finder, which allows you to enter, search, and rate play-spaces in your community. The free, searchable directory identifies playgrounds, skate parks, sports fields and ice rinks across the country, and allows visitors to add and rate play-spaces that are not yet listed.