Wee Are the World: Because of You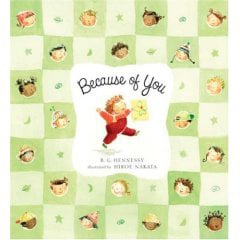 Taking your child to volunteer is just about the best way for them to learn about giving back, but Because of You will certainly teach them the concept too.
This gem of a book, written by B.G. Hennessy and illustrated by Hiroe Nakata, has a simple yet delightful way of showing children the joys of being kind, sharing, and helping others. The drawings and elementary texts make it a family favorite.
It reads:

"Because of you, there is one more person who needs help
and one more person who can help others"
With lines like those, your lil one will want to lend a helping hand or sympathetic ear to people around them. And, at $11 a book, you're getting a bargain for a priceless lesson.