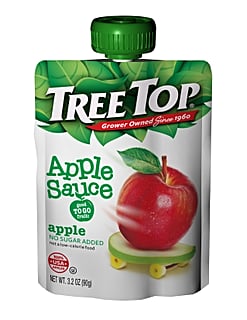 When you've got small children, there's no such thing as traveling light. Even if your plans are as simple as an afternoon at the playground or a couple of hours running errands, seasoned parents know the importance of being prepared for anything — and inexperienced parents learn it (the hard way!) pretty quickly.
More than half of parents surveyed feel there's one thing even more critical than diapers and sippy cups when out and about with kids: a snack! Surprisingly, many parents admit they use snacks as often as hugs to stop a meltdown.* New Tree Top Apple Sauce Pouches offer a perfectly portable, guilt-free treat that moms and kids can feel good about. Made from 100 percent USA apples, the convenient, squeezy packages provide an easy and great-tasting way for kids to enjoy fruit to go without the hassle of a spoon (or the frustration of a mess!).
Click here to retrieve a printable grocery coupon so you can start making wholesome, on-the-go snacking easier for your family. Then tell us a little bit about your typical snack-packing challenges by taking the poll below.
*Tree Top 2013 State of Snacking Survey