What Dads Do When Mom Is Away
When Mom's Away, the Kids Will Play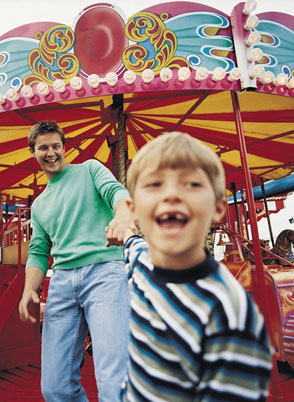 Mommy's going on vacation without the wee ones leaving daddy in charge. While many fathers are beyond capable of manning the house on their own, they often times need to be prepped like they're going into war. An instruction manual with schedules spelled out, babysitter information and playdate contacts are filed away for safe keeping should mother not answer the urgent call. But little does mom know...when she's away, the kids will play... at least differently from their usual routine.
Many pops are less than skilled in their cooking abilities, which means trips to McDonald's are common. A happy meal and a ball pit all in one — what could sound better? While the babysitter may only visit the house on a typical Saturday night, she may be invited to keep the crew company all day so that dad can get some sane alone time to check a few things off his to-do list. And if he's feeling in a social mood, he may just rent a jumpy house for the heck of it and invite his momless buddies and their kiddos over for some brews and lemonade. And on any given day, solo dads and their offspring can be found wondering around amusement parks as they provide endless hours of entertainment and food. Some fellows take the kiddos to the ballpark or the museum for a lesson in sports or ancient artifacts.
What does your man do with your kids while you're catching up on some Mom-Me time?