What Do Kids Think We Really Do at Work?
What Kids Think We Really Do at Work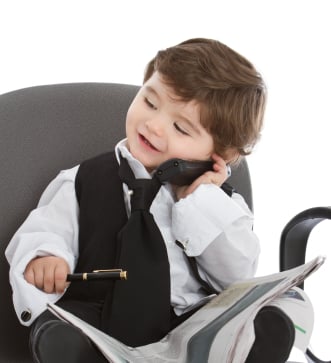 In honor of Take Your Child to Work Day, we asked moms to tell us what their kids think they really do at work all day. When I asked my younger kids, they had different perspectives on my job (a parenting writer).
While my 3-year-old said, "Mommy does typing on the computer all day," my 10-year-old was a little more . . . well . . . blunt. He said I "write stuff about how kids are supposed to act and what their parents should do about it." Close, but not quite!
The moms we asked had much funnier answers to share. These answers are bound to make you giggle.
Keep reading.
You Think I Do What?
Roxanne W.'s daughters are 13 and 6. She said, "They think I sit at the computer and draw lines all day. They also know that I color with colored pencils, too." The thing is, she's actually an electrical engineer.
She's not the only one whose kids don't quite have a grasp on mom's job. Rachel B. is a paralegal who, according to her child, talks to strangers and makes paper airplanes all day. She conceded that she talks to strangers, but said that paper airplanes aren't part of the job.
Speaking of airplanes, Heather J.'s 3-year-old said his mama "makes the planes fly straight." Is she an air traffic controller? Nope, she's a customer service rep with a really cool phone headset.
Oops, I've Said Too Much!
Jodi, a teacher, said her kids think her job is to "teach naughty kids all day." She added it's probably because those are the memorable stories she tells at home.
She's not the only one whose kids are picking up on her work frustrations. Stephanie H.'s son said she "deals with idiots," something with which she completely agrees.
But Wait, What Does Daddy Do?
It's not just moms' jobs that kids don't quite get — many of them don't know what Dad does, either. In fact, mom Nadine B. said they recently drove past a golf course, and her 4-year-old shouted, "That is where Daddy works!" For the record, it is not where Daddy works.
Nadine's son isn't the only confused 4-year-old.
Tricia S.'s husband is an EMT. According to her son, that means Daddy "drives a giant truck, plays with sirens, and then sleeps in the front seat . . . kinda like when he's home except it's the couch with no sirens." Well, maybe he's not that confused. My couch doesn't have sirens, either.
And the Winner Is . . .
By far, the best misunderstanding of a job performance has to go to photographer Nicole P.'s son. What does he say her job is? "My mom shoots people."