What to Expect When You're Expecting Director Interview
What to Expect Director Kirk Jones Shares the Personal Stories He Worked Into the Upcoming Film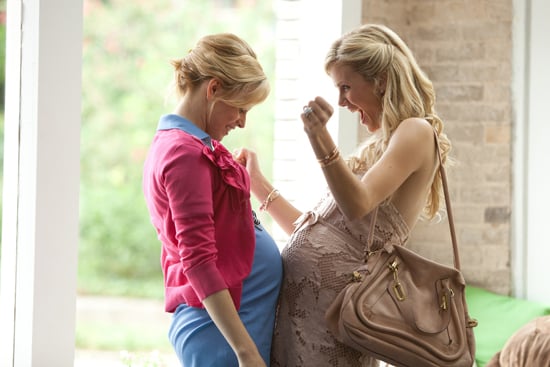 Chances are you probably have a dog-eared copy of What to Expect When You're Expecting laying around your house. The "pregnancy bible" has been the first stop for information for expectant mamas since 1985, and while the nonfiction book has undergone four significant updates since its debut, few readers probably foresaw it being turned into a movie — unless it was a film being shown in childbirth classes. But under the direction of Kirk Jones, himself a father of three boys between the ages of five and 21, the book makes the feature film transition, telling five interconnected story lines about couples trying to start their families. With stars like Cameron Diaz, Jennifer Lopez, Elizabeth Banks, Anna Kendrick, and Brooklyn Decker all part of the ensemble, the movie is getting significant buzz prior to its May 18 opening. I sat down with the director to discuss his interest in the project, and what it was like directing so many stars who aren't parents themselves.
LilSugar: What attracted you to a movie about pregnancy and babies?
Kirk Jones: For 27 months of my life I've been attached to my wife who was pregnant. One of the things that attracted me to the movie was explaining what that journey is like for guys as well as girls. Understandably, over the years women have been the focus of pregnancy subjects in movies because they're the ones physically going through the changes and all that. Some of the language and comedy in the park with the dudes was raw and fresh.
LS: Did What to Expect When You're Expecting impact you at all when you were expecting your first child?
KJ: When you have that first one, everything is so scary! If you bought a refrigerator from a store, you get more instructions on how to work it than you do a baby when you come out of hospital. Its like bye-bye; good luck!
LS: Did you bring any of your personal experience with your wife's three pregnancies into the film?
KJ: I did. Unfortunately, it was the slightly more tragic one. As is really common, my wife and I, as have a number of our friends, experienced a miscarriage. So when I first saw the script I don't think that story was in [it]. So one of the contributions I made was asking if that story could be included, because I thought if we're presenting pregnancy, we should present the whole story and not just sweet, happy bits. And then just being on set, because I've been there and I just remember the funny little things that happen. Having been through it, I felt kind of qualified to add things here and there.
Keep reading to see what Jones says it was like directing Cameron Diaz with a prosthetic belly.
LS: Did any of the five pregnancy stories interest you more than others?
KJ: What was interesting to me was the adoption story, and though that's not exactly related to childbirth. Of all of the subjects in the movie, its the one thing I haven't experienced myself and I found that quite interesting. I know that Jennifer Lopez was drawn to that part because it was very different from her own experience. She was fortunate enough to have children of her own, and she was intrigued by what it would be like to not be that fortunate and to have to look into adoption.
LS: Cameron Diaz, Brooklyn Decker, and Anna Kendrick were all new to babies and parenthood. Was it difficult to direct them?
KJ: They all came very well prepared. I also insisted that we had a midwife on set always. She's delivered about a thousand babies and anything that I needed to know I'd just ask — as would the girls. It was fun, however, seeing people like Cameron trying on the 8- or 9-month baby bump for the first time and just being fascinated with the shape and feel of it. You know, she's never experienced that!
Source: Lions Gate