What to Expect When You're Expecting Movie Preview
First Look: What to Expect When You're Expecting
There are few moms that don't have a copy laying somewhere in their house, and on May 11, the film version of What to Expect When You're Expecting hits the big screen. Much like New Year's Eve and Valentine's Day, the film features a ton of interconnected story lines featuring some huge stars, including Cameron Diaz, Jennifer Lopez, Elizabeth Banks, Anna Kendrick, Brooklyn Decker, Chace Crawford, Dennis Quaid, Rodrigo Santoro, Matthew Morrison, Chris Rock, and Megan Mullally.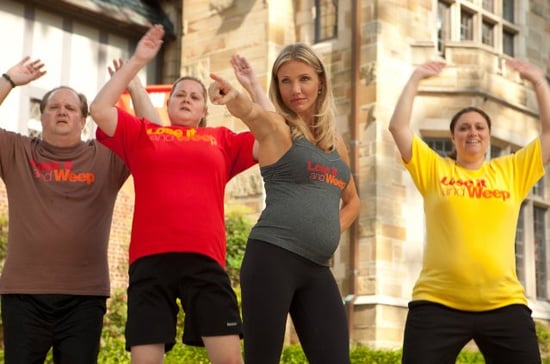 Diaz is a pregnant weight-loss and fitness TV personality (check her out above) who hooks up with her celebrity dance show partner, played by Matthew Morrison. Kendrick and Crawford are a pair of food-truck rivals who fall for each other. Lopez plays a woman who wants to adopt even though her boyfriend (Santoro) isn't so sure about becoming a father. Decker and Quaid play a couple starting a family even though he's decades older than she is. And Banks plays Quaid's pregnant daughter-in-law, an author and owner of The Breast Choice boutique, who isn't exactly enjoying pregnancy like she thought she would.
"I just wanted the glow, the one they promise you on the cover of those magazines," says Banks's character in the trailer. "Well, I'm callin' it: pregnancy sucks." Expect a ton more hilarious moments in the film, which promises to be a brutally honest look at pregnancy. Watch the trailer after the jump, and let us know what you think: Is What to Expect a mama must-see or will you be skipping it? Click here to see the trailer.