What Would You Do?: Stranger "Chewed Out" My Child?
What Would You Do?: Stranger "Chewed Out" My Child?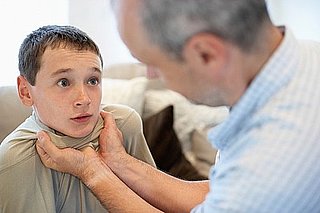 What happens when a parent acts like a child? We were at a private jumpy house party when my son came running over to me in hysterics— choking on his words and pointing in the direction of the blow-up slide he had been on. Before I could calm him down to figure out what happened, the grandfather of another partygoer came over to tell me that he had "chewed out" my 3-year-old because he had pushed the man's granddaughter on the bouncy stairs. Almost as a reflex and before I could comprehend the situation, I had my son say sorry for his alleged behavior.
It was only after a few minutes, and we had been ushered into another playroom that the man's inappropriate behavior began to sink in. Who "chews out" a preschooler and where did this guy (a complete stranger) get off disciplining my child? It was then that a representative approached me about the "incident" that had occurred. I apologized to her saying I hadn't seen what had happened because I was on the opposite side of the slide waiting for my kiddo to come down. As it turned out, she had witnessed the entire thing and wasn't concerned with my child's behavior, but that of the grandfather. To find out what he did and why I was perplexed,
. After explaining that my lil guy hadn't done anything more than help the girl when she fell down on the stairs and then pass by her, the woman said the man "crossed the line" and screamed in my son's face while standing over him in an intimidating manner and pointing at him. I felt nauseous, then enraged. I wanted to march over and confront the guy, but I didn't want him to create another scene and ruin the child's birthday party. I also didn't want him near my son so I let it go.
Once we were in the car heading home, I apologized to my son for what had happened, particularly for having him say sorry when the man was in the wrong. I also explained what the kids should do if anyone (especially an adult) ever approached them in that manner. This situation taught me to never feel too comfortable and that bad things can happen when you are just feet away from your kids. What would you have done?