When Kids Curse: How to Curb a Swearing Habit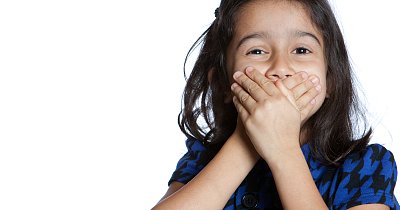 "WHAT did you just say?!" Whether they picked it up from friends or from your own stubbed-toe-inspired tirade, hearing your kids curse can be a shocking and troubling experience. Wondering how to respond? Put down the soap and try these 5 tips from Circle of Moms members for encouraging more respectful speech.
1. Set Boundaries
First, set clear boundaries about when (if ever) swearing is permissible. As Tara relayed: "I tell them, when you're with your friends, fine. But not around me, not around other adults, and not around little kids."
Kerry K. agrees: "Tell him that the home is an unacceptable place to use it, as well as work places [where you need to] interact with others in a professional manner…Give him boundaries as to where it is acceptable and not acceptable to use those words."
2. Play With Alternatives
Other moms suggest breaking a swearing habit by encouraging a child to substitute funny, tame words for offensive ones. As Wendy B. shared: "I asked them to come up with another word that's similar to the curse, like 'what the fabreesy' instead of 'what the ......!' LOL. They do get creative and it's not cursing."
3. Model Proper Behavior
"Be the example," Vicki L. advises. She's in good company--many Circle of Moms members warn that if you're asking your children to speak respectfully, you have to lead by example and limit your own swearing. As Cassie C. contends, "We as their parents need to clean up our language so that we can set a good example for our children."
4. Take Away Privileges
Once ground rules are laid, set consequences for inappropriate language. "Take away privileges," advises Marilyn M. in the Moms of Teenagers community. "Ground him/her, take away TV, send him/her to their room." Bonnie G. agrees: "Take something away from them that will real annoy them...(like the internet)."
5. Feed the Curse Jar
Another commonly recommended way of setting up consequences is Autumn A.'s money-based approach: "Decide on (an) amount that each word is worth. That is what it will cost them every time they say it. And make sure that they know you will be keeping track. At our house all cuss words except the "F" word were 25 cents. The "F" word was $1."
Angela W., whose three kids had to put a quarter in a jar every time they cursed, promises it'll work like a charm: "When they don't get an allowance (because it all went in there), maybe they will stop. My kids did."