White House Preschool For All Initiative
The White House Introduces Preschool For All Initiative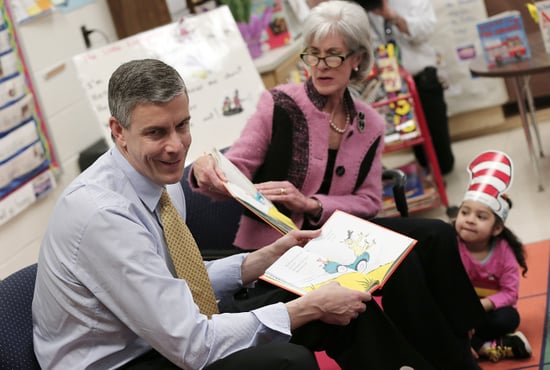 When President Obama announced the White House's 2014 budget earlier this week, it included an increased commitment to prioritizing early childhood eduction through a new Preschool For All initiative. The program strives to give every child in the US — particularly those in low and moderate income brackets — access to a high-quality pre-K experience. We had the privilege of learning more about the program through a conversation with US Secretary of Education Arne Duncan, who believes passionately in the government taking a "cradle to career" approach to educating and empowering our youth. Here, the ins and outs of how the initiative could affect your family and your kids' future:
What Preschool For All Entails
One of the president's key themes in his new budget proposal is a focus on the "cradle to career" continuum. "The only way to build, support, and grow a thriving middle class is by providing access to world-class education," said Duncan. This translates to state-level partnerships to provide all low- and moderate-income 4-year-olds with access to high-quality early childhood education.
The initiative is supplemented by investments in home-visiting programs for those families in need, including access to social workers and home health-care aides as needed to improve a child's health, development, and ability to learn.
Click here to learn more about Preschool For All's funding, who it affects, and more.
How the Program Is Funded
The Preschool For All initiative will be financed by an increased federal tax of 94 cents per pack on cigarettes and other tobacco products. Duncan views this as a win-win, as "it would also have substantial public health impacts, particularly by reducing youth smoking."
Who It Impacts
Fewer than three in 10 disadvantaged children currently have access to early education. Preschool For All will make pre-K programming available to all children, regardless of their family's income and socioeconomic status. The initiative also offers flexibility at the state level for funds to be used to promote access to full-day kindergarten, educate preschool teachers, and more. "We're putting so much emphasis into the front end, because we truly think it's the best investment we can make," Duncan said.
Beyond Pre-K
Duncan says that Preschool For All continues to build upon strategic investments made in Obama's first term. "Because of these investments, the US's on-time high school graduation rate is at its highest point in three decades," he said, adding that for the first time, our nation's high school graduation rate will hit 90 percent by 2020.
Parental Involvement
The initiative prioritizes providing those parents in need with extra support, as "parents play a critical, critical role," according to Duncan. "We desperately need parents to be engaged in early childhood education. They will always be their child's first and most important teachers. [Parents need to play an] active role at home, at school, and in the broader community. This has a tremendous impact on kids' performance in school, high school graduation rates, and college readiness."