Wooden Play Gyms at Various Prices
Simple or Swank: Wooden Play Gyms For Babies
Reach and stretch! Even before a baby can sit or stand, she will begin stretching for objects in eyesight. Play mats and gyms provide lil ones with colorful objects to reach for while encouraging them to lift their heads and kick their feet. In doing so, tots also learn about cause and effect – seeing the dangling objects move as a result of their actions.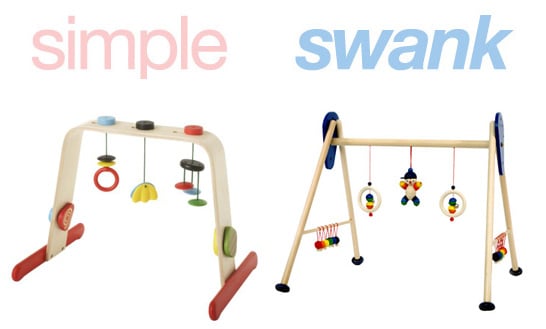 Simple: Ikea's Leka play gym ($25) is made from molded birch plywood and features three distinct wood and plastic hanging objects to entice tots to play.
Swank: The Hess Wooden Triangle Baby Gym ($75) features a simple wooden frame with dangling colored beads and rattles for infants to grab and swat at as they begin to experiment with hand-eye coordination.
Which do you prefer?