Working Mothers Leisure Time
Do Working Mothers Choose to Give Up Their Leisure Time?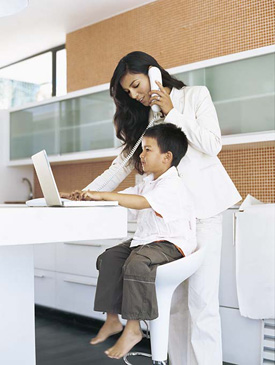 If a man's work is from sun to sun, but a mother's work is never done, then a working mother has no chance. Though all moms could use a break from their activities for a little "mom-me time," there is little doubt that those who work outside the home have smaller windows of opportunity to do something for themselves.
In an interesting article in The Washington Post, a working mom took a hard look at her life to see exactly where her time goes. After seeing that she didn't have any for herself, she turned to Rachel Connelly, a labor economist at Bowdoin College to determine why. Connelly explained:
The revolutionary change of women entering the work force — 47 percent of mothers of school-age children worked in 1975, compared with 71 percent in 2007, according to federal statistics — coincided, she said, with intensified expectations of what it takes to be a good parent, particularly in middle-class families. But there are still only 24 hours in a day. To make it all fit, mothers slacked off on housework and gave up their personal leisure to spend their limited free time with their kids.

"My mother was home all day, so on the weekend, what did she want to do? Get away from us as fast as she possibly could and take my father with her. They went out every Saturday night. But now, mothers are employed. We see it as essential that we spend time with our kids. We don't want to be away from them. On the other hand, we're never away from them."
Do you give up any personal time you may have to spend it with your kids, or do you find time to carve out some time for yourself?