Would You Rather Read About Mommy Time or Take It?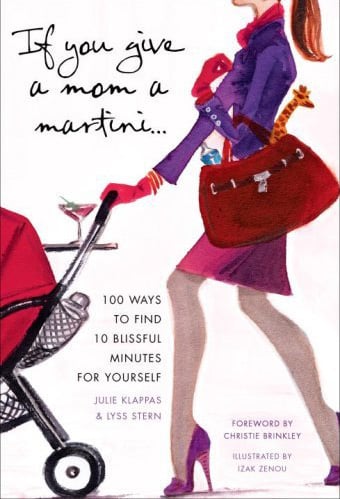 There's buzz about the new book, If You Give a Mom a Martini ($12). Written by two mothers looking for ways to sneak in 10-minute intervals of me time while raising their kids, the text offers readers 100 ways to spend their time from having a quickie with the hubby to taking the long way home and rocking out to music in the car. While it's a clever concept, I'm curious if any mama is so far submerged in her children's lives that she needs obvious suggestions for how to fill free gaps. Flipping the pages to digest the offerings takes up about 30 minutes, three intervals I'd rather spend tackling my wish list of to-dos. Here's a few off the top of my head.
Build a sandcastle on the beach at sunset.
Sit and watch how peacefully my children are when they sleep.
Drop what I'm doing and give my kids my full undivided attention.
Zone out.
Have an uninterrupted telephone conversation.
Donate the bags of clothes I have bagged for giveaway.
Make homemade peitit fours with my daughter.
Play dinosaurs with my son.
Film a fun Father's Day video with my kids for their daddy.