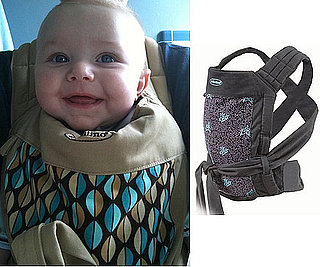 Now that I have three young kids and only two arms, a baby carrier is a necessity. Whether a mom prefers a sling or a carrier, it's bound to make life at the park, running errands, and helping the children easier. I'm going to search out the best options and report back. Infantino sent me its newest Wrap&Tie Infant Carrier ($40) to put to the test.
Who is this product designed for? This carrier is best for a first-time mother who doesn't mind that securing the baby in takes a bit of time and a little practice.
Is it practical? The three-in-one design allows a woman to carry her child on her back or in front facing in or out. It is also made of a washable cotton (available in cute prints!) that makes for easy cleanup if the fabric gets soiled.
What sets it apart? The carrier is buckle-less and attaches to the adult by simply tying knots in the fabric. This makes it great for accommodating to any parent's body shape. Since there's plenty of material, it's ideal for those with larger builds. It also has a sturdy but soft construction that provides support and comfort for the baby.
To see what could be improved and if I'd buy it,
.
What could be better? The excess fabric that hangs after tying on the carrier can get in the way. Especially if you have other lil ones who might tug on it.
Would I buy it? No. I need a carrier that allows me to quickly secure my baby so I can tend to my other children in parking lots and the like.
Would I give it as a gift? At $40, this is a nice baby shower gift for a first-time mother who likes the comfort of a sling but the carrier style. It also has longevity since it holds children up to 35 pounds.
Did it make baby happy? My 4-month-old son hung around in it for an hour without complaint.
Does it keep your hands free? Yes.

Parents should take precautions when using any baby carrier.