You Know You're a Mother When: Panic Mode
You Know You're a Mother When: Panic Mode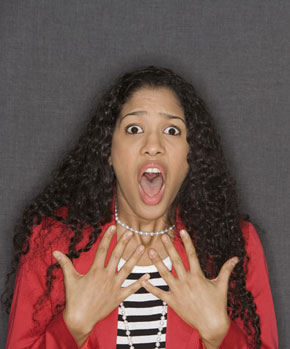 Before I had children, there were few things that sent my heart flying into my throat —misplaced keys and a lost wallet were two of them. Now that I'm a mom, there are countless instances that send me into panic mode. The strange thing is most of the time they are all for naught.
This morning I rode the bus to the office with my work bag on my lap. Five minutes into my commute, I looked down and broke into a cold sweat worried that my son's bottles of milk were leaking all over my computer. It took me a minute to realize that I was childless and surprisingly, bottleless.
To see what else makes me wig out,
.
On days when I run errands without my kiddos, I often frantically look in the silent backseat fearing I have left them somewhere and it takes a moment to remember that I have left them... at home with a babysitter! But, the situation that causes me the most angst is flying solo. When I'm airborne sans wee ones, it is admittedly worlds easier but I feel naked when I'm in the air without them and sometimes freak out at their absence. I look for strollers to come off the conveyor belt and feel uneasy not carrying a hefty diaper bag full of treats and toys.
Thankfully, most of my panic moments are based on my worry wart tendencies but I have a feeling I'll just keep adding to the list as the youngsters grow older. What sends your heart into your throat?