You Tot's Got Mail
Your Tot's Got Mail!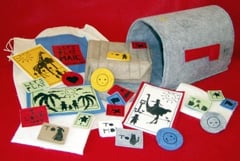 Few things beat running to the mailbox and finding a lil something addressed to you. Lucky for your tot, there are never any bills with her name on them. Allow your lil ones to experience the joy of receiving mail throughout the day with the Let's Play Mail Set ($50) from 2 Big Kids.
The 27 piece set uses felt and velcro to attach stamps and address labels to letters, postcards and packages. A great way to teach your children about the mail system, the set encourages imaginary play and self-expression and is perfect for playdates. The entire kit, including the mailbox, fits into the drawstring mailbag when not in use.