Zero-Waste Tips for Families with Kids
Refuse, Refuse, Refuse, Then Reduce, Reuse, Recycle: 10 Tips For Going Zero-Waste With Kids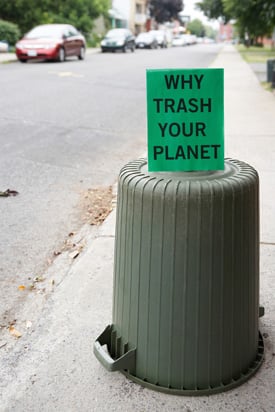 The average American throws out 550 pounds of paper, 318 pounds of food, and 90 pounds of glass per year, with nearly 80 percent of that garbage ending up in landfills. Transforming the average household into a zero-waste, all-natural, toxin-free utopia is an overwhelming concept if you try to tackle everything at once. Best to go through the house room by room, step by step to see which disposable products can be replaced with more eco-friendly options.
Having children may somewhat complicate the zero-waste transformation, but they in no way make it impossible. If you need a little push in the right direction BeSimpler is an inspiring business where one of the two extremely eco-chic founders (they both have kids and live waste-free!) will actually do a house visit to help mamas simplify and eliminate unnecessary waste. Here are some of their tips to transform a house into a waste-free, kid-friendly, sustainable home.
Babies use a lot of diapers. Most disposable versions go right in the trash along with handfuls of wipes, destined to spend years decomposing at the dump. Reusable cloth diapers and wipes are the best option for a zero-waste home (there are plenty of services who do the pick up and laundry), while compostable diapers are a good second option. Unlike other single-use diapers, compostable nappies are made of ingredients that will compost when put in the proper environment — they contain no petroleum-based plastics that pollute our Earth by remaining un-decayed for hundreds of years.
Babies make messes. Swap paper towels for microfiber cloths.
Rid the home of piles of junk mail by getting yourself off the lists at dmachoice.org and catalogchoice.org.
Treat boo-boos with peroxide, gauze, and paper tape instead of Band-Aids.
Use a neti pot or reusable handkerchiefs for stuffy noses.
Keep reading for more tips for converting a home into a waste-free zone.
Pack kids a zero-waste lunch .
Arm yourself with reusable bags (for dry items) and glass containers (for wet items like cheese and fish) and hit the bulk aisle.
Bring an old pillowcase to the bakery and stock up a dozen loaves of bread, which you'll defrost and use as needed.
Bring empty wine and beer bottles to the winery/brewery for refills.
Rent or borrow instead of purchasing. Netflix, iTunes, and good old-fashioned libraries eliminate the need to buy books, movies, and CDs.
For more amazing zero-waste tips and tricks, read BeSimpler cofounder Bea Johnson's blog, The Zero Waste Home. For a quick glimpse into just how good it can be, watch this profile on the Johnson family.