Affordable Bachelorette Party Ideas
7 Ways to Make Your Bachelorette Party More Affordable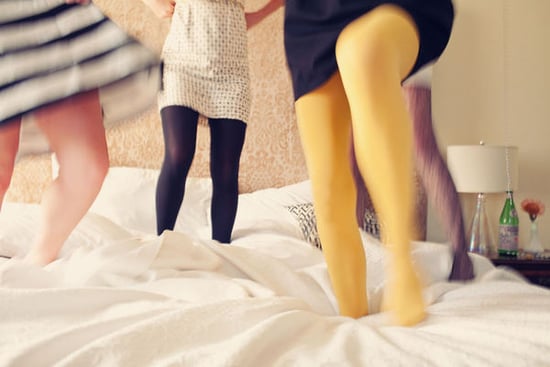 Bachelorette parties can be a blast, but they can also be a major expense. To keep costs low for both you and your bridesmaids, step back and brainstorm simple ways to make your festivities more budget-friendly. Now that we've covered how to make your wedding easier on your bridesmaids' budget, here are seven easy ways to make your bachelorette party more affordable, too.
Plan ahead. In order to get the best possible prices, make your plans as early as possible. Thinking ahead will also offer you plenty of time to seek out special deals, so spend those extra days browsing reputable travel offer sites like Jetsetter to see what's available.
Opt for a staycation. Road trips and cross-country weekends may be fun, but you and your friends will save big if you choose a spot in your own city instead. Not only will you skip the cost of gas and airfare, but you'll also be more knowledgeable about the most fun, inexpensive places to go for your party.
Pick a house, not a hotel. Rather than shelling out for a hotel room, why not rent a house instead? You'll have a more cozy, intimate atmosphere and everyone will be free to come and go as they please — free of any messy, time-sensitive checkout situations.
Choose an off-season date. To get the most bang for your buck, it's smart to choose an off-season weekend for your festivities because prices will be lower across the board. Plus, since you'll likely have a larger party, it'll be nice not to fight extra crowds.
Don't just dine out. Bringing your own food is a must for anyone who's hoping to save money. As soon as you arrive, make a trip to the local market to stock up on a variety of simple snacks. Even better? If you have the resources available, you should plan to make a few meals yourselves.
Don't just drink out, either. While you're at it, head to the liquor store, too. Buy your own booze, set up a bar area in the room, and ask pals to mix their favorite cocktail recipes for tasty sips minus the tips.
Keep it short and sweet. Sure, you'd like to have a nice, long weekend to spend with your pals — but the truth is, not everyone can afford to take that time off and spend extra money. Be realistic when you make your plans and consider your friends' budgets, too.
Do you have any tips to save on bachelorette parties? Share ideas in the comments below!
Photo by Morgan Trinker via Style Me Pretty