Anonymous Online Job References
Anonymous Job Reference Site: Brilliant or Baffling?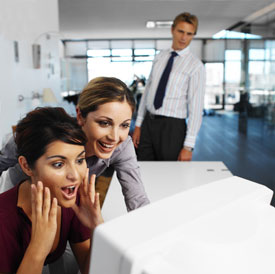 Coming up with the perfect list of references can be one of the trickiest parts of putting together a job application. But that dilemma may soon be out of your hands with new site Unvarnished. Currently still in beta, the site functions kind of like Yelp, except instead of reviewing that new brunch spot you tried last weekend, you're reviewing a co-worker or friend (or enemy!). To find out more, keep reading.
The goal of the site is to give employers an honest, accurate picture of the candidate they're about to hire. Reviews are anonymous, and users can create profiles for themselves and ask others to review them. Oddly, you can even create a profile for someone else, and start adding reviews to it yourself.
I can see the benefits of a site like this — references are all too easy to cherry-pick, and you don't always end up with a candid impression of the person you're about to hire. On the other hand, it's scary to think that any former co-worker or boss with a personal vendetta can not only leave a review about you, but start an entire profile for you! I'm not sure how I feel about the whole thing. How about you?