Career Website For Women
A Site That Seeks to Elevate Women in the Workplace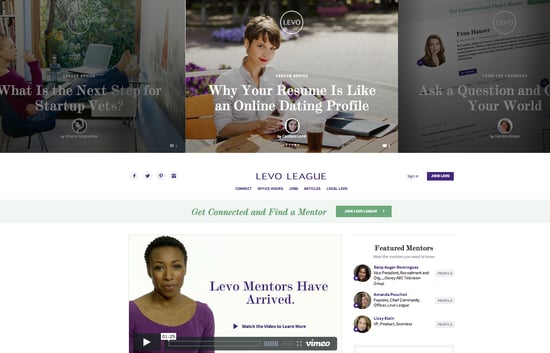 Is LinkedIn your go-to resource for getting ahead in your career? Well, another site called Levo League just might take over its spot in your bookmarks tab. Here's the scoop: the site is like a community for professional women typically in their 20s — women at the beginning of their careers searching for advice, resources, and inspiration about what it takes to get to the top. It launched in 2011 but has been growing and expanding ever since, adding resources like videos, articles, and more. Read on for a breakdown of some of the site's services.
Connect: Once you sign up using either your email or social accounts (choose from Facebook, Twitter, or LinkedIn), you'll be able to connect with others on the site by following them. One of the best "connect" features on the site is getting to ask questions with established women from all different industries who are designated mentors. For instance, you can submit a question to Sheryl Sandberg's profile, and there's a good chance she'll answer.
Office Hours: Office hours is a cool weekly feature that's basically a half-hour interview with female leaders, CEOs, and CFOs. The chats are mediated by someone from Levo League, and the women answer preselected questions as well as ones that come in during the live chat. The quality of the videos isn't great, and the interviewee can be hard to hear, but their insight if helpful and often full of great nuggets of advice.
Jobs: The Levo League says it works with at least 100 companies that range from The New York Times and AOL to nonprofits like Pencils of Promise. Depending on what type of job you're looking for, the search can yield more than 40 jobs or none at all. You can filter results by company or a specific job, but don't count this search engine as your main resource for job hunting.
Local: One of the best features about Levo League is that is supports 19 local Levo groups, from California to Canada to Paris. Users can create networking events, which range from happy hours to book clubs, that are all about like-minded women connecting face to face.
The bottom line: Levo League (levo is the Latin root of the word "elevate") does, in many ways, help women develop and grow their careers. Just browsing the site, you can feel how much it's about women looking out for other women. It might not directly or immediately get you a job, but it can certainly foster relationships — and give you insights — that will.