Co-Workers Can Lengthen Lives
Live Longer by Making Friends in the Workplace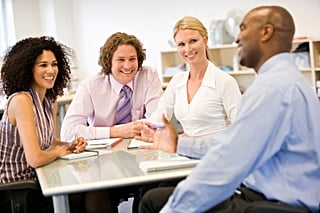 It's important to have friends, and not just people you see socially; connecting with your co-workers is just as essential. A new 20-year study revealed that people who don't have a lot of social support at work have increased chances of dying within that 20-year period by 140 percent.
Dr. Sharon Toker, who led the study, says, "We spend most of our waking hours at work, and we don't have much time to meet our friends during the weekdays . . . Work should be a place where people can get necessary emotional support." Dr. Toker adds that the perception one has of emotional support from the workplace is by far the biggest indicator of future health. Here are some changes she believes companies can employ that will help make the work environment more friendly.

Open-space work environments.

Interacting in person instead of just over emails.

Coffee corners.

Leaving social media channels unblocked so people can interact with each other through Facebook, Twitter, and other outlets.

One strategy in particular at Sugar HQ that really helps with our bonding are the regular happy hours and events our firm organizes. Does your office have any features to help employees get along?