Divorce Rate Lower Among College Educated
Can't Buy Me Love? Money Helps Marriages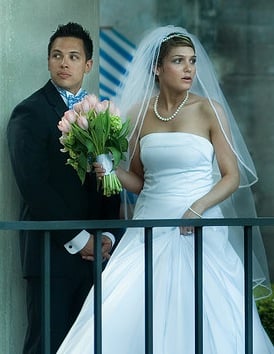 Researchers at the National Marriage Project may soon be out of a job if the economy doesn't pick up. A new study put on by the University of Virginia research group discovered that less well-off Americans are less likely to get married.
The study found that 44 percent of Americans with a high school diploma but no college degree have children without being married, while only six percent of highly educated unmarried women have children. Many of these unmarried couples live like a family, but they often avoid making it official thanks to money concerns. They want to get financially stable before paying for a pricey wedding or even worse, a pricey divorce. Which makes sense: Americans with only a high school diploma have a 37 percent divorce rate, while the divorce rate among the college educated has dropped to 11 percent.
The findings suggest that marriage might soon become an elite privilege. The study points to a change in Middle America's "family values" that now makes it OK to cohabitate or have children out of wedlock while you figure out finances, making marriage something to aspire to and not something you have to do.
Source: Flickr User DeusXFlorida