Dylan Lauren Interview
In Her Shoes: Dylan Lauren, Candy Queen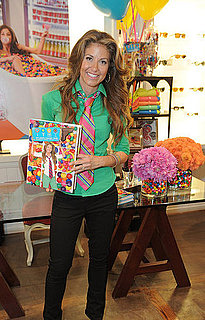 I don't think I've ever met one person who has never read (and didn't love) Roald Dahl's Charlie and the Chocolate Factory. We definitely love candy over here, which is why we're really excited to introduce Dylan Lauren, the female version of a real-life Willy Wonka and the owner of Dylan's Candy Bar, for this week's In Her Shoes series!
SavvySugar: Tell me why this is your dream job?
Dylan Lauren: I love the fact that I can taste some candy all day and eat candy. It's just a lot of fun. I go to all the state shows . . . and  I get to design and use my art and fashion background [because] we have a lot of nonedible products. We sell handbags, pajamas, accessories and t-shirts that all have candy themes and so I designed those. I also work on packaging and labels and all that stuff as well. It's great!
SS: What's your favorite candy?
DL: I like a lot of things, right now I say candy corn and marshmallow fluff. I eat a lot of sugar, two handfuls of candy a day.
To find out what a candy queen's typical day is like, read on!
SS: What's your typical day like?
DL: I always workout, I think that's very important. And then I go to my office and have a "buying" meeting where I go through products. My buyers and I meet and talk about the various products we may carry for the season and then I edit the graphics and design. Maybe we'll sample different candies and [say things like] this needs more cocoa or sugar, this package is good but it could be more creative. Then I'll have another meeting about marketing products. For example, I have my book out right now and we're doing the whole marketing calendar with the book, where we're gonna do the book tour, we have a lot of shops that we're whole sale-ing the book to like Neiman Marcus, Macy's or Bloomingdale's so I may go and check out the shops to make sure the pictures look good and our image is good.
SS: How did you get into this?
DL: I just always loved candy. I grew up sort of [around] candy, I traveled and started collecting candy from all over and then I realized . . . I can meet with vendors and other sellers who had candy stores and it just kept evolving and then I created the world's largest candy store.
SS: What's your favorite day on the job?
DL: I think every day is different and that's kind of the point of it. No day is the same.  I'm not just sitting at a desk and typing away ideas. I'm very social, I work with a lot of different people with different creative skill sets. Every day there's always something new and fun.