Gift Cards For the Holidays
Why People Hate on Gift Cards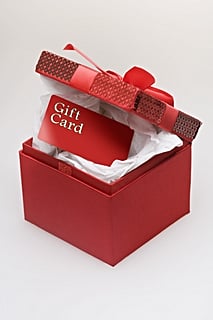 I was amused to read an article in Slate about the evils of gift cards because I coincidentally recently talked to a friend about her gift card fiasco. I've also previously talked about the ways cash trumps gift cards and suggested some cute ways to dress up your present of cold, hard cash. So if you're thinking about giving someone special a gift card for the holidays, read some of the arguments against them before buying one.
Spend More: Most people tend to go over the limit, because sometimes the amount is not enough for what they actually want from the store or they're buying something they won't necessarily spend money on just to use up the gift card.
Dose of Guilt: If your gift card expires, you'll feel a healthy dose of guilt about wasting money and maybe blame yourself for forgetting.
Bothersome Hiccups: Be aware that you'll face bumps that you won't get with cash. My friend suffered a bunch of hiccups because the salesman accidentally rang the card up twice. She then proceeded to have to go through customer service, who said they couldn't do anything about it. This resulted in going back and forth between the store and the gift card issuer, which took up a lot of time and energy.