Honey Chrome Extension
A Simple Tool That Can Save You Hundreds Holiday Shopping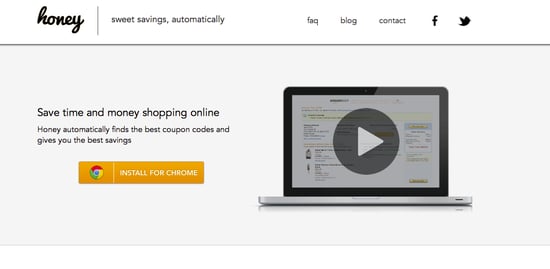 Look, we've all heard promises of saving tens, even hundreds, on holiday shopping from retailers. But what if we told you there was a legitimate way to do that without cutting coupons or waiting overnight in line with strangers? You'd have to believe us, because it's oh so true.
Meet Honey, a Chrome extension that's about to make your life a whole lot easier and those pockets a whole lot heavier. Here's how it works: you install the extension and, whenever you're shopping for a friend or Fido, you hit a Find Savings button that appears at checkout. It then automatically finds and tries promo codes at over 100 stores in the US, Canada, and the UK like Macy's, Gap, Amazon, and New Egg, so you don't have to. It's great because so often we pass up on savings because we forget to Google "coupon code" before buying what's in our shopping carts.
There you have it — you get discounts with just the click of a button! See, we promised it would be good.