How Can I Save Money on Fitness Classes?
7 Options For Finding Cheap (or Free!) Fitness Classes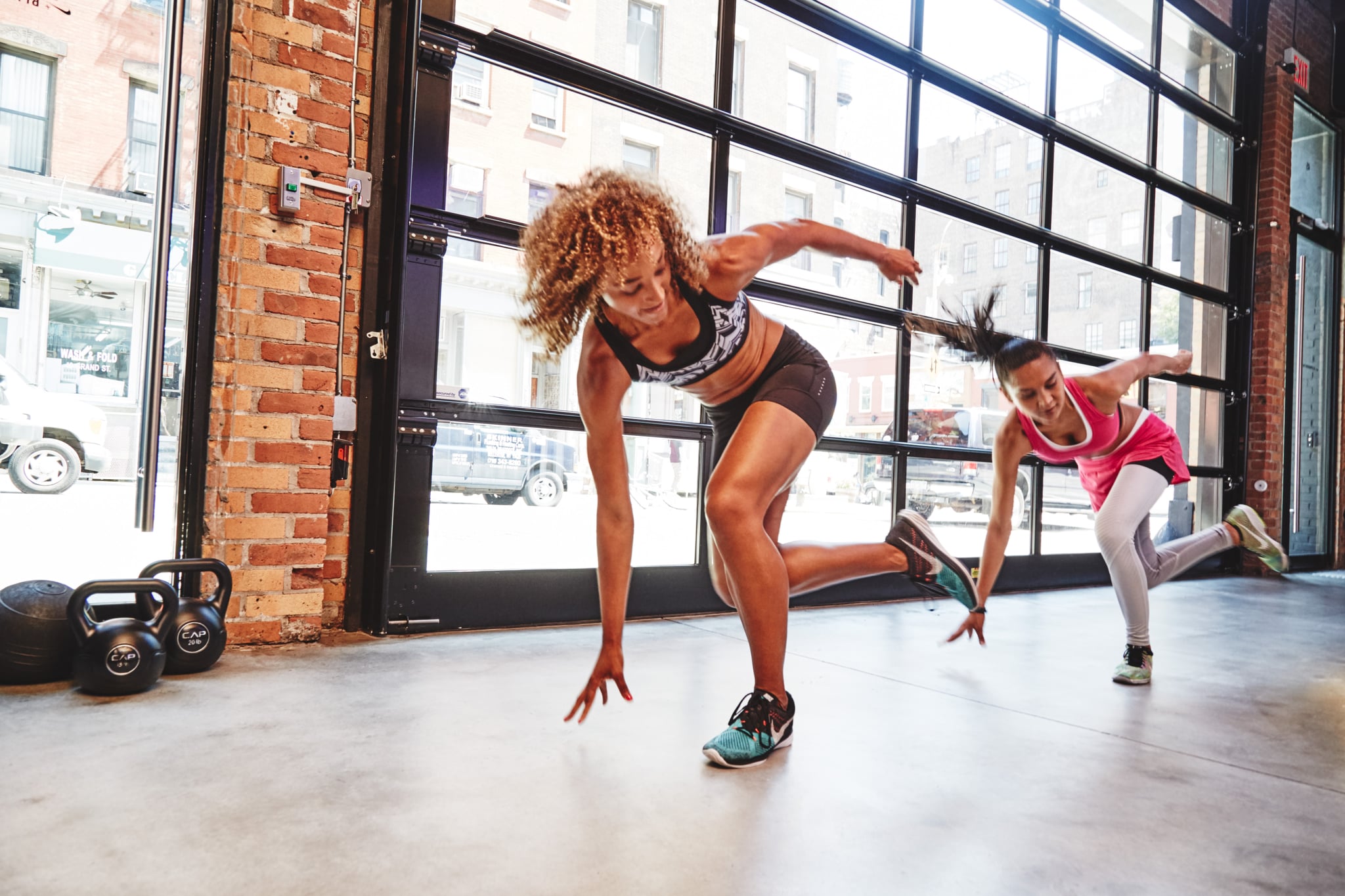 As boutique studios and class-sharing programs hike up prices, budget-minded fitness enthusiasts are feeling the squeeze. The popular cycling and barre studio Flywheel was the latest to raise prices of some classes, but it was certainly not alone. In 2016, ClassPass raised its prices, as did SoulCycle.
Don't stress, though — there are plenty of ways to work out without the high price tag. Some studios even offer classes for free — you just have to know where to look.
Karma Programs
One of the most rewarding ways to take fitness classes for free is through a karma program. A fitness studio — usually a yoga one — offers up free classes in exchange for working a shift. The work can involve menial tasks like cleaning bathrooms or sweeping the studios, but it's a great way to get to know the staff at a studio you really love. Better yet, many of these programs offer the chance for workers to become certified as an instructor at the studio at a reduced price.
These are sometimes hard to find, so keep an eye out on your studio's website or its social media pages. Don't be afraid to ask instructors if this is something offered — you'll often be surprised at their response.
The verdict: If you love a studio, a karma program is your best option for free classes.
"First Time Free" Offers
Most studios offer a discount or free class for first-time attendees. While these aren't always advertised, you can often find them by poking around on the studio's website. Some offer the first class completely free; others offer a discount on the first few classes.
The verdict: Whether the class is free or discounted, it's a good deal. Definitely take advantage of the prices.
ClassPass and FitReserve
On their faces, ClassPass and FitReserve aren't the cheapest options when it comes to fitness classes. They're a great way to try out different studios in your city; for a set price, you receive a certain number of classes at studios that list their classes through the site. There is, though, a way around the high prices. Both services offer discounts for first-time users — FitReserve is currently offering 20 percent off, while ClassPass has a first-month offer available for $19. These discounts change throughout the year, so be sure to watch for good ones.
It's important that if you can't swing the high price point of these services sans discount, you remember to cancel your membership before autorenew sets in.
The verdict: ClassPass and FitReserve are great options for the first month. After that, cancel your membership.
Zenrez
Zenrez is a program similar to ClassPass and FitReserve, but you don't have to pay for a membership. Sign up on the website, and book classes at your favorite studios through it. When you do, you'll be offered a discount at whichever studio you choose, but only as long as you take last-minute classes.
The verdict: Zenrez is perfect for someone who doesn't love to plan but loves to save money.
Groupon
Groupon is an oft-forgotten juggernaut in the fitness world. The discount site provides deals on everything from yoga classes to kickboxing at a discounted price. Not every studio has offers on Groupon, and they are often for first-time studio users, so be careful when you book your first class at a studio.
The verdict: With a little research, a Groupon can pay off big time.
Local Recreation Department
OK, stick with us here. We know your local recreation department is perhaps the last place you'd look for a chic and fun fitness experience. But many local rec departments offer classes at a steep discount. In New York, for example, the recreation department offers classes, both indoor and outdoor, completely free.
The verdict: It may be crusty, but your local rec center can help you save some serious cash.
Local Bloggers
Something to look out for when seeking cheap fitness are local sites that aggregate cheap or free fitness classes in your city. Fit For Free NYC and The Fit Crasher in DC are prime examples of great resources that do your work for you.
The verdict: Definitely follow local bloggers who aggregate fitness classes in your area. Let them do the heavy lifting!