How to Delete LinkedIn Contacts
Why You Should (and How to) Clean Up Your LinkedIn List
It's important to accept the right friend requests, because the strength of your LinkedIn network depends on who your connections are. You want to make sure you're comfortable with your connection having access to your network. Adding and accepting a LinkedIn request is a gesture of trust, and it should be made with careful consideration.
Now that you're more careful about who you add, the next step is to clean up your friends list. You may not have been too picky in the beginning while you were building up your account, but it's time to weed out the connections that you don't want or need. Here's how to go about deleting your contacts:
Log in to your account, and hover over "Contacts" on the top bar of your profile. A dropdown menu will appear, and you should click on "Connections."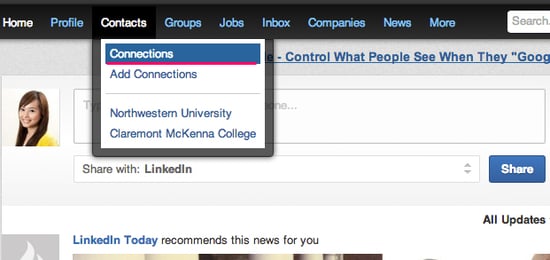 You'll be taken to your address book. Click on the hyperlink "Remove Connections" which you can find in the top right-hand corner of the page.
You should be in the "Remove Connections" page. You'll see the address book on the left side, and you'll have to click through each alphabet letter (connections are grouped by last names) to see which connections you'd like to delete. When cleaning up your list, check to see if your contacts meet these qualifications. If they don't, consider deleting them. Check the boxes next to the names you want to delete, then click on the blue "Remove Connections" button to remove them.