How to Determine the Office Dress Code
How to Assess Your New Company's Dress Code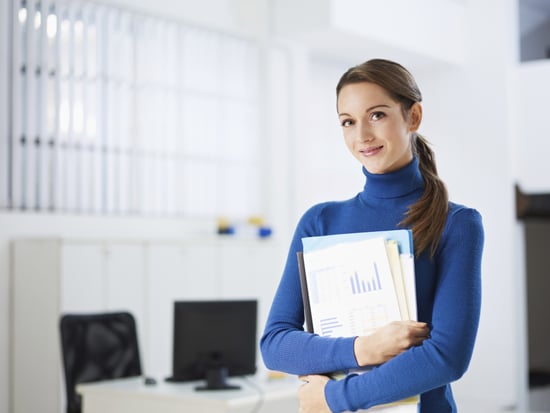 Congratulations! You're on track to nab the job of your dreams, and while you're confident that your work experience and references speak for themselves, you're a little shaky on whether your first-day outfit makes the right statement. Don't cower before your closet; just follow our tips for nailing the office dress code.
Take Copious Interview Notes
Even before you walk through the door on your first day, think back to your interview. Hopefully you took note of what your interviewers were wearing! Were jeans prevalent, or did you see a predominant mix of khakis and pencil skirts? Focus particularly on your new team members, since your clothing should more or less reflect your team's vibe, but it doesn't hurt to pay attention to other people you met with, like HR contacts, or even the general dress code around the office.
Follow the Leader
Pay close attention to what your manager (and her manager) wears. Your wardrobe should reflect your team and department but also state your desire to advance and eventually lead. While you don't have to copy your hirer's power pantsuit motif verbatim, your choice in attire should be aspirational and point you toward the next level. And on casual Fridays, it helps to keep it classy until you see for yourself whether she's laid back in ripped cutoffs or snappy in pressed bermudas. For more tips, just keep reading.
Ask the Experts
If you're still feeling butterflies before your first day, then don't be afraid to call your HR contact to learn the dress code direct from the source. They are apt to be able to quote you the company's policy straight from the company handbook. Vague or specific, the wording of the law can help you decide if your slogan-printed tee is appropriate or best reserved for weekend sporting events.
Be Wary of the Outliers
At my previous company, one managing partner used to show up for client meetings shoe-less in his tube socks. True, he took our very casual office environment to an extreme, but even his direct reports knew not to follow his lead. Just because one coworker sports an up-to-there mini does not mean that you should too. Often, these fashion outliers fall into two camps: the very, very powerful who can wear a jester's hat to work and still make the company millions or the nonadvancers who communicate the wrong message with inappropriate style choices.
But Show Your Personality
Before you relegate yourself to a life of shapeless trousers and drab loafers, keep in mind that your personal character was also a major reason why you were hired and should always shine through. So even if the company dress code calls for suits, don't be afraid to wear your signature pink silk scarf, some bright patent flats, or a piece from your favorite indie jewelry designer. Your office style should be just as memorable as your sparkling personality.