How to Make Your Cheap Clothes Last Longer
The Secrets to Making Forever 21 Clothes Last
We all want our favorite clothes to last forever, whether they are a splurge or a steal. Although wardrobe TLC does take some extra effort, the payoff is great, and that Forever 21 top will last you a lot longer than it should. Here's how you can show your budget-friendly clothes some love from the dryer to the drawers, save money, and look good doing it!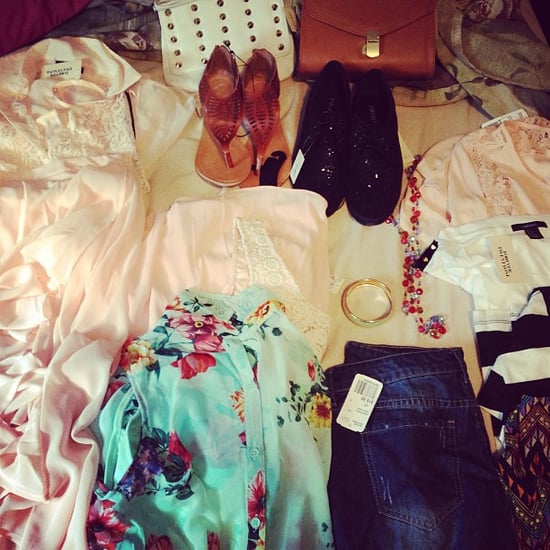 Store Properly: How you store your clothing and accessories will greatly impact how long they will last. When it comes to your closet, always avoid wire hangers: they can stretch the shoulders of your garments and often leave your clothes on the ground. Consider space-saving velvet hangers and wood hangers for suits and coats. Keep your sweaters folded and ensure bags stay dust free by keeping them covered. For shoes, roll up magazines to keep your boots upright and display your shoes on a rack or in plastic containers rather than a bin. Lastly, never fold a leather bag or toss necklaces into a box — you'll regret it.
Do Dry-Clean: Although it can be pricey, dry-cleaning can significantly extend the life of a garment. Instead of washing a bargain top or sweater, take it to the dry cleaner. The service will probably cost more than the actual item, but if you like it, it's worth preserving. Just make sure you don't dry-clean it too much, as the harsh chemicals can often harm the fabric.
Wash With Care: Manufacturers put that itchy tag in your clothes for a reason! Although it takes time, hand washing will preserve delicate and embellished items. When using the washer, turn clothes inside out and wash like colors together. Keep your darks dark with special darkening detergent. If you can, avoid the dryer. The heat will fade and shrink the material (we're all guilty!). It is also the culprit when it comes to those annoying little lint balls.
Save It: Although it can seem pointless, holding on to the buttons, bags, or boxes of an item will pay off. Dust bags will protect leathers from dirt and fading, as well as help maintain their value. Shoe boxes are a great way to store your shoes (if you have the space), and having the spare button will prevent you from having to "retire" a top too soon.