How to Thank a Nurse
The Quick and Easy Way to Thank a Nurse — Because You Know They Deserve It
When Shaan Sethi's son was born, Shaan was beyond grateful for the medical staff who helped deliver him — especially the nurses, who held his baby before even he did. And yet, for all their hard work and intimate connection with his family, Shaan didn't know the names of the nursing staff. Thus, Shaan, CEO and cofounder (along with his sister, Dr. Neela Sethi Young) of medical apparel company Jaanuu, started the #ToMyNurse movement to provide patients and their families an opportunity to express heartfelt gratitude for all the hard work — physically, mentally, and emotionally — that nurses pour into their jobs.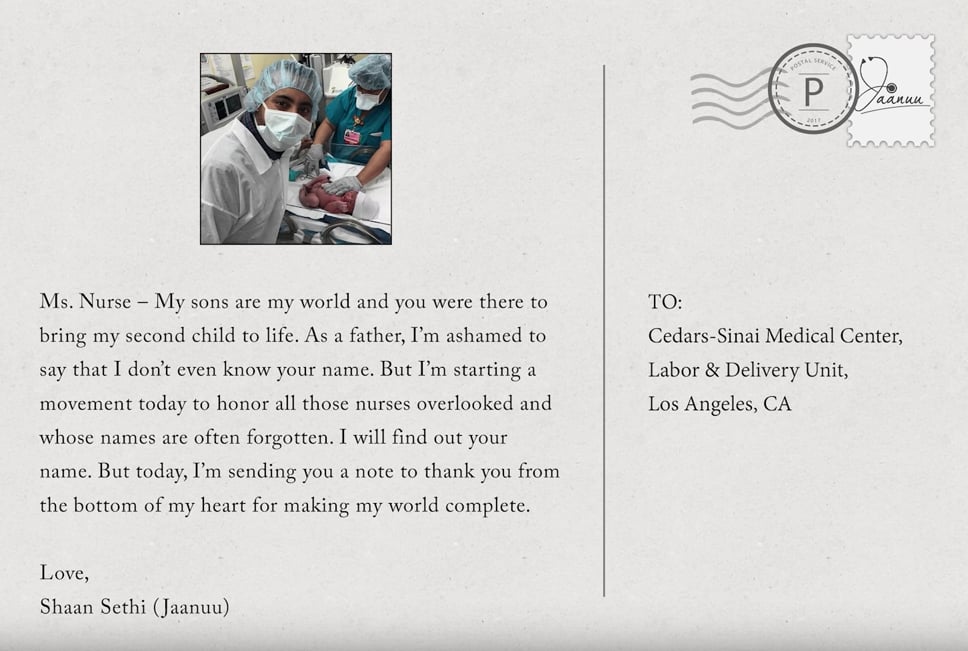 It's quick and easy to send a shout-out: head to Jaanuu's #ToMyNurse page and enter the information of the nurses you'd like to thank along with your note of appreciation, and a virtual postcard will be sent to your everyday heroes. Scrolling down the #ToMyNurse page reveals countless real notes expressing thanks for nurses around the country, and reading through them is enough to give your day an uplifting boost.
Or to have a happy cry, watch the video below about the #ToMyNurse initiative, featuring three hardworking nurses who are thanked by people in their lives and then treated to surprise gifts from Jaanuu. Perhaps the most moving tidbit is this quote from a note given to one of the nurses: "Where others would become cynical or callous, you allow yourself to be hurt again time after time. That is a definition of a hero. You are not a hero because you are a nurse, you are a hero that became a nurse. You don't get thanked enough for what you do."