I'm Embarrassed to Show My Co-Workers My Wedding Dress Because It Was so Expensive
Ask a Savvy Bride: I'm Embarrassed to Show My Co-Workers My Wedding Dress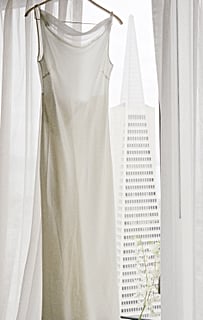 Wedding etiquette can be tricky. If you have a conundrum like the one below, be sure to ask our Savvy Bride for help in the Ask Savvy group.
Dear Savvy,
I found my dream wedding dress and I'm absolutely ecstatic about it. I ended up spending much more than I anticipated, but I just had to have it — after all, you only get married once! With that said, I'm embarrassed to show my co-workers pictures of my dress because I fear they'll know how expensive it was just by looking at it. I know it's none of their business, but it makes me feel uneasy for some reason. Is there a way for me to avoid their questions about my wedding dress?
Anxious Annie
To see the savvy bride's advice, read more.
Savvy bride says:
Well for starters, congratulations on finding your dream dress, I'm sure it's stunning! It is easy to go over budget, I completely understand, especially when you factor in tax, the veil, fittings, and of course accessories. It sounds like you're pretty close with your co-workers, at least close enough that they'd feel comfortable asking to see your dress, so shying away from sharing could be tricky.
To give you a little peace of mind, things can look expensive but you can really never know for sure. For all your co-workers know, you got your dress at a sample sale, or it was made for the fit model — two scenarios that would lower the price of your gown significantly. If you just don't want to share, you could always tell your co-workers that you're not showing anyone the dress until the big day, or you could show them a swatch instead of an actual picture.
You know the women you work with best so share only what makes your comfortable. At the end of the day, you're right, the details of your wedding (including the cost of your ring) are none of their business unless you make it theirs. Good luck!
Ask anything budget-, etiquette-, or planning-related — well, almost anything — by posting your questions in the Ask Savvy group, and I'll find the right expert to help you out. If you are planning a wedding, already happily wed, or still looking for Mr. Right, start sharing your big day with our community. Don't forget to check the wedding content box on your post.