Interactive Business Cards
Be Unforgettable With Interactive Business Cards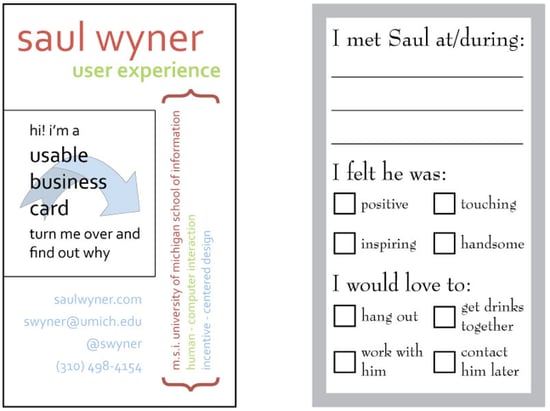 Make yourself unforgettable by carrying interactive business cards. Lifehacker found these awesome engaging business cards designed by Saul Wyner, someone who works in the user experience field.
When Saul did some initial research, he noticed that people who were able to handle a large volume of business cards had a habit of immediately marking the card soon after the meeting. He knew from past research that when people annotate small items, there is a higher chance of keeping them. Saul then went about creating a card that garners a higher amount of interactivity.
The design of Saul's cards is very user-friendly. He tries to make it easier on users by inserting options so all they need to do is check the box instead of writing out the details. The only thing they need to write is the place where they met Saul. It's such a great idea because the higher the level of interaction, the more likely Saul will be remembered when he reaches out to his contacts.