Interview With Mike Melby, CEO of PayDivvy
Quickly and Easily Split and Pay Your Bills Via PayDivvy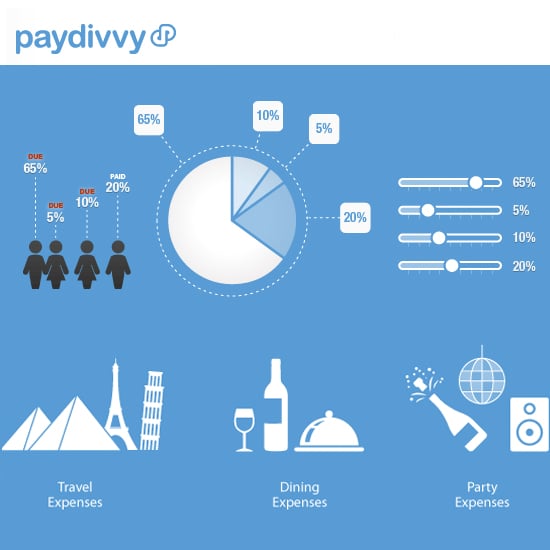 SavvySugar spoke to Mike Melby, CEO and founder of PayDivvy, a free service that allows you to pay all of your bills in one place and split group expenses. The inspiration for PayDivvy came from Mike's own experience juggling his personal bills as a young professional and shared expenses with roommates. He says, "For three years, there was confusion, hassle, social friction, and financial drain. I realized that this is too ubiquitous of a problem. This is happening everywhere, particularly in our demographic, and I started to think what the ideal solution would be." Whether you are a college student looking to divvy up expenses between your roommates or simply trying to efficiently pay your bills, PayDivvy can help anyone to manage personal finance in a better fashion. Mike takes us through the four major tenants of PayDivvy
All Your Bills in One Place – PayDivvy will pull in all of your eBills and notify you of the amount you owe as well as split any percentages that you've set with other people. You'll receive notifications and can make one-time payments or automated, reoccurring payments. Mike adds, "We have the most robust pay bill solution in the market. We have over 5,000 providers that you can pay electronically. If you have bills that are not in our system [like paying your rent to a landlord], we can still cut them a check."
Manage Group Expenses – Mike believes this is the biggest hook for most people who are looking for a better way to split bills, rent, utilities, dinner, bar tabs, and trips. Forget about the days when you had to pay the whole bill and hound your roommates for reimbursement. You are only financially responsible for your percentage of the bill, and PayDivvy will make sure everyone else pays his or her share.
Easy Interface – Paying your bills through online banking and utilities websites can be long, grueling, and more complicated than necessary. Mike claims, "It's because the bill pay space has not progressed in 10 years. It's not intuitive or enjoyable. It took a while for me to create, but our PayDivvy interface provides a fluid and faster experience managing your bills."
Save Money – PayDivvy plans to roll out this option soon. Mike says, "We will soon release a feature that will give you the ability to save money on your bills and help you cut costs when possible."
So, where should you begin? Out of the four PayDivvy tenants, Mike thinks, "People should really utilize our system to pull in their eBills and make PayDivvy the one stop shop and fully-integrated solution for bill payment. It's organizing your life and making it easier on a day-to-day basis."