Interview With Shoe Designer Nicole Shwirtz
How 1 Mom Turned Her Side Hustle Into a Small-Batch Shoe Business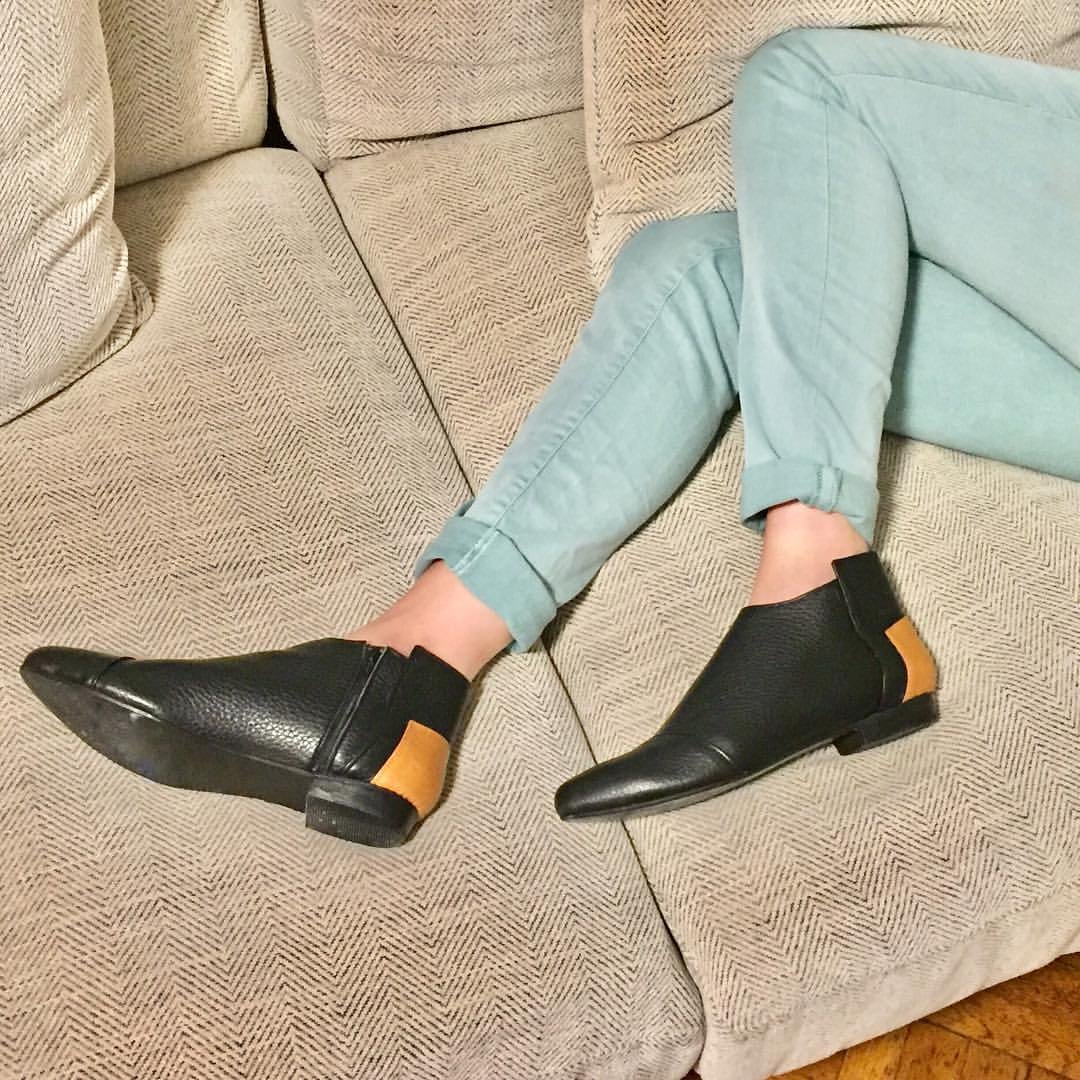 Image Source: Adam Courtney
If anyone warrants the term "mompreneur," it's Nicole Shwirtz. While raising one son under 2 years old and pregnant with Baby No. 2, Shwirtz launched her first shoe line, NicoNine, which she designed after years of research, dreaming, trial, and error. Because she was utterly delighted whenever she found shoes that actually fit her narrow feet, Shwirtz decided it was time to craft her own small-batch shoe line so other women could know the freedom of a confident stride in footwear that fits.
So for her first design (available here), she crafted a bootie inspired by the kickass goddess of war and craft, Athena, and each pair is custom-made by hand in a Brooklyn factory. Keep scrolling to find out how this mompreneur turned her passionate side hustle into comfortable, wearable fashion.
POPSUGAR: When did you first realize you wanted to be a shoe designer?
Nicole Shwirtz: I realized I wanted to be a shoe designer back in 2009. I was living abroad at the time and went to an event for local shoe designers to sell their end-of-season shoes and I found this really awesome pair that actually fit my narrow feet! My whole adult life I spent searching for shoes that fit, that were affordable, and that I actually liked. It was always a struggle. Then I found this brand that produced really cool shoes in cool colors in small batches that I really loved and thought to myself, "Why can't I do this?"
PS: What was the first step you took toward becoming a shoe designer?
NS: My first step was enrolling in continuing ed classes at the Fashion Institute of Technology (FIT) in NYC. I had a day job as a digital marketer so the only way to really start was to learn in my time outside of work.
PS: What have been the biggest struggles on this journey?
NS: The biggest struggles for me were finding a place to really learn to make shoes (turned out FIT was just the first stop), diving headfirst into a new industry, having to pivot from creating one-off shoes for myself to orchestrating the logistics of small-batch production, and juggling being a mom while continuing to pursue my dream. A big help with these struggles has been my production partner, the Brooklyn Shoe Factory. They are a small-batch manufacturing facility that employs immigrant women earning fair wages while making all our shoes by hand (and doing so right in my hometown of Brooklyn, not overseas). It's so wonderful to be part of a community of female entrepreneurs, women-run businesses, and helping others provide for their families.
PS: What was your inspiration for this first shoe design?
NS: When I decided I was going to launch NicoNine with a bootie for Fall 2017, I felt empowered by my decision that I had something to offer the world. I had seven years of experience making shoes, honing my point of view and just working my butt off to balance work, marriage, and motherhood. I knew I had to come up with a name for the design and I wanted the name to mean something to me but also resonate with my brand and mission. I thought about Athena, the goddess of wisdom, craft, and war, and felt that she was a fitting symbol for my journey. What would a powerful, confident, modern, kickass Athena wear as a Fall bootie? That was my inspiration.
PS: Many people have passion projects, but they lose steam after a certain point. What has been the biggest factor motivating you to actually keep going with this venture?
NS: Besides becoming addicted to designing and wearing my own shoes, what kept me going was that I always felt I had something unique to offer. I really want to create shoes that fill a void in the market. I used to be really annoyed that I couldn't find narrow shoes, but once I started making my own, I felt empowered. I had shoes that were of my own aesthetic, that fit, and no one else had them. I frequently remind myself of that feeling of not finding shoes that fit, and all the horror stories I hear from friends and other women about finding shoes. Everything from really tall friends who couldn't find size 12-13 shoes they liked or wide-footed women who just wear sneakers because they can't find shoes that comfortably accommodate their feet. Then there's also the "perfect size-8" women who enjoy hunting for up-and-coming designers so as not to wear the same shoes as others. Once I knew that it was possible to give women more sizing options than most brands, I was motivated by all us people living with feet on the fringes of "normal sizing." I knew I wanted to offer shoes in half sizes — as well as narrow, regular, and wide widths — and try to accommodate as many women's feet within the standardized sizing framework.
PS: What has been the most surprising thing about entrepreneurship?
NS: Entrepreneurship is a roller coaster! It is not for the faint of heart. I knew this in theory but I didn't really know this until I was in it. No day is the same and some will leave you on top of the world, while others completely deplete your energy and drive. But if you're doing something you feel strongly about and can afford to go on this ride, there's nothing like it.
PS: What advice do you have for young women who might be thinking about striking out on their own with a small business or creative venture?
NS: My advice would be to really make sure the timing is right. You may have an awesome idea or passion and that's amazing, but taking that leap and working for yourself is no joke. You need to be disciplined and willing to hustle and work around the clock. You need to be able to cope with successes and failures in a positive way and get up the next morning to keep chugging along. Sometimes waiting — even seven years, like me — while frustrating at times, is worth the wait and work.