Isaiah Mustafa Achieves Success Through Old Spice Campaign
Hunky Old Spice Guy Gets Cinderella Ending, Wins Emmy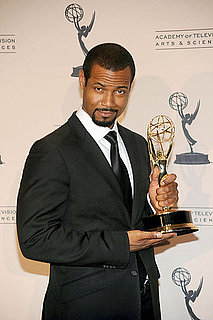 Remember the amazing social media campaign that was organized about a month ago by men's deodorant brand, Old Spice, which had everyone — including celebrities like Ellen DeGeneres and Ashton Kutcher — excited over? The company assembled a team of people to produce a video every seven minutes over the span of a few days to respond to questions posed by social media networks. Sales for the firm shot through the roof, and the commercial campaign even won an Emmy over the weekend.
One of the key reasons why the YouTube videos were such a success was because hunky actor, Isaiah Mustafa, nailed the manly, goofy character to a tee. It seems that Isaiah only started smelling success in his life recently, according to Forbes. He was originally an athlete that didn't quite make it big in the NFL. He then used up all his savings to start a restaurant that closed in five months. Broke, but not discouraged, he signed up for the gameshow The Weakest Link and won $47,000. He took that money and invested it in acting school, which paid off and landed him the Old Spice Guy part a few years later. Now he's said to play a part in an upcoming Jennifer Aniston movie and has scored other TV roles.
I know Isaiah's story might seem unrealistic to most, but we can all learn from it. For example, if you find yourself without a job, think of creative ways to reach out to companies. And if you meet with a disappointment, pick yourself up and try again.