Japanese Cat Coin Bank
Japanese Kitty Steals Your Money, Looks Cute Doing It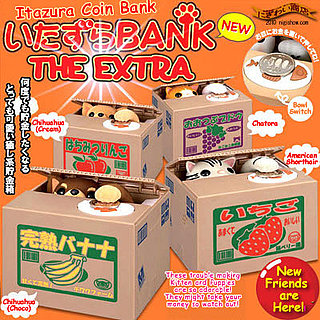 My infatuation for all things Japan continues. A friend bought this Japanese Itazura Coin Bank ($22) a few weeks ago, claiming that it was the cutest thing he'd ever seen. Why anyone would spend over $20 on a coin bank was beyond me . . . until it finally arrived.
I got a first look at the bank when he ripped it open yesterday morning and had to share. Not only does this mechanical coin bank keep your money safe from your prying fingers, but it looks totally adorable while doing it. Now I get it.
Check out the video of the bank in action after the break.
Good news dog lovers — they sell doggie coin banks, too!