Job Loss Sympathy Cards
Brilliant or Baffling: Hallmark Unemployment Sympathy Cards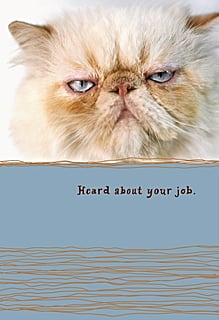 There's a Hallmark card for all occasions, and it seems there are now specially tailored cards for those who have lost their jobs.
Due to popular demand, Hallmark just launched a new line of sympathy cards for the unemployed, according to NPR. Some of the cards express their sympathy with humor, and others offer compassion and comfort. For example, the cover of one card with a grumpy-looking Persian cat says, "Heard about your job." On the inside, it reads, "Is there anywhere I could hack up a hairball, like, say, on a former employer's head? Just wondering."
Hallmark Creative Director Derek McCraken says the message the cards are trying to send is that a "job loss is temporary and that it doesn't define the person."
I admit, I thought the idea was a bit insensitive when I first heard of it, but then I looked at the cards and noticed that many of them had tasteful and carefully crafted messages. I'm still not certain I would give someone a sympathy card for their job loss, because I prefer to offer them comfort in person. What do you think — are unemployment sympathy cards a brilliant or baffling idea?