Job Search Mistakes
10 Ways You're Sabotaging Your Job Hunt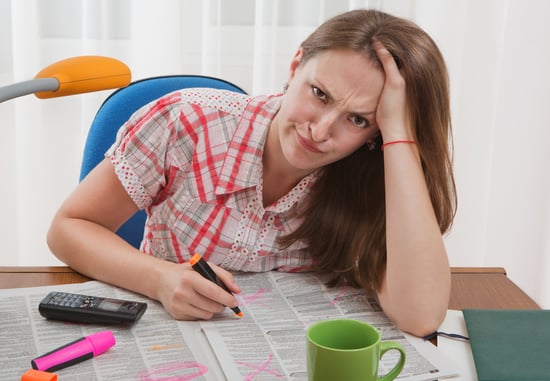 You may have heard this line before: "It's not you, it's me." OK, maybe it's more common to hear it from an ex, but it's a similar spiel companies give you when they send out an automated rejection. But, sometimes, it may actually be you. You may be unknowingly giving prospective employers a reason to pick another candidate. Look through this list to make sure you're not sabotaging your own job search:
Nonexistent LinkedIn. One of the first things your prospective employer will do is google you. Having a LinkedIn is a good way of getting the information you want them to see instead. Setting up a LinkedIn also makes it easier for recruiters to find you, so you may not even have to look for the job yourself. In this day and age, having a LinkedIn is almost the norm, and not having a profile can make you look outdated.
Suspect online evidence. You know all those pictures or tweets about that "crazy night"? It is a good idea to remove them from the Internet. Remember, what you upload or say online has a habit of coming back to haunt you, so if you don't want the risk of exposure, just don't put it out there to begin with. Even if you set privacy controls, you may make a mistake, the privacy controls may change without you knowing, or your friend may take a screenshot of your comments and pass it around. Anything can happen, so be very careful!
Not following up. It's common courtesy to thank the hiring manager after the interview, and this gesture of thanks can go a long way. It's also good to follow up (but not too much!) to check in with them, because accidents do happen and sometimes emails can go missing.
Getting discouraged easily. Perhaps the world seemed to have ended when you didn't get the job you wanted. The worst thing to do is crawl under a rock and lick your wounds. You can indulge in the pity party for a day or two, but don't let this completely derail your job hunt. Keep your head up and know that a lot of people are in the same boat that you are in. Treat job hunting as a full-time job, and you increase your chances of finding employment when you're actively looking.
Leaving mistakes unfixed. You need to ask other people for feedback to point out mistakes that you may be missing. Get a second or third opinion on your résumé and cover letter, and ask a friend to mock interview you.
Ignoring your network. These days, it's even harder to get a job if you're not using your network. Many companies like to hire internally or already have a candidate in mind as soon as the position is available. Having a huge network will increase your chances of being thought of as a candidate when there's a job opening. If you have someone in the company refer you for a job, you'll probably have a higher chance of scoring an interview. Relying on your network is also a good way to find out about the word-of-mouth jobs that the public isn't aware of.
Generic is your middle name. Don't just use a general template for your cover letter and résumé for every company. Instead, tailor each and every one. Take a careful look at the job description and note what they're looking for, and craft your application so that you look exactly like the candidate they need.
Overhyping it. It's easy to get carried away when you find a listing of your dream job. Try to keep yourself from getting too attached to one position so that you don't subconsciously close yourself off from finding other opportunities.
Jumping the gun. Don't assume that references will be willing to act on your behalf — you've got to ask them first. Catching them off guard may not be a pleasant surprise for them, and you need them to speak positively of you.
Lying or being honest to a fault. Conduct yourself professionally, which means you shouldn't tell any lies (because those can easily be verified) or give up unnecessary information. For example, telling your interviewer all the details of why you hated your ex-boss won't exactly endear you toward her. You can always politely refrain from answering questions if you feel uncomfortable.