Jobs Movie Review
Ashton Kutcher's Weird Walk and the Other Things That Ruin Jobs
Ashton Kutcher takes on the role of modern technology icon Steve Jobs in the biopic Jobs, but his ambitious attempt falls short. Kutcher's performance is derailed by his acting choices, but it's not just the lead actor that makes the depiction of Jobs's life such a bomb. The overlong biopic from director Joshua Michael Stern suffers from many afflictions; read on to find out why Kutcher, the misuse of the movie's best cast member, and the storytelling all add up to a system failure.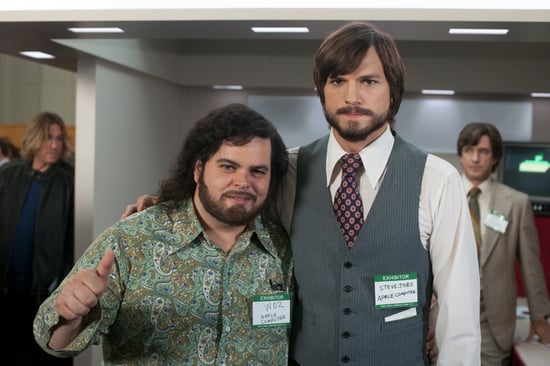 That Wacky Walk
Let's get this out of the way: Kutcher's casting as Steve Jobs is not terrible. While an opening scene with the 2001-version of Steve with the familiar gray hair and the black mock turtleneck looks more like an SNL costuming feat, as a younger version, Kutcher looks just fine (and even resembles old pictures of him). As for mannerisms, Kutcher gets Jobs's look of smug satisfaction right; he nails the mischievous sharing of information, but in the more dramatic scenes, he falls short. His frustrated screaming in one scene is cheesy, and worse, Kutcher affects a goofy, lumbering walk throughout that seems to desperately scream, "I am not Ashton Kutcher! I am Steve Jobs!"
There's Not Enough Josh Gad
Gad plays Steve "Woz" Wozniak, Jobs's brilliant friend and business partner who's also a fascinating real-life personality. Gad does him justice and is the breakout of the movie — he's funny and he brings some much-needed heart to the film. The only problem is that Woz is a big part of the first half of the movie, and then his presence drops off for the rest of it. Gad is easily the best part of Jobs, and it's a shame that he doesn't get to light up the second half.
The Story Is Not Compelling
Jobs's life was certainly interesting, and while it's cool to see how some of Apple's most famous products were developed, director Joshua Michael Stern drops the ball in showing us other dimensions of him, particularly his personal life. There are brief references to his love life (he's mean to the mother of his child, played by Ahna O'Reilly), and the movie certainly doesn't shy away from showing his brusque, borderline cruel side. There's even a very weak attempt to give Jobs a Social Network-like friendship scandal. However, once the business of Apple is underway, the movie limps along, while other seemingly important things are glossed over. Overall, the movie is a nice attempt at a tribute to Steve Jobs, but frankly, he would not have been impressed by this product.